You Can Reinvent Yourself At Any Time
October 22, 2010
Born And Reborn (A Letter To My Friend Gary)
On Friday, Feb 5th, 2010, going on to midnight, this was written and sent.
"Born and reborn. This is what we are doing all the time."
Calving almost 24-7. You have your own kids and also a child from an ex-girlfriend that you treat like your own. Everyone you come into contact with, you treat like your blood. You make the time for them and do what always needs to be done. How inspiring that is! Each human should spend an hour with you. Walk a few days in your shoes.
From our phone calls, that went late into the night this week, I listened and learned. It's great to have friends from all walks of life. These are our quiet angels. Of course there is the old saying: "I'd rather be alone, than in bad company."
This is the downfall of so many people.
Ones that can find true caring people of all walks of life are sure treasured. Sure spices up the mind. Your librarian friend, your friend that is in rehab. Each holds a passion. One has a passion for learning. The other a passion for drinking. It's great to have this emotion. How he channels that passion to another subject will perhaps surprise him and others.
It's never too late to get on that bike of life again and reinvent yourself.
It's interesting to think now that I've become a writer. Where does it come from? If anyone knew me at thirteen they would have said: "It's not possible. This child is a moron!"
I sure struggled with my learning disorder and being bullied those first years. And at the same time it was this struggle and the pushing thru that have created my works. The beauty comes from a place where there was no beauty.
I'm not alone.
Each of us goes thru this at some period during their life.
It's the will. God created something truly beautiful in humankind.
At times we just need to get out of own pathway. To surrender. To never let another place a limit on us. Each of us is capable of anything.
Anything.
I am just starting. It's exciting, this unknown. An unknown nobody is what I thought my life was going to be about in my youth. It felt like this because everywhere I turned, that was the message I received.
The needle in the record was wearing out the message.
I just made a choice. I'm grateful for the bullying I received. It was this that drove me for a long time. That "I'll show them" attitude. So I pushed myself.
But I still had a lot of anger, resentment. I didn't like my own mind. I didn't like that part of the edge I had. These emotions for the most part, other people didn't see.
I took those emotions to bed. They were my lovers.
And then I found peace in self. That only occurred four years ago. 2006.
So, to your rehab friend, and all the others, there is another life waiting for us all in this lifetime. Everything lies in our head. We simply have to decide.
Thanks Gary for writing and giving me the chance to drift away here in my writings, my thoughts. Giving me an outlet. You sure have helped in me finding my own voice.
Now the vinyl has a new song.
Copyright © 2010 Miles Patrick Yohnke All Rights Reserved.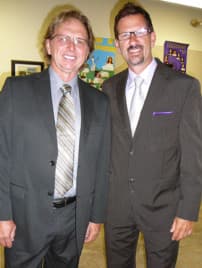 Miles Patrick Yohnke with friend Gary Braithwaite
Widely recognized and award-nominated engineer, producer, writer, poet and founder and C.E.O. of 5 Star Productions, Miles Patrick Yohnke brings many years of experience to the music industry; including many awards in sales and marketing.
If you are looking at developing your career, Yohnke offers consulting in person, by phone or via email. For more info, please contact him directly at: 306.227.6379
Share a comment or thought about this article with the writer:
Email Miles
---
More Publications By Miles
---