By Miles Patrick Yohnke
© 2018 All Rights Reserved.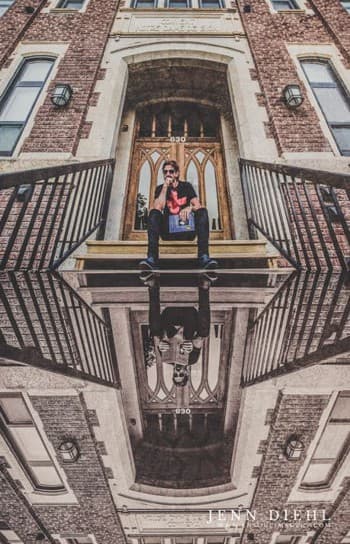 That early September morning, in 1979, started like any other. I walked my normal two blocks and waited on the corner of Arlington Ave. and Main St. for the bus. Route 8. I would take it each morning, and do a transfer downtown - in front of the Hudson's Bay department store.
This was one of the main hubs where the buses of the Saskatoon Transit System gathered back then and folks would transfer from one bus to another to get to their destinations. I would get on one more bus, either Route 21 or Route 1, and head into the neighbourhood of Mayfair.
After forty-five minutes I would finally reach my destination, 830 Idylwyld Dr. North, and ultimately, my school, Sion High School. This particular morning was the start of the new school year and Grade 10. I didn't know it then, but that day, during that year, would change the path I had been following up until that time.
We had a new school teacher that had started that year. I would have her for one class, each day. When she introduced herself, she didn't write her last name like most teachers would. She simply wrote on the chalkboard her first name, "Connie".
All of the teachers at this special school for the learning impaired had their own unique, caring and loving way of teaching, but Connie's methods of teaching were quickly separating her from the others.
She took our class on a field trip to our downtown library: the Frances Morrison branch. I had never been to a public library before, and I felt terribly uncomfortable. We were about to leave when she noticed I hadn't borrowed anything.
Connie took me aside and said, "Miles, the library and the library system are wonderful resources. They have everything, and if you can't find it, they'll order it in for you. They are powerful tools for personal growth."
She then asked me what my interests were. "Music," I replied.
"Great", she said. "What is your favourite artist or band?"
I told her.
She grabbed my hand with great enthusiasm and off we went. We found a record from the band that I liked. I didn't have many records at home at that time but there was an abundance of records in the same category of the type of music I liked.
It was for me, an awakening of sorts.
Not all of the records were there so Connie brought me to the information desk. She asked the librarian what other records were available within their system. Other branches in the city and our province had most of the others I liked. We made a "special request for purchase" order for the others and had them ordered in. This was something else for me. Like Christmas in September.
Later that year on a Friday afternoon Connie took us on another field trip. This time it was to the University of Saskatchewan and their cinema, the "Place Riel Theatre." We watched the film "Paul Simon - One-Trick Pony".
The story line, Jonah (Paul Simon) was an aging rock star trying to record another album. What captivated my mind was the rhythm section (drummer Steve Gadd and bassist Tony Levin). In one song, "Late In The Evening," Steve Gadd uses two drum sticks in each hand.
These two events, in the library and the theatre, would shape my future and my very being.
Connie introduced me to art cinema houses; to the idea that there were films out there that weren't just about T & A, cheap jokes, high speed car chases, or people killing each other. That there were many films with great dialogue, great cinematography. That there was a whole other world out there just waiting for me to discover. One that made you think. That explored the human condition.
In 1987, I went to an art cinema house and watched a German film (english subtitles), titled "Wings Of Desire," by Wim Wenders. I would later in life, take others to watch it. I would use it to mentor many others, inviting people over to my place to watch it and other films by Wim Wenders, including "The Salt Of The Earth".
I would find myself getting films from the library, having people in to my place to watch and discuss them. Or simply giving the films to them to watch in their own privacy. Films like "Touch Of The Light" (Mandarin), "The Broken Circle Breakdown" (Belgian), American films such as "I Am", "Short Term 12", and "The C-Word", just to name a few.
In the summer of '17, I took my mother (who was in the early stages of battling bladder cancer) to an indie film at one of our art cinema houses in Saskatoon, "The Roxy Theatre" and we watched "Maudie". She loved it. It was her introduction to the late painter, "Maud Lewis". She was passionate to learn more about her. I went to the library and got a book on her titled "Maud Lewis - The Heart on the Door."
The library is a place that I still visit every day. It taught me structure and discipline in my early years, like returning items on time. But perhaps the most important aspect: procrastination. One reason I visit every day is more times than not, I get materials that inspire me. Really inspire me. Mind altering materials, that transform ones' reality. It changes ones' perception towards most areas of life.
One starts really participating in their own being, becoming vested in one's self. Instead of procrastinating to make a change in one's life, all the materials are there right now at your fingertips, to access and use for your betterment. No excuses for "I didn't know".
Like me - the library is ever-evolving and has changed with the times. Yes, you can still borrow physical hard copies, but now you can borrow materials online. What a remarkable resource, and all for free. What a treasure trove.
Back to the Paul Simon album. Two drum sticks in each hand? Why not! That film, "One-Trick Pony" opened my mind to more non-structured ways of thinking and being. It made me question. I still question everything, everyday. We all should. To look at our world differently. Curiosity is the pathway to invention. Invention is born out of curiosity, since inventors are curious and inquiring people.
Sion High School is sadly closed now. It went from grade 8 to grade 11. The reason was that most of the students had failed so many times. I started 6 weeks into the school year, in the fall of 1977.
My elementary school, St. Patrick's, had simply given up on me. No hope for this boy, he is a "retard". We were all called that, those of us who attended Sion High School. We were the ones that no other school in our city of Saskatoon or in our province of Saskatchewan for that matter wanted. Some kids were shipped in from other cities and towns.
When I started 6 weeks into that school year, I have to admit I had no idea what bus, what route, or what transfer for that matter, that I wanted to take. I didn't know where I was going. I had no two clues to even rub together to make sense of anything! Totally, hopelessly, lost in society's grip!
I had never taken nor tried drugs (still haven't). I was offered a joint by a fellow on that first day in school. I replied, "No, thanks."
"That's cool," he replied.
I was never asked again in those 4 years. No peer pressure.
When I was introduced in the hallway that first day, they asked for my last name. "Yohnke," I replied.
"Like donkey? Yay! Can we call you "Yohnke Donkey?"
"Sure", I replied. I wanted to be accepted. I had only failed once, but really I should have failed every year. They simply pushed me through.
This kid, the one who asked if he could call me "Yohnke Donkey" could have beaten the crap out of me. He was 6' 2", drove himself to school, had a full beard and was in grade 8. Grade 8! Many were like this. Not he, nor anyone else, would ever call me "Yohnke Donkey" in those 4 years. That was the only time.
Being at Sion was so unlike being at my elementary (fitting adjective, pun intended) school, where I heard that "donkey" phrase so many times each and every day, and "retard" was a commonly used name of address. If I had a dollar for every time I was called a "retard", I'd be a millionaire today.
The students at Sion High School were like me. We had all been humiliated beyond words. No one picked on anyone at Sion. There was a great respect for one another that existed within those school walls. Great passion and devotion was given to each and every one of us.
I graduated from there in 1981 with a grade 11 education. It was also the last year that Sion High School was in that location.
"School's out" is a phrase that has been used to describe the end of a student's school year. Some people believe it's like an end to learning for the summer. School should always be "in" for all of us. No matter what the season. It's been "school's in" ever since I took those first trepid steps inside Sion.
Because of Sion High School, and especially because of "Connie", I've been addicted to learning more than the day before. To evolve. Every night I play back (in my mind) my daily human performance. My strengths, my weaknesses.
How can I improve? How can I be more? It is a privilege to be here. An honour and gift. To have life. My life. Don't waste it. Your life. Strive to be more. Develop your mind daily, to go past any familiar limits.
Gaining knowledge brings better understanding of the human mind. One of the benefits with aging is that you gain wisdom. But not all do. Sadly, many people never evolve. Many of us park in the "status-quo lot". This brings forth great sadness to my life (and keeps me up at night, trying to figure out how to encourage people to change, to stop the procrastinating).
I'll never understand why anyone would want to live a limited existence. We are all worthy and entitled to developing our brains as far as we want to. It should be the biggest developed muscle within each of us.
Another benefit of aging is that you learn. An example is in the nutrition and the physical activity world (should be a public health priority, not "legalizing pot"). Much of the information out there is wrong.
Often we hear that we slow down over time. In my case, and for the ones that have gained the proper knowledge, in fact, we are in many ways getting better. I'm now 54, and as I write this, I've never been in better shape, and I know that I'm still just scratching the surface of what I can become. How exciting is that? What an exhilarating feeling that is.
When someone lets you express your uniqueness, you feel special; all the time. It unlocks you, it mobilizes you. But here's the key. You have to pass it on. No divide. No walls. No division. Long division? The correct answer is always a deep understanding for all people. Only then do things add up. That is the correct equation for human development and understanding of all peoples.
Connie went that extra mile for me. You don't have to be a teacher; you can all go that extra mile for someone else. Someone that may need it more than you would ever know. I needed that back then. Now every time I visit an art cinema house or a library, Connie is with me in spirit; leading me by the hand, towards a better me. I'll always be indebted to Sion and to Connie.
Share your discoveries. Encourage others. Love all.
Last names weren't important to Connie. She taught us that we were all equal. There was a feeling in her teachings that still resonates with me; long after that school year ended (she was only there the one year).
It was deep. Heavy. Weighted. It was emotional. Still is. Always will be.
When you meet a teacher or person that enlarges your heart by opening up your imagination, it brings you into a whole new world. One where you might make many transfers during your life's bus ride. Your life can transfer to a different route. Search out those new, enthralling routes!
Be kind. Be thankful. Question everything. Constantly learn. So able.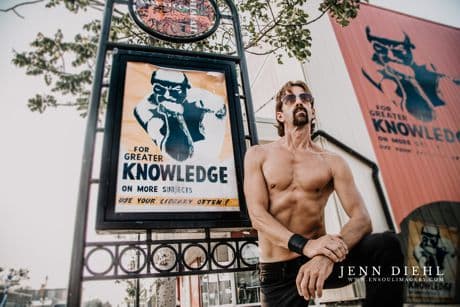 Miles Patrick Yohnke (age 54) photographs by Jenn Diehl for Ensoul Imagery. To learn more about Jenn Diehl, and to contact her, please visit her website: http://www.ensoulimagery.com
Copyright © 2018 Miles Patrick Yohnke - All Rights Reserved.
Miles Patrick Yohnke is a globally recognized motivational author, poet, and mentor with a wealth of life experience. His philosophies and materials are used in schools in Africa, India, and the United States. They are used by preachers in their pulpits. They have been read on National radio and featured in countless publications.
If you are looking to develop and improve your life, Yohnke offers consulting in person, by phone or via email. For more info, please contact Miles directly at: 306.227.6379
To Comment or Connect with Miles: Email Miles
More Publications By Miles
---