For Nikolitsa Boutieros
By Miles Patrick Yohnke
Copyright © 2014 All Rights reserved
Released January 5, 2018
An introduction to the poem "To Los Angeles".

"I wrote "To Los Angeles" in November of 2014. I wrote it for an array of reasons. Part of it is very clear. Three years before the news of Harvey Weinstein and the endless others. Also my dear friend, photographer Nikolitsa Boutieros, had just moved from New York City to L.A. at the time.

She had mentioned her coming move to Nick Cave's wife, Susie. "Oh, I'd love for Nick to get a place there," she said. So that is within this too. This all before the passing of their dear son, Arthur."
---- Miles Patrick Yohnke, Saturday morning, December 9th, 2017.
TO LOS ANGELES
It draws infinite inspiration from within.
With decadent cinemas and studio scenes flashing by,
A carnival of souls in motion, this epicenter of creation,
Found in thy stride of twisted, turbulent freeways: freedom?
And how many dawns will seep from it's rippling waters?
A seagull's wings dip and pivot across the harbor into Silverlake,
Over the choir of the valley of smoke, to mountains high.
From the vivid dramatic dance of strange boulevards,
To the Sunset Strip and Capitol recording sky,
These tangible miracles that seep from within us, within all of us,
Foretold to our eyes on endless rural and city screens.
Thou art a city that can be merciless,
Where our women become like porcupines,
From so many predatorial monster's pricks stuck in them,
Those camouflaged executives.
An empty soul, thy flash upon screen,
Absolute of meaning, though beautiful in presence,
Lit up to the eyeballs, as days unfold like newspapers, creating a moment.
For the devil mops up your every step?
A ghost with dirty hands.
O harp of music, rich and dense, reverberant with sound, gimme shelter.
A bedlamite of fire, bang bang baby, wall of sound, gold star,
Now silent.
How silent.
People from severed families and dyslexic minds come to her in buses.
With wings of desire, they fly to her, for she beckons new beginnings.
For external validation?
For internal validation.
Honest to thy heart.
Becoming superior to just being; for creativity takes courage.
Thy heart pounds like a black metal kick drum.
These eyes, like this city, stars of a twilight's eve.
Looking through this heart of light: timed exposed?
Am I?
For I shutter at the speed of this place; caught in its camera's eye.
A steadiness, discipline and action is required, an obsession displayed too
. World-famous Hollywood sign, majestic Mulholland drive, A-list starlets,
Luminescent and glistening, grasping life so fully, recording light.
This seed of truth, for internal validation.
With my comrades, Susie and Nick.
She, the angel of models,
He, the goldsmith of words.
We now grace this land.
To Los Angeles.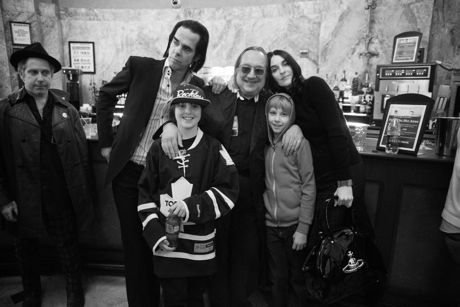 The Cave family, Nick, Susie, Earl & Arthur Cave and friends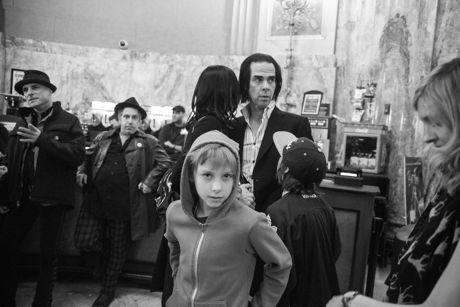 Arthur Cave
R.I.P. Arthur Cave
Photographs by Nikolitsa Boutieros. For more information on Nikolitsa Boutieros, please follow these links: http://www.divinelightphotography.net and http://www.Nikolitsa.com
For more information on Nick Cave & the Bad Seeds please follow this link: http://www.nickcave.com
Copyright © 2014 Miles Patrick Yohnke - All Rights Reserved.
Miles Patrick Yohnke is a globally recognized motivational author, poet, and mentor with a wealth of life experience. His philosophies and materials are used in schools in Africa, India, and the United States. They are used by preachers in their pulpits. They have been read on National radio and featured in countless publications.
If you are looking at developing your career, Yohnke offers consulting in person, by phone or via email. For more info, please contact Miles directly at: 306.227.6379
To Comment or Connect with Miles: Email Miles
More Publications By Miles
---