May 15, 2013

- Inspirational Quote about Courage
" Until you dare to go after whatever you've been longing for and as well dare to go extra mile for it, you may never realize how far you can go. Therefore, you've got to courageously and unyieldingly go after whatever you aspire to do for you have what it takes to achieve whatever you long to achieve."
Written in 2013 by Emeasoba George --- Nigeria



May 15, 2013

- Inspirational Quote about Destiny
" When you truly find yourself you will find your destiny. Stop trying to copy anyone else. You have a purpose in this world. You are just what you were meant to be. The original, branded with the mark of the Father."
Written in 2013 by Janice Harris --- Florida
People are always trying to be like someone else. Someone they hold in high regard. Think highly of yourself. That will allow you to live your destiny in this world. We all have our own unique place and purpose.



May 15, 2013

-Inspirational Quote about Love
" The person who has your best interest is the one who truly cares about you. If someone sticks by you through thick & thin and still loves you, they will always love you."
Written in 2013 by Renee Scalfani --- Massachusetts



May 8, 2013 - Inspirational Quote about Solitude
" Solitude, in the sense of being often alone, is essential to any depth of meditation or of character; and solitude in the presence of natural beauty and grandeur is the cradle of thought and aspirations which are not only good for the individual, but which society could ill do without."
John S. Mill



May 8, 2013 - Inspirational Quote About Life
" Whatever you vividly imagine, ardently desire, sincerely believe, and enthusiastically act upon must inevitably come to pass!"
Paul J. Meyer



May 6, 2013
" I think when God made friends He built "walk the extra mile" into their genes. Friends can take miles of pain and turn them into smiles of joy and love."
Written in 2013 by Caroline Naoroji --- Virginia



May 6, 2013
" Never allow anyone to dictate who you are. God made everyone in their on self-image."
Written in 2013 by Shae Martin --- Texas



May 6, 2013
" I'm not here on earth coincidentally/by chance. Rather, I'm here on earth for a divine, predetermined purpose/mission i.e. to fulfill my God-given uncommon destiny. And guess what? I won't/can't fulfill my destiny miserably, NO, not at all. Instead, I can and I will surely fulfill my God-given destiny in a grand style. Oh yes! Again, I can and I will - even against all odds."
Written in 2013 by Emeasoba George --- Nigeria
This is my strong belief, my article of faith.



May 2, 2013
" I feel that we are often taken out of our comfort zones, pushed and shoved out of our nests, because if not, we would never know that there's something far better beyond where we are at the moment. It can hurt, but then later you say "thank you." I have been pushed and shoved and have fallen out and away, so very, very, many, many times! And others around me have not! But then, the others haven't seen what I have seen or felt what I have felt or been who I have been, they can't become what I have become. I am me."
C. JoyBell C. --- Submitted by Lauren Covington --- New Jersey



May 2, 2013
" I will never allow my failures to define me! I will however use them as motivation to take me to the next level as well as help others along the way to learn from my mistakes!"
Written in 2012 by Jon Hawks --- Arizona



May 2, 2013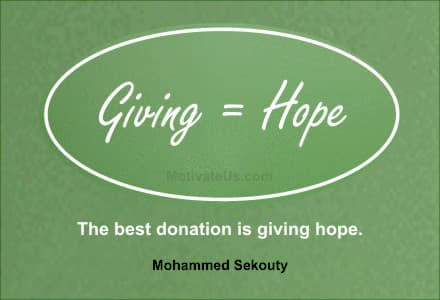 "The best donation is giving hope."
Written in 2013 by Mohammed Sekouty



April 29, 2013
" Patience child, patience. Remember, life is a journey. If you got everything you wanted all at once there would be no point of living. Enjoy the ride, and in the end you'll see these 'set backs' as giant leaps forward, only you couldn't see the bigger picture in the moment. Remain calm, all is within reach; all you have to do is show up everyday, stay true to your path and you will surely find the treasure you seek."
Mastin Kipp --- Submitted by George Wachirah --- Kenya



April 29, 2013
" Being different doesn't make you a bad person. It makes you unique and true to yourself. So don't look at what others think. You are special."
Written in 2013 by Donald D. Dolan Jr. --- Florida
I created it because I was always different and I want other people to feel motivated at being different. Many people call people who are different... "weird' among other much worse names. This is what people consider outside the norm, but being different doesn't mean that you are a bad person or weird. It means you do what you wanna do to be different and people look down at that. I know because I am one of those people.



April 29, 2013
" Climb the mountains and get their good tidings. Nature's peace will flow into you as sunshine flows into trees. The winds will blow their own freshness into you, and the storms their energy, while cares will drop off like autumn leaves."
George Gordon --- Submitted by Jack Hayes --- Ohio



April 24, 2013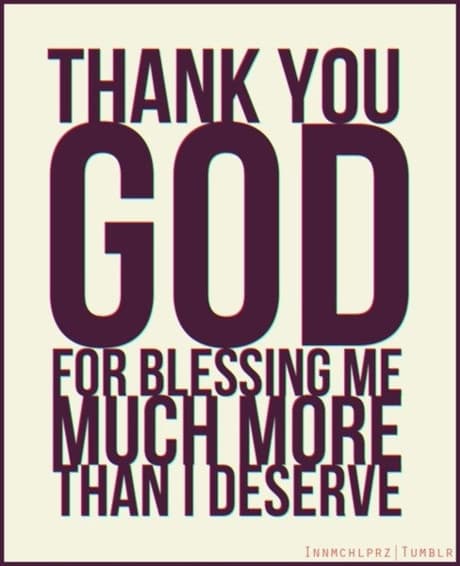 "Thank you God, for blessing me more than I deserve."
Author Unknown --- Submitted by Lauren Covington



April 22, 2013
" Keep smiling. Your smile may be the only rainbow of hope for the ones who are coming out of the downpouring of troubles and overwhelming trials."
Written in 2013 by Caroline Naoroji --- Virginia



April 22, 2013
" You have the KEY that opens the door to your future."
Written in 2013 by Dr. Maloney Hunter-Lowe --- Virginia



April 22, 2013
" The greatest legacy anyone can leave behind is to positively impact the lives of others. Whenever you add value to other people's lives, you are unknowingly leaving footprints on the sands of time that live on, even after your demise."
Written in 2013 by Emeasoba George --- Nigeria
That's worth thinking about isn't it?



April 17, 2013
" When I think about "The Life of Pi", I contemplate on how his struggle has defined him. This only shows that in the darkest moment of our life, we will find our purpose, we will know who we are. It does not matter if we have become successful or not; what matters is that we know in our hearts that we have done the best out of the situation. When you have just been in a storm, be proud; you survived stronger and wiser. If you're going through a storm, then know that you will eventually get past it. Go "through" the storm; do not stay in it."
Copyright ©2013 Edelaine Birion --- Philippines
I feel good and I want to share it.



April 17, 2013
" Prayers endowed with inner feelings keep open life's ceiling for unbridled healings from the Almighty."
Written in 2013 by Anuj Somany --- India
Prayers have a unique strength to keep us motivated.



April 17, 2013
Reflections
Today I reflected on what could have been and what is to be
Today I reflected on the woman in the mirror
It was more than a picture, a dream, a painting
It was real; it was lived by me.

Today I reflected upon the journey
Today I reflected on that path which I traveled
It was challenging, it was sweet, and it was not a dream
It was real; it was life lived by me.

Today I reflected on living the life of that woman in the mirror
Today I stood up boldly and whispered deeply
Today is the day I will paint the picture, stand tall to the challenge,
And reap the sweets.
Today is the day I will conquer it all.
Copyright © 2013 Ianthe Harris --- Barbados
I wrote this poem knowing that life is to be lived no matter what happens. Pick up those broken pieces and start all over with those broken pieces and make beautiful beginnings. Live Life!



What inspirational message could you contribute today?
Send it in here
April 15, 2013
" A strong woman has faith that she is strong enough for the journey. But a woman of strength has faith in GOD that it is in the journey that she will become strong."
Author Unknown --- Submitted by Maritoni Llorca --- U.A.E.



April 15, 2013
" The celebration of life is always a beautiful thing... Especially when it falls on the day you lost a loved one."
Author Unknown --- Submitted by Tia B. --- Louisiana
I lost my mother on December 4, 1999 to Gastric Cancer. Ever since then it's been a hard time for me until now. Someone I just met and care about is born on the day she died. Now, when the day comes I just want to celebrate life with a smile!



April 15, 2013
" At times I feel like crying...I cry. I can smile back; that's my Strength."
Written in 2011 by Amlan Krishnatriya



Read More When You Need Inspiration Quotes