On this foggy morning my memory takes me back to the time I lived in California.

I remember my morning walks along the ocean greeted by all the purple flowers blanketing the earth, accompanied by gentle breezes that whispered to me, "... Good Morning!"

These walks meant so much to me. Soon they would be followed by beautiful, loving monthly fire circle weekends up in the mountains. It was like being blessed each month by all the elements with love, honor and respect. One weekend a month I would gather with friends to honor each other, the elements, and those who walk this earth as well as those who have passed.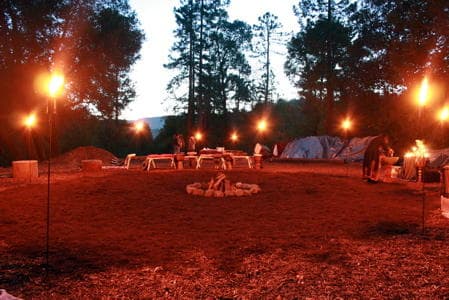 The fire circles are a protected space created by like-minded people singing, dancing, drumming, talking, and rhyming; almost like a scene from a movie yet never rehearsed. Harmoniously we would join together the energies of the earth, wind, fire and spirit of one another.

When we are alone in nature with our true selves, the truth of who we are begins to unfold. It's always a reminder to me of how precious each moment is. Working in harmony with the elements of the earth always brings us back to center to who we were born to be!
When the sole intention of a moment is honesty, the most brilliant light that shines is always Love; the love we are born with, the love that makes us who we ultimately are.

This love allows us to move through situations with grace and ease.
Cherish your life and cherish those who are dear to you. Our time on this earth is short and we're born to be beings of love.

Appreciate your surroundings and live life as BIG as you are able!

Until next time,
Beaming with Love and Beauty,

Cynthia

"Remember, the power that made you, can also heal you.
That power is love."

Copyright © 2013 Cynthia Farina
Cynthia Farina is a life coach, energy healer and intuitive teacher. She uses her innate talents, as well as a variety of divination tools in order to coach her clients to stand in a place of strength and truth on their own journey of self-realization.

Stop by her website to learn more: http://www.cynthiafarina.com



  Please share a comment about this article with Us: Email Us

Be sure to read Cynthia's other Inspirational Articles:

An Angelic Blueprint

Growth In Change

Where Is Your Energy Focused?

Intuition and How It Helps You

Focused Thoughts

What Do You Choose?

Work On Yourself

Have You Found Your Courage?

What Are You Avoiding

My Angel Card


Do you LIKE this page?
Be sure to click on the +1 button above
---