DEVELOP YOUR TEAM BUILDING SKILLS


"Become the kind of leader that people would follow voluntarily; even if you had no title or position."
Brian Tracy
"You don't learn to walk by following rules. You learn by doing and by falling over."
Richard Branson
"Find your spirit, and no challenge will keep you from achieving your goals."
Christopher Penn
"If you can't handle others' disapproval, then leadership isn't for you."
Written in 2015 by Miles Anthony Smith, MBA --- Wisconsin
"The difference between Do and Done is NE ... No Excuses."
Written in 2015 by Mohammed Sekouty --- Egypt
"Have you set high standards in the past that make it clear what level of performance you demand?"
Tom Peters
"Strong managers who make tough decisions to cut jobs provide the only true job security in today's world. Weak managers are the problem. Weak managers destroy jobs."
Jack Welch
"If you are small and wish to take on the big, the first step you need to plan before you wage your challenge is your path of escape."
Chin-Ning Chu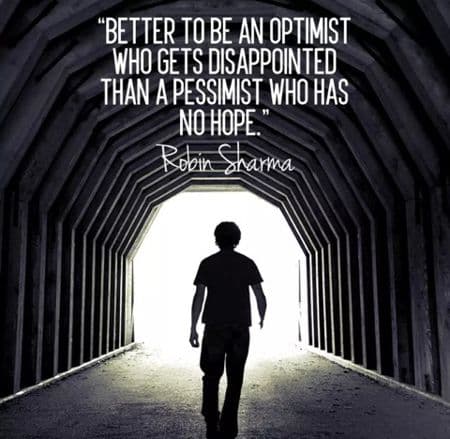 Submitted by Lauren Covington --- New Jersey
"We want to be an organization that is there with whatever those survivors need as soon as they need it. Our first response teams will sift through the remains of a house to salvage valuables, move a tree that has fallen and blocked them in their driveway, or just sit and listen as they grieve and support them emotionally."
Greg Martin - www.drawbuckets.org
"Making a big change can be scary, but not as scary as regret."
Ralph Marston
"Try, try, try, and keep on trying is the rule that must be followed to become an expert in anything."
W. Clement Stone
"There is no greater thing you can do with your life and your work than follow your passions - in a way that serves the world and you."
Richard Branson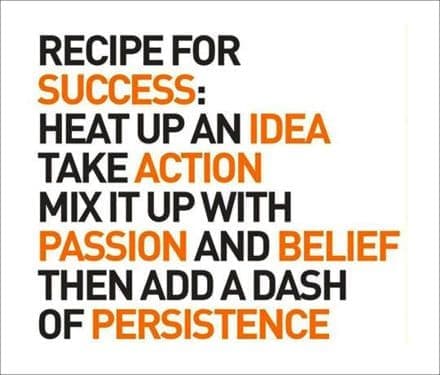 Submitted by Lauren Covington --- New Jersey
"The fundamental difference between men and businesses is not in the amount of resources available to each, but simply in the quality of vision each individual or business is willing to commit to. Sometimes the idea of a vision to a man at conception sounds too great to be attained. Yet, when you conscientiously pursue and conquer it, you make the greatest discovery ever: that no goal is too big to achieve, nor any height too high to ascend. But rather, you are as big as any vision, just as tall as any height and as fit for any goal, as long as you have breath."
Written in 2014 by Olanrewaju Kazeem
"Multiplication in division causes destruction."
Andy Khan --- Submitted by Nasser Khan --- India
"To overcome choice overload, create checklists that remind you of important factors to consider in making a decision."
Jeff Davidson --- Submitted by Frank Ellis --- Illinois
"Action is a self-spoken definition of leadership and if timely, then it becomes an inspiration to everyone."
Written in 2014 by Anuj Somany --- India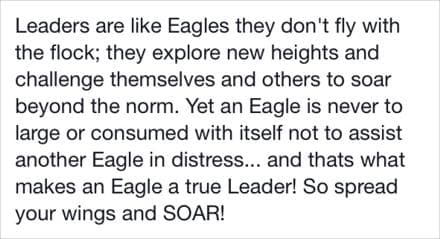 Submitted by Lauren Covington
"The most successful people are those who are good at plan B."
James Yorke --- Submitted by Howard Nevin
"With responsibilities come authority and accountability."
Written in 2014 by Sheye Hassan --- Nigeria
"Good decisions can have bad results (sometimes people must take terrible chances or at times people are faced with bad luck in spite of making the right choices), and bad decisions can have results (Better lucky than good, surgeons like to say). Thus, decisions cannot be judged good or bad solely on the basis of their outcomes. The decisions that are in alignment with your values, deepest desires and goals are good decisions and the decisions that run against them are bad decisions. The rest are neutral."
Dr. Atul Gawande --- Submitted by D.M. --- India
These thoughts were taken from the book, Complications, written by Dr. Atul Gawande. I have made some minor modifications to his writing.
"Humans are ambitious and rational and proud. And we don't fall in line with people who don't respect us and who we don't believe have our best interests at heart. We are willing to follow leaders, but only to the extent that we believe they call on our best, not our worst."
Rachel Maddow
"My father did not tell me how to live. He lived, and let me watch him do it."
Clarence Budington Kelland
"I think leadership comes from integrity - that you do whatever you ask others to do. I think there are non-obvious ways to lead. Just by providing a good example as a parent, a friend, a neighbor makes it possible for other people to see better ways to do things. Leadership does not need to be a dramatic, fist in the air and trumpets blaring, activity."
Scott Berkun
"For every sale you miss because you're too enthusiastic, you will miss a hundred because you're not enthusiastic enough."
Zig Ziglar
"An entrepreneur must pitch a potential investor for what the company is worth as well as sell the dream on how much of a profit can be made."
Daymond John
"Simplicity and common sense should characterize planning and strategic direction."
Ingvar Kamprad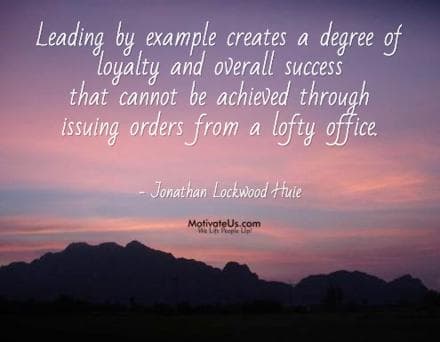 "Kindness doesn't cost a dime but it's priceless."
Written in 2014 by Robert Moore --- Massachusetts
"Building a successful company (or living a happy life, for that matter) is not about embracing someone else's philosophy, but staying true to your own beliefs about the world and learning from the mistakes you make along the way."
Ben Parr ---Submitted by George Wachirah --- Kenya
"The will to win is great, but to become great you must have the will to persevere in preparation."
Written in 2014 by Joseph Arazashvili --- Florida
There has never been a big league game won without much practice and mental preparation. So is in business, so is in life. If you want to win, you must be willing to prepare.
"In selling, the best commodity that you can sell is YOURSELF, while the most expensive thing is HONESTY, and the only accepted currency is TRUST."
Written in 2014 by Gigs Gasper --- California
"We see our customers as invited guests to a party, and we are the hosts. It's our job every day to make every important aspect of the customer experience a little bit better."
Jeff Bezos - Amazon
"We have no patent on anything we do and anything we do can be copied by anyone else. But you can't copy the heart and the soul and the conscience of the company."
Howard Schultz - Starbucks
"Your day and your attention span are finite, so maintain focus on vital issues and let the peripheral ones fall by the wayside."
Jeff Davidson --- Submitted by Frank Ellis --- Illinois
"The man who swan five miles in clear water should never be compared to the man who swam two miles among sharks."
Written in 2014 by Betty V. Oliver --- Barbados
"The 3D formula: Dream, Dare, Do."
Written in 2014 by CV Varghese --- India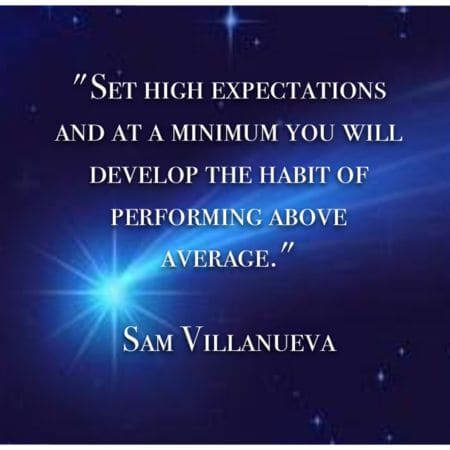 Sam Villanueva
---
---