"Life Quotes" Success Quotes
Thoughts For Personal Development


"Don't stress over people who don't deserve to be an issue in your life."
Written by Shatha Zahran --- Jordan


"Be Civil to all; Sociable to many; familiar with few; friend to one; enemy to none."
Benjamin Franklin --- Submitted by Amar Tamboli --- India


"The one who works diligently while utilizing his God-given core gifts to the hilt is already assured of success in its entirety."
Written by Leandro E. Pasamba --- Philippines
"A decision is like a string that stretches from the time it was made to the time of reaping its effect. Whether it was wrong or correct, nobody knows how far its influence will reach. It is a string on which one would hang memories of celebrations if the decision was right, and discoveries of lessons if it was wrong. Sadly, a wrong decision, if not being dealt with properly, may become a string that chokes one with regret and guilt, if one forgets to ask God for help."
Written in 2018 by James Patrick G. Cabacungan --- Philippines
"Happiness always looks small if you hold it in your hands. But if you learn to share it, you will realize how unending and precious it is!!!"
Written in 2018 by Louloua Asgaraly
Madagascar
"Creating a beautiful family and a peaceful home is the best thing we can all do for this world."
Written in 2018 by Brian E. Roscher --- New Jersey
"Success doesn't come when your hands are folded in your armpits. It comes through hard-work, determination and confidence."
Mohammed Hashim Sidi-Madani --- Ghana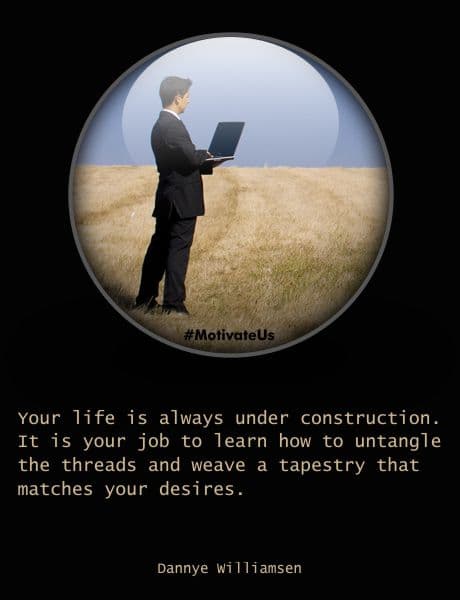 "Your life is always under construction. It is your job to learn how to untangle the threads and weave a tapestry that matches your desires."
Dannye Williamsen
"I see my friends on different paths..we all set out for a similar goal..but what I am mad about is that life always takes us on a different path and one that no one told us about. But...love...no matter the path or trouble..you got your buddies. I hate that I didn't know this till I was older but I think that being on your own helps see that we aren't; you have to try the tie that binds."
Written in 2015 by Matt Price--- California
"Some journeys in life can only be traveled alone."
Written in 2015 by Ken Poirot
"Your past does not have to be your prison. You have a voice an a future. You have a say in your own life. Choose your destiny wisely."
Written in 2015 by Bridgette Williams
"Never forget, no matter how hard life seems, no matter how bad you are treated, you WILL change the world. If you don't think so, you are wrong because everyone is special in their own ways."
Michael Headrick
"Life can be a joyride. Buckle up, sit back and let's go. Just like at the Fair or Amusement Park, no one wants to ride on the smooth, non-jolting, uneventful ride. But everyone wants to ride on the ride with lots of ups and lots of downs, crazy loops, turns, and scary stops and delays. When it finally stops, for good, people leave laughing, shedding tears and wanting to do it all over again. So, God paid your fare - now sit back, buckle up, and let's ride the joyride called life."
Written in 2015 by Janice Harris --- Florida
"Your presence in this present moment is the most precious present you will ever receive."
Written in 2015 by Johnnie Ivery --- Illinois
"The next time you take on a challenge you don't need luck. You need confidence, determination and the Will to get it done."
Written in 2015 by Eric Eisenberg --- Missouri
Regardless of your age, everything you have learned up until this minute shapes your perceptions and influences your intuition."
Jeff Davidson --- Submitted by Frank Ellis --- Illinois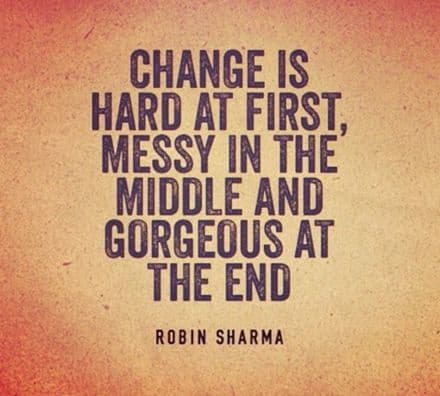 Submitted by Lauren Covington
"Goals to be achieved are like a maze. There is always a way through to achievement, though it is never straight and easy."
Written in 2015 by Tapuwa JNR Mhlanga --- Zimbabwe
Encourages me to keep on finding a way to achievement and learn from my own mistakes.
"The hardest people to love need the most love but they're always too busy pushing people away who do love them. Maybe it's because they don't love themselves enough to see that they are lovable and worthy of it."
Written in 2015 by Renee Scalfani --- Massachusetts
"Everyone has a conscience but only those who listen to theirs are said to be morally conscious. It is this moral consciousness that builds integrity and character."
Written in 2012 by Edi Stanley Chidi --- Nigeria
"Think twice before you speak. The tongue doesn't have blades or thorns, but it can cut or pierce someone deeply. Use your words to motivate and lift others up, not to hurt and bring others down."
Written in 2015 by Mabinty Kanu --- Sierra Leone
"Love brings positivity, so learn to love everything - be it human or a flower."
Written in 2014 by Sushwinder Walia --- India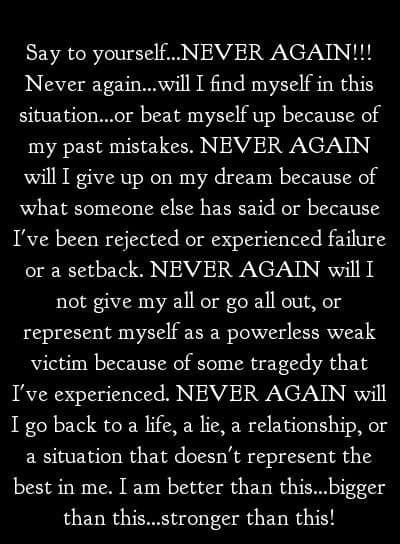 Submitted by Lauren Covington
"Love quietly waits while hate, anger, turmoil and strife cause havoc in our lives. Love gently nudges us on the shoulders letting us know its waiting to be embraced and acknowledged. Let love into your life. Let love into your home. Let love into your heart. Love is patiently and quietly waiting. Accept love and give love back."
Written in 2015 by Janice Harris --- Florida
The world is in need of love. But you can't give love if you won't accept love.
"If you are fully by yourself or well connected to the self, whatever others are saying (good or bad) doesn't bother you much. You are living life with full satisfaction and achievement."
Author Unknown --- Submitted by Sarita Singh --- India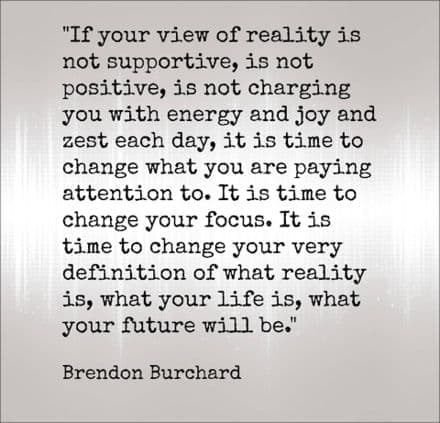 Submitted by Lauren Covington
"Boundaries emerge from deep within. They are connected to letting go of guilt and shame, and to changing our beliefs about what we deserve. As our thinking about this becomes clearer, so will our boundaries. Boundaries are also connected to a Higher Timing than our own. We'll set a limit when we're ready, and not a moment before. So will others. There's something magical about reaching that point of becoming ready to set a limit. We know we mean what we say; others take us seriously too. Things change, not because we're controlling others, but because we've changed."
Melody Beattie --- Submitted by Lauren Covington --- New Jersey
"Select wisely what you constantly spend your time Hearing and Seeing. Your Ear Gate and your Eye Gate funnel your choices into your Mind and Heart. Your Mouth Gate speaks out (Regurgitates) the contents of your Heart and Mind. CHOOSE WELL."
Written in 2013 by Jeune McIntyre --- Australia
"If we accept the reality of life as early as possible and do what we would like to do without bothering or comparing ourselves with others... life becomes so beautiful. Choice is yours."
Written in 2014 by Sarita Singh --- India
I was giving lots of thought on the purpose of life and I came up with this.
"There comes a time in life when you start to separate yourself from other people because you think differently... and that difference can change your life."
Written in 2014 by Omar Tahir --- Norway
"Love is about accepting each other and improving together."
Written in 2014 by Kevin Keenoo --- Mauritius
"Making money can give you a sense of achievement but only Making a Difference will give you a sense of Fulfillment."
Written in 2014 by RVM --- India
"The Truth Lies Beyond the Veil."
Written in 2014 by Nishan A. Kumaraperu --- Colorado
This was a quote I often told my children about simply accepting what they hear from fake friends who are purposely telling them stories to impress or take advantage of them. I wanted them to take what they hear with a grain of salt and find things out for themselves and then make their own decisions.
"Two powerful factors which create a difference between destroying your relationship and deepening it are EGO and Attitude."
Written in 2013 by Abhishek Shukla --- India
"Telling the truth and making someone cry is better than telling a lie and making someone smile."
Paulo Coelho --- Submitted by George Wachirah --- Kenya
"If you have the courage to change yourself for the better, right at this very moment, then you are already a success. Moreover, the immense joy this will give you is far more important than any wealth."
Written in 2014 by Leandro E.Pasamba --- Philippines
Time waits for no man. Pass life's tests with flying colors.
"The Equation of Absolute Self-Esteem is the difference between what your mind makes you think who you are and what you think about how other people think about you. The difference determines how far you can walk in tranquility - in search of your purpose of life. And, happiness lies in the journey to accomplish the purpose you always believed in - not necessarily in the accomplishment, itself."
Written in 2013 by Uday Uprety --- Texas
"It doesn't matter where we come from or what we look like if we recognize our abilities, are willing to learn and to use what we know in helping others, we will always have a place in the world."
Author Unknown --- Submitted by Ann Wakini --- Kenya
I was discouraged by my background due to financial problems but once I came to understand this I encouraged myself and worked hard. Now I'm in campus still trusting God for great things.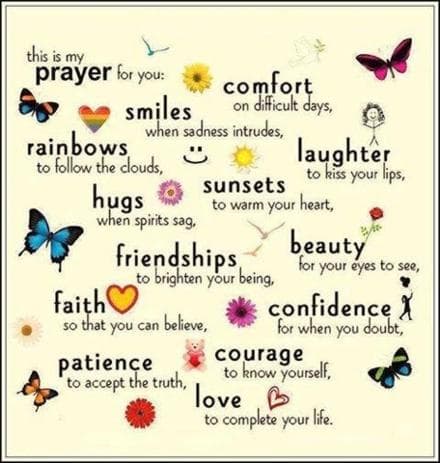 Submitted by Lauren Covington
"At the end of the day, some people will walk out of your life because of something you did to them and others will walk out of your life for no apparent reason. As you mature, try to make amends with both and if some of those people do not want to make peace then you know the separation was meant to be."
Written in 2014 by Chrisne Garnier --- New Jersey
"You only get so many chances in life to learn about other people. If you can look beyond stereotypes, other's opinions, and appearances you will find what it truly means to love."
Written in 2014 by Jesse Marie Kavumpurath --- Connecticut
"Be the iceberg. Reveal a portion of yourself to all. Save your hidden wonderment and splendor for those willing to dive deep with you."
Anna Pereira --- Submitted by George Wachirah --- Kenya
"Adversity is an inevitable part of life. Accept it, embrace it, overcome it."
Written in 2014 by Lucky Angelidis --- Pennsylvania
"Let me touch your soul, not your body, for your body desires and your soul transpires."
Written in 2014 by Kevin Keenoo --- Mauritius
"Plant seeds of expectation in your mind; cultivate thoughts that anticipate achievement. Believe in yourself as being capable of overcoming all obstacles and weaknesses."
Norman Vincent Peale --- Submitted by Lauren Covington --- New Jersey
"Celebrate Life. To truly live, Celebrate each day of Life. Let each day be a Festival of Joy."
Written in 2014 by RVM --- India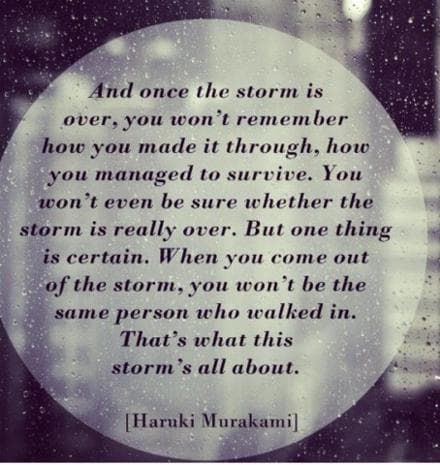 Submitted by Lauren Covington
"Love is many things. It is silence within the whisper between softened lips. It is the bond that connects through unspoken words of hands holding on to each other. It is the 'I love you, see you soon' that brings upon the lush of warming hearts that tie together. Love is confusion mixed in with mysterious delight. Love is the path that can go many directions in your journey. You will reach so many unexpected turns but then it is the path you find that brings you to the top of the hill, with that rising sun and glow that connects your souls with the greatest of love and all the deepest pleasures that make your heart beat a little faster, smile more easy and reading each others soul through the look of bliss-filled eyes. Love can take your heart to many places, especially unexpected craziness. But all in all, love has one thing in common - it binds the true hearts that belong together and does work in mysterious, but delightful ways."
Copyright © 2013 Amy Masella --- Illinois
"What you value and believe in... chisels and forms your character."
Written in 2014 by Brianna Gazvoda --- Pennsylvania
"Yours ears can hear wisdom often. If you stop talking... they can hear wisdom more than often."
Written in 2014 by Kevin Hartin --- Iowa
"The keys of happiness and success lie beyond your fear fences. Jump over the fences NOW."
Written in 2014 by Mohammed Sekouty --- Egypt
"Whenever you have negative, disgruntled and belligerent individuals around you, leave them for now and bless their souls."
Written in 2014 by Belinda Joubert
"Seven days without laughter makes one weak?... But Seven days of laughter makes an awesome week!"
Written in 2014 by Joh Caine --- South Africa
It helps to build self-esteem and humor at the same time; to add that happiness of laughter to sad souls.
"Many a times "Acceptance" in relationships leads to peace and harmony, while "Expectation" leads to conflict and dissatisfaction."
Written in 2014 by D.M. --- India
I came upon this realization when I was casually chatting with my best friend. "Unconditional Love" is one of the best gifts one can give and/or receive. But, a note of caution, "Unconditional Love"does not mean accepting abuse or bad behavior in relationships.
---
---