Thank You For Your Service; Thank You For Your Sacrifices
What Memorial Day Means To Me
America: land of opportunity, home of the brave and free.
Where the American flag and eagle fly for one and all to see.
Our nation's flag ripples proudly in the breeze,
From sunny California to the sandy shores of Maine,
All across America up to the ocean seas.
Many of our brave and patriotic sons and daughters, who fought on foreign shores,
Have now gone to their eternal rest.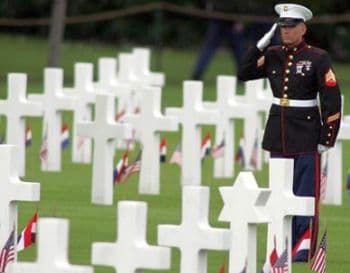 On Memorial Day, Americans honors our veterans,
They deserve our praise and glory,
For they are truly our nation's best!
Some made the ultimate sacrifice to keep our country safe and free,
They paid our future obligations in the name of liberty.
---
Please do not take for granted the legacy they bequeath,
For these brave heroes never heard the words: 'run' or 'defeat'.
So always remember and shall we never forget,
To thank our veterans and active service men and women every chance we get.
That's what, Memorial Day means to me.
Copyright © 2009 Joseph P. Martino
Joseph P. Martino is an American writer, poet, inventor and motivator from Millburn, New Jersey.
Share a comment or thought about this poem with Us:
Email Us
---