September 10, 2009
A friend has recently lost a child. I came up with these as a form of light in their moment in need.

"After the day, darkness will fall, but fear not as daylight shall come again."

Written in 2009 by David J Underwood --- United Kingdom
"An angel casts the shadow of a dove, the two go hand-in-hand, tough times are ahead, but fear not as the two are inseparable. And many others shall be there to help, and I shall be there as well to lend a hand. Peace be upon you in the hour of need."

Written in 2009 by David J Underwood --- United Kingdom

September 10, 2009
The physical form has died,
The mental image still there,
You could cry over the death,
Or think of the positive,
The soul in heaven,
The memory in your heart,
The moments you shared.

Written in 2009 by Samantha G. --- Missouri
I lost my grandmother on Easter of 2009 and then my dog a week later. I know how it's hard to think more positive than sad so I thought of this poem hoping I could help people avoid the grief and be able to move on. It's easier to not cry for days but to immediately think of the positive. I hope that this has helped.

September 10, 2009

People should never let their disappointments weigh them down because while we are complaining about the things we have lost, we forget how much God has given us.and that makes God sad.

Yesterday my wounds healed but the scars kept bleeding
Memory of my loss, kept me away from thanksgiving
This got me asking God so many questions
Like, God do you see me or am I just a reflection?

Later that day I sat and cuddled beside my mother
And I told her everything that made me bother
She said, Son, God loves you more than you do
He gave you life and even your new shoe

Where there is life, hope floats and never sinks
Thank God for the very little things
and even the water you drink
Son, God loves you even more than mummy does
So just believe that and he will open heavens doors

Before I had you, the doctor said I never could
But today here you are handsome, intelligent and brute
God waited all these years to tell you
That it doesn't matter what the canker worm has stolen,
I am God and I will restore you

Written in 2009 by Michael Ogah --- Nigeria
Mum died the next day!!(sighs).

September 10, 2009
I just recently started babysitting for a family. Before working for them, I was told by my mother that they recently had their little boy pass away in a tragic car accident. When hearing that, I had a thought in the back of my head. I wondered if I would be able to walk into the house to a heartbroken family.

On my first day, I was initially weary. But at the end of the day, I couldn't help but realize the love and acceptance of the little boy's awful death. The family was so loving and caring.

The oldest boy is filled with laughter and joy. He tells me memories of his little brother like the games they played and the wrestling they did. The youngest is a girl and she opens her arms out to me every time I arrive. I realize she fills in some of the loss this family has because of their son's tragic death.

I love coming over to watch these amazing kids. This family has a positive affect on me. They taught me what strength really is, even when times are rough. The kids taught me patience and acceptance.

Written in 2009 by Rachael R. --- Florida

September 10, 2009
"When it's time to say good-bye and it's hard to let go, just wipe away those pearls and remember we shall all meet again...that's hope."

Written in 2009 by Mercy Hmar --- India
We should realize death is an inevitable truth and our Lord has promised that we shall all meet again at the end. That hope should take us through these times of sorrow.

September 10, 2009
"We can cry for a thousand reasons, yet smile for a million if we only take time out to appreciate life simple pleasures."

Author Unknown
Submitted by Deja White --- Florida
When I think about the death of my fiance, I want to cry a lot of times. But when I take just one moment to remember the smiles we had, I begin to smile and forget the tears.

September 10, 2009
Never too young to be with God,
Though it be a sorrowful day
For those on earth left alone and sad
To know he is gone away.

Never too young to be with God,
Just a little while ago
He came from God.

If God calls back the Loan,
It's surely better so.

Copyright © 1973 Mary. M. Wygant
Submitted by Robert S. Turton III --- New Jersey
This short poem was written in August 1973 after the death of our sixteen-year-old son, "Billy" [Francis William] - written by the late Mrs. Mary Meirs Wygant of Cream Ridge, NJ, in Bill's memory. Her grandson, Eric Melton, was in school with our son, and in her historic homestead we often had the privilege of holding Gospel Meetings.

September 10, 2009
"God needs the good angels with him, so we can only borrow them for a time."

Written in 2009 by Delany Perry --- Washington


September 10, 2009



This is for my dearest friend Jayann
(June 27, 1984 - May 26, 2009)
May she rest in peace.

RAIN

Blot out the sun, heavy curtain of rain
Courier of the gods
Mayhem or luck, fresh from the cauldron of fate
Let me guess, you chose the former for me
You do that best

Soak up that glint of light, oh mighty torrents
For poor souls drowned in the river Styx
Never again would their wailings be heard

I, as one with them, was silenced by lighting's bolt
Eros shoots up his arrow towards the sky
It drizzled then and more
Love remained elusive
Stale as the heavy downpour

Washed out, the rain severed the blow
For feverish folks and simpletons like me
Rain, let the splintered chalice pass
The ferocious gales pinned me to become a sufferer

Copyright © 2009 Czarina Vaneza B. Ortiz


September 10, 2009
Gift For My Love

One day when I say you crying, the reason behind it I wanted to find.
When the world seemed clumsy to you, it was me who sparked your life.
The days came when you wanted to forget past
And I wanted to take you through the way of my heart.
But suddenly the way you love me changed
Because a person came in your life and you fainted.
The past you wanted to forget, flashed in your eyes.
Suddenly I was not able to find the love for me in your eyes.

But one day I saw me crying, the reason behind it I wanted to find.
The world seemed clumsy to me, when you started speaking lies.
I knew you did not want to ditch me.
Neither you wanted to leave that person nor you wanted to love me.
But I found the reason behind it.
I started ignoring you, the way I have never ever wanted to choose.
I started telling you, I did not love you
But I did not want to tell you, I was doing everything for you.

The change I wanted to see in you came across me.
You started ignoring me, the way I wanted you to choose.
You started speaking true, the way I wanted you to do.
You started telling me you hate me and
I got the reward whatever I was doing for you.

My plans started executing.
You started coming close to that person.
You started meeting, sharing and loving that person.
That's what I wanted to do for you.
Because I love you.

I knew that I was sinking, dying and becoming isolated from the world.
After a few days, the days never came when someone saw me crying
Because Jesus took my hand and carried me to the heaven
To take care of everyone.
I saw the world there I have never expected here (on earth).

I never wanted to see you crying
Because the journey I have lived
All was for your smile.

Copyright © 2009 Joy Sankhala
I have selected this poem because it tells about the meaning of real love. Love is not just getting the things easily but by giving or sacrificing for someone's happiness. That is the real meaning of love. It cannot be compare with anything else. I hope many people can read this poem and make them feel that whatever they have done for their real love is incomparable.

September 10, 2009
My Beautiful angel mom, on earth as it is in heaven.

Our mom was simply that an angel. She passed away on November 27, 2008 (Thanksgiving morning) from a year long battle with endometrial cancer.

I remember we use to talk and I would always tell my mom that if something happened to her, I would not be able to go on, but I am going on because she lives in me.

She is missed greatly every second of every minute of every hour of everyday. She did so much work while on earth, that I know God needed her more in heaven.

Written in 2009 by L'Tanya McNeal --- Wisconsin



June 4, 2009
"Whatever our disappointment, trouble, inconveniences or grief, God promises to turn it to gold. If we trust Him, God will make certain that every event that takes place in our life will play interest to the eternal well-being of our soul."

Dr. James Kennedy
Submitted by Desiree B. --- Philippines
There are always challenges in our way, going to the destiny we are dreaming of. But those obstacles, in achieving our dreams, are God's ways of planting the seed of humility in our hearts. He wants that seed to be rooted in our hearts so that when our dreams become real, we'll never forget Him... And at the end, we will realize that the journey is worth our effort.

June 4, 2009
An acquaintance of mine, who lost his wife in child birth, lost his son shortly after. I wrote this poem for him.

God Bless My Baby

Sleep my little angel, ascend to God above
Know that daddy sends you off with all his prayers and love

Your time upon this earth was brief, but not too short to know
That you were loved and will be missed; I ache to see you go

I held you in my arms so close, I stroked your little face
Feel comfort now just knowing that you are in God's grace

I pray that heaven touches me and heals my heart of pain
I ache from grief and loneliness, my tears pour down like rain

We ask the saints in heaven, and all who've passed before
To take your hand and guide you now as you pass through heaven's door

When it is time for me, my son, I know you will be there
Until that time I'll speak to you in dreams and nightly prayer

Copyright © 2009 Donna J. Hoover

June 4, 2009
"Holding onto you didn't help me... it SAVED me."

Author Unknown
Submitted by Tiffany G., Age 16 --- Michigan
I chose this because I lost the love of my life in a car accident. I love you David. We all have an angel in our lives; I had one that was earth bound and now he is watching over me. Even though we can't see them, they are watching us, waiting to save us.

June 4, 2009
In loving Memory of our Mother (ANNEMARIE HAMMONS) (HEPP)
Who went to her Heavenly Home on March 7th 2008

THE LONELY CHAIR

In the corner of the room stands a lonely chair,
That once was filled with a Mother who cared.

Her children miss her so very much,
Especially her sweet and tender touch.

It brings them so many heartaches and tears
Her lovely voice no longer to hear.

Staring at that lonely chair, they wonder
Why such a beautiful human being had to say good-bye.

All the sweet memories of her will be remembered each year,
From January to December.

In her children's hearts they know no matter what,
Her love for them will never part.

No one can ever break their special bond of love,
You see it was truly sent from up above.

So when you stare in the corner, at that lonely chair,
Just remember a loving Mother, who truly cared.

Written in 2009 by Jeanette Hammons --- Nebraska
My Mother died of Cancer three weeks after she found out she had it. She was 85 and it left all six of her children in shock. Our Mother was truly an angel on earth. Never thinking of herself but always of others, she always had a solution to any problems we had. She was kind, thoughtful, always smiling, funny, uplifting, and generous to the point that when she died, she had no earthly treasures left. For us, she left all the love she had in her heart.

We love and miss our Mother every single day. Remember to love your family now, if they are still here with you, because from the words of a song Kris Kristofferson wrote, " Yesterday is dead and gone and tomorrow's out of sight". So today is the time to show them you love them because yesterday is over with and who knows if tomorrow will ever come.

June 4, 2009
"You didn't have to go all the way to heaven to get a halo... you've had one all along."

Written in 2009 by Ashlee Zykan --- Missouri
I just lost a love one and thought this up.

June 4, 2009
This poem by written by Karol Wojtyla - John Paul II, when He was 19 years old. His Mum died when he was 8 years old.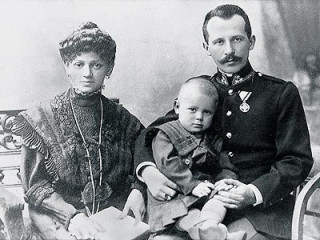 Over This, Your White Grave

Over your white grave
the flowers of life in white
- so many years without you -
how many have passed out of sight?

Over your white grave,
covered for years, there is a stir
in the air, something uplifting
and, like death, beyond comprehension.

Over your white grave
oh, mother, can such loving cease?
for all his filial adoration
a prayer:
Give her eternal peace--

Karol Wojtyla - John Paul II [Krakow, spring 1939]
Submitted by Anna A. --- Poland

June 4, 2009
"Nothing can make up for the absence of someone we love. And it would be wrong to try to find a substitute. We must simply hold out and see it through. That sounds very hard at first, but at the same time, it is a great consolation, for the gap -- as long as it remains unfilled -- preserves the bond between us. It is nonsense to say that God fills the gap: God does not fill it, but on the contrary, keeps it empty, and so helps us to keep alive our former communion with each other, even at the cost of pain."

Dietrich Bonhoeffer

June 4, 2009
"You know, no matter how bad your heart hurts the world doesn't stop for your grief, so get up and find that light at the end of the tunnel."

Written in 2009 by Travis Hodgson --- Australia

May 26, 2009
"Crying is a stage, a stage to be weak so as to be strong; a stage to pour out tears so as to look ahead. Look to the sky my dear, grief may seem to last farther, farther than a night but joy languishes forever."

Written in 2009 by Emmanuel Numa Sani --- Nigeria

May 26, 2009



Cast away the darkness
Bring in the light
Cast away the darkness
Bring in the light
For the light is bright
And it chases away the night
So you live your life right

Give up the darkness
And let the light enter in
For the light represents love
And love is as gentle as a dove
And love represents peace
It takes away my grief

The light covers the night
And brightens the heart
The light represents life
And gives joy to those that live right

Cast away the darkness
Bring in the light
Cast away the darkness
And please bring the light
Because the light brings forth eternal life

So give in and give into the light
For the light chases away grief
Cast away the darkness
And bring in the light

Copyright © 2009 Angela Wilson
I selected this poem because it encourages the soul and helps one to overcome the grief that they may have for their loved ones that passed on. It's encouraging and will motivate one to appreciate life and to make a discussion on how they may want to live their life, which is a positive way to turn.

Don't Cry

Don't cry little girl
It'll be all right
I know I departed too soon
But I'll be right by your side

Through storm and rain
We'll go through it together
We can speak to each other
Through spirit and prayer
I'll always be there
When you've lost your way
I'll put you back on the right path

I know when I was in this world with you
You felt so safe and warm
We grew a close attachment
That could not be broken
Don't cry little girl
For I'll be all right

I departed from you on a warm, spring morning
And you've moaned and groaned every since
You cry rain from within
And feel alone and distant
Your heart stings but feels paralyzed

I know that you're hurting
Now that I've gone away
So please don't cry
Because I'm among the Angels
Praying that you'll see me someday

You're spirit is broken
And you're shocked in dismay
Build up your faith
And make yourself shine
Come alive and put all behind you
Strive for perfection and move forward

For I now live in paradise
And it's so nice up here
Keep doing good and good will come to you
So please don't cry
For mommy loves you and always will
I'll say a prayer for you

Now dry your precious little eyes
And sing that happy song
We once sang together
Don't cry little girl
For I'll be all right

Copyright © 2009 Angela Wilson



May 26, 2009
Poppy

What do I do with this empty space where you always used to be?
How do I fill the lonely hours you used to spend with me?

So many tears and an aching heart are mine in private pain.
How do I soothe my longing cries to see you once again?

But somewhere in this darkest void is the presence of your love.
You left it as a gift to me when you were called above.

We shared so many special times with smiles and some tears too.
You'll always be a part of me for I am part of you.

Even though I cannot touch you, somehow you still are there.
My very special 'Poppy' still watching me with care.

Many days I'll walk without you but when those days are through,
On peaceful shores your hand in mine, again I'll walk with you.

Until that time, in a special place tucked deep within my heart,
Your memory and precious love will forever have a part.

Copyright © 2009 Judy Cryer
My dad passed away on April 25, 2009 His nickname was Poppy!!

May 26, 2009

I am writing this right now, as I am feeling very vulnerable inside. Nothing is easy in the beginning when we deal with letting go of something we care about, even if it was nothing more than a fun time. Starting over is never easy; I have that feeling in my stomach of nervousness. I feel like crying, after all week looking strong. I know in time I will be fine; it's just getting over letting go, knowing it is the right thing to do. Good bye...

Written in 2009 by Renee Scalfani
I have to let go. As hurt as I feel, I know that it was just time to let go.

May 26, 2009
When there are things about your past
You just can't seem to pass,
Just look ahead and up to God
And those memories will not last.

Written in 2005 by Charmaine Willocks --- Jamaica
This helped even me through a time I needed upliftment the most.

May 26, 2009
Mothers Never Die
by Michael Levy

Dedicated to my Mum, who died at the tender age of Fifty-five.

It was a breezeless day and the atmosphere was serene. I was listening to the ocean when a Mockingbird perched on my patio balcony. She appeared to be surrounded by a band of light, but the balcony was in the shade. Anyway; the little ball of feathers nodded to me and I nodded back.

She chirped a couple of notes to say hello and I chirped back that I welcomed her. I whistled a couple of lines of Amazing Grace and her little head moved back and forth, so I began to hum and to my amazement she join in the melody. I stopped and let her take center stage... what a performance I was about to encounter.

She sang such a sweet serenade, enchanting, enticing, captivating my very soul. She charmed me... she had me under her wings, I was spellbound. Our souls connected and although my eyes were wide open, we began to fly together, Upward...upward... upward; rising ever higher, higher, and higher.

We began to glide on currents of air, sailing through clouds, all the time, hearing Amazing Grace sung by my little feathered soul mate. I blinked a couple of times; I was back in my chair, the Mockingbird was perched on my shoulder.

She whispered, "Always respect others and be a good boy."

That is what my mum always told me.

Michael Levy. Professional Optimist
In Love & Joy - http://www.pointoflife.com

May 26, 2009
"Gone but not forgotten, although we are apart, you're spirit lies within me, forever in my heart."

Author Unknown
Submitted by Heather K., Age 13 --- Mississippi

May 26, 2009

I wrote this after the life of my friend was taken.



As I watch your daughter grow,
The memories she has of you she will never let go
Because she loves you so.

As I write this to you, I try and not to cry.
It's because I still find it hard to say goodbye.

I feel that life is not fair to have a mother taken away
From someone so dear.

When I think of what you miss,
As your precious daughter grows
It angers me so much that you are not here
To watch her grow.

She is so much like you, her beauty and wisdom
Is something she got from you.

Jody, I promise I will be there for your daughter
In any time of need.
She is so special to me
You just couldn't believe.

The day we lost you is hard to forget.
I've been told by so many that I must move on
But it's hard for me because you're forever gone.

I know I should not hold onto something
I can't have back
But the loss of you really took me back.

If I could change places with you
I would do so
Just to see your daughter long for what she wants.

Someday we will be together again, Jody.
As I end this, I want to let you know
That the friendship we had
I will never let go.

"In god's hand we trust."
A beautiful angel

Love,
Renee

Written in 2008 by Renee Scalfani

May 26, 2009

I lost my dad when I was 10 years old and this was a poem I wrote when I was thinking about him.



When tomorrow comes
And I'm not by your side,
When your life goes on,
And I am but a memory
Never forget that I am always by your side.

Never regret those fading last words
Which are always held close to my heart.

An angel came along that day
And took me by the hand
She whispered softly in my ear
Your heart belongs to heaven.

Those tears that gently sweep your cheek
Will always touch my heart.

You may feel alone
And feel such pain
And wish to see me again
But yet the pain for me is worse,
As I stand against the guarded gates,
As heaven now is my home.

I have but to see you
And no, I can't touch your hand.

An angel came along that day
And took me by the hand
She whispered softly in my ear
Your heart belongs to heaven
But yet my heart will always belong to you.

Copyright © 2009 Charlotte Moore

May 26, 2009
Once upon a time there was a girl that lived far away. One day she thought she had met her prince. But the prince was a ho. Not only was the prince a ho, he was also very mean to the girl, only when others weren't looking.

He insulted her everyday at least once. Nothing she could ever do was good enough for the ho. She would clean the home all day and make him wonderful meals hoping one day he would change and realize just how wonderful and forgiving she was.

Each year he became worse. Eventually she was not allowed to have any friends or leave the house. He would find reasons to injure her and make it feel as if she deserved it. She was taken far away from her family that loved her so. Each time she tried to leave, he would get her pregnant, knowing she needed him to keep a roof over them to protect her babies.

One day, this girl received a phone call. It was her mother. She was very ill and wanted to see the girl. Her husband wouldn't have it. He would not help her go to be with her mother. Then one day, the girl finally said, I must go, no matter what the consequences. So she packed things and hid them and one day sneaked away.

By the time she had made it to see her mother, it was too late. The girl stayed with her mother for the night so that her children could know their grandmother.

She heard her mother coughing. It was obvious how ill she was, so pale and thin, her eyes black.

So the girl laid down in the bed with her mother and held her. The girl asked her mother how she was going to live without her. The mother replied, you already have. And the mother died in the arms of the girl.

Copyright © 2007 Cate Black
For it might help another see what they did not before~

April 21, 2009
I lost my loved one, Louanne, who died in my arms while I looked into her eyes and got to say goodbye. I'm now approaching the month and day of her passing and I feel the same sadness and grief that I felt in the beginning.

For long periods I'm able to lose myself in life without her, but in times like these I'm brought back to those original feelings, where I get all choked up and my eyes get tearful.

I'm planning to email the local paper to submit a "in loving memory poem" and to go to the next "Relay for Life" out at the community college that hosts that event. Then I will leave a bouquet of her special flowers and a frog balloon at her "In Remembrance" candle lit memorial, along with all the other same memorials that encircle the inside track.

Written in 2009 by Harold McArthur --- California

April 16, 2009
I would like to say thank you to all who have wrote on this page. I feel very connected to all of you, yet I don't know who you are.

I am so amazed with the thoughts and feelings that other people will share. I wish that more people were able to think like us and be able to push through and help all those that we have lost and keep thinking about them.

And just so you know, you are all in my heart and I feel for all of you. I want you all to know that you are the reason I keep going on in this world.

You all have amazing ideas and thoughts that I wish I could share with the world and help the world, just like the rest of you all do, I am sure.

"Never give up, live to your dream and your dream will live for you."

Written in 2009 by Dylan H., Age 17 --- Canada

April 16, 2009
"When God doesn't answer your prayers, it doesn't mean He don't love you, it's just He has something better for you."

Author Unknown
Submitted by Monaliza Lubiano --- Philippines

April 16, 2009
*The Juvenile Creed*

Our Hearts May Have Been Broken,
Our Minds May Have Been Tried,
Or Perhaps Someone We Love
Has Unfortunately Died.

Those Who Raised Us,
Whether Right Or Wrong,
May Have Had Issues Too.
But There's No Excuse For Any Wrong
They May Have Done To You.

Now That The Past Is Over,
And It Is A Done Deal,
My Soul To The Enemy,
Lord Knows He Will Never Steal.

We Are Like Warriors,
On A Mission In Flight.
We Are Bound And Determined,
To Do All That Is Right.

I Am Responsible For My Own Life.
I Can Choose Peace,
Or I Can Choose Strife.
We Will Now Choose Peace
For The Rest Of Our Days,
Looking Forward To Our Future,
And Saying Good-Bye To Old Ways!

Copyright © 2008 Debra Angelique Louden
I was inspired to write this poem for my son who made some sad choices. He ended up getting into trouble and I lost him in the system temporarily. I am positive my son and I went through this painful ordeal so that other teenagers/adults can relate to this poem.

The pain and or anger that caused them to make sad choices now has a meaning but must realize that their lives can begin anew!

I have a passion for children/teenagers and I love them with all my Heart! I hope this poem will touch the lives of those that have been hurt in the past (as I am sure we all have to some degree).

Read this poem every day until you know it by Heart. My son did it and God will be giving me my son back soon. - April 14, 2009 will be the Happiest day I have had in a long time. I love you Son with all my Heart!!! You are a changed young boy and I give ALL THE PRAISE AND GLORY TO GOD!!!

April 16, 2009
"Life is all about: Learning, Loving, Living, Losing, and Leaning onto God in all of these times."

Written in 2009 by Natalia Visagie --- South Africa

April 16, 2009
"If you have failed in love or don't have that special someone, don't worry. It's nothing but your future partner's prayer working."

Author Unknown
Submitted by Gayatri Jadav --- India
Some of the reasons we crave love, and seek it so desperately, is that love is the only cure for loneliness, shame, and sorrow. But some feelings sink so deep into the heart that only loneliness can help you find them again. Some truths about yourself are so painful that only shame can help you live with them. And some things are just so sad that only your soul can do the crying for you.

April 16, 2009
To everyone who has lost a child, I feel your pain and my prayers go out to you.

It was October 21, 2008. I was 3 or four months pregnant, such a happy mother to be; just like with my first one who's now 2. She'd kiss my belly each night before we went to sleep - such a happy big sister to be. She'd still kiss my belly every day and it would make me cry but, not tears of joy anymore.

That morning I cried continuously for hours, for I had lost my baby.
A mother's worst nightmare and it hit me like a stone.

How and why I would ask myself and probably, like others, blamed myself; beat myself up about it 24/7. Still today I do.

There's no way to get over losing your child. Whether or not you got to hold him or her in your arms, it will always be your bundle of joy that you hold in your heart forever.

Devin Anthony Carter would've been his name, if he were a boy. But no matter the sex, I would've loved him/her till the end... I still will and my love will never end.

Rest In Peace, Mommy's angel.

Written in 2009 by Courtany Gooderham --- Tennessee
I love you Devin Anthony Carter. No one can ever take your place.

April 16, 2009
April 4, 2009 was the 7th year anniversary of my dad's passing. He was my hero and I was his little girl.

I can still remember getting the 6am phone call from my mom. At that moment, I couldn't breathe and felt as if my heart was ripped out of my chest. I asked myself, how can I live without my dad?

At that point I realized that God took my dad but a week before, my daughter Victoria was born. He took a life but gave another one to me.

I know my dad is at rest now and watching over us.

Written in 2009 by Desiree Santana --- New York

April 16, 2009
"I need time and I want the world to give me time because time is what my loved one lacked."

Written in 2006 by Emily McLellan
My friend's brother passed away and all he needed was time. Everyone kept pushing him to move on and get over it, but he needed time. His brother didn't have any more time, and in my friend's time of pain, people were trying to take time away from him.

April 16, 2009
"It is painful to become a mother of a child but it is more painful to cry for a child when one is unable to become a mother."

Written in 2009 by Satyendra Nath Chatterjee --- India
This is a conclusion of an incident that happened in my life.

April 16, 2009
Hello, my name is Lameek McGill. I am 20 years old and this is my story.

When I was 3, my grandfather passed away in 1992. I loved him very much and I wish he were here with me. I got over his death but not until 4 years later.

In 1996 my grand mother passed away. I always went to her house and she spoiled me rotten. She loved me and I loved her too.

I had thought that my life was going be so happy until 9 years later, in 2005, God recalled my beloved mother back to him.

I was sad and I miss her so much but I know she will be in my heart. Her birthday was March 16 and she would have been 44 years old. She passed when she was 39, going on 40.

Written in 2009 by Lameek A.K. McGill --- New York
The loved ones that you have lost, remember, they are only one heartbeat away. Thank you and God bless you.

April 16, 2009
"Not knowing a father is painful, but thank anyone who took the responsibility instead, and forget about the useless father."

Written in 2009 by Selaelo Petunia Thoka --- South Africa

April 15, 2009
Let Us Hurry

Let us hurry to love people
they depart so quickly

Leaving only their shoes
and silence on the phone

Only what is unimportant
tends to drag like a cow

The most important is so fast
that happens in split-second

Silence that follows -
normal and unbearable

Is like a clarity born
straight from despair

When we think about someone
who is no longer with us

Please do not be so certain ...
that there is still time left

For certainty happens
to be most uncertain

It takes away our sensitivity
along with happiness

And comes concurrently
like pathos and humor

Just like two different passions
yet not as strong as one

Tend to die down so quickly,
like thrush song in July

Like a sound somewhat clumsy
or a vacuous bow

They have to close their eyes
in order to truly see ...

And even though to be born
is a greater risk than to die

We love still too little...
and always too late...

Do not write about it too often
but write once and for all ...

And you will become like a dolphin
both gentle and strong

Let us hurry to love people,
they depart so quickly

And those who are not,
will not always return

And you never know while speaking of love
Is the first one last, or the last one first.

Poem by Polish Poet: Father Jan Twardowski
Submitted by Anna A. --- Poland

April 15, 2009
"I think about how much I miss him, and start to feel sorry for myself... but then I think about all the people who never got the chance to meet him, and I start to feel sorry for them."

Author Unknown
Submitted by Amanda K., Age 16 --- Illinois
My dad died when I was only 5 years old. He was an amazing man and father. It was hard on me but I truly believe it was a loss for those who never met him because they never got to experience his love, kindness, and courage.(R.I.P. DAD)

April 15, 2009
"I look behind and before and find that all is right. In the deepest sorrow of my life, I saw a soul of light."

Swami Vivekananda
Submitted by Anirbandeep Bose --- India
This is inspiring me throughout the bad times of my life.

April 15, 2009
Maybe some of you have heard the phrase, "You'll never know that God is all you need until God is all you've got."

I'm a single mom to my little girl who just turned 1 last December. She was seven months old when I decided to accept a job opportunity here in Dubai and I had to leave her with my mom.

It was such a difficult decision for me to make because we had recently lost Eric, her dad, that same year. Eric died from Pneumonia in February 2008.

I was 5 months pregnant when he had a heart attack following a severe brain damage and was bedridden for 6 months before he died. Six months... Six months of torture of pain and uncertainty.

Just when I thought everything is nearly perfect, suddenly, in just a blink of an eye, everything has changed, everything was gone... he's gone... all of our savings, apartment, car, business... and believe it or not some of our friends.

Moreover, what breaks my heart was the fact that he didn't even have a glimpse of our daughter, and the reality that my little girl will never see her daddy ever. To say that I was devastated would be an understatement. I wanted to die first. Almost all life support was removed from him as I supposed they were also removed from me.

It was so hard. God, It was so... hard. I've been through a lot since childhood -problems in poverty, love, spiritual uncertainty, depression, abuses- name it! But if you look around, you'll know that there are people who had worst.

Life is difficult... we all know that. All the dealings and connections in our life must be considered as a kind of a passing phase and as they say, "this too shall pass". God has reasons.

Being the eldest among 5 siblings, God has developed me to become a strong person and I understand that I had to go through terrible pains in life to become a better person.

Acceptance, together with extreme courage and faith, has helped me go through life's adversities. God's ways aren't always easy and painless. So I guess we should pray for Him not to take away the pain but to give us the strength, courage and faith to win through all life's difficulty.

Let me offer this speech to the two most important men in my life ... Eric and to my Dad.

To Eric, who made me feel loved and needed for the seven years that we shared together and to whom I spent the happiest moments of my life.

To my dad, who also died 3 years ago, my greatest mentor and my number one critic, I owe him everything that I am today.

I know you're both proud of me.

Written in 2009 by Girlie Ignacio
Submitted by Leeh Ignacio --- Philippines
This is a brief speech I shared in one of the courses (speech craft) I've been attending in Dubai. It is also to give tribute to my partner Eric Martinez who's been with God for a year now. May his blessed soul rest in peace. My prayers are always with you.

April 15, 2009
Ode To The Crier

You're blue with tears
And you have a lot of fear
Don't fall into the chains of it
Don't let it bind you
Put it behind you

You're crying to the top of your lungs
Fearing the thing that's most precious to you
Your life, the only one you have
You're singing the sad song of the blues
And you can't figure out what to do
Dry those tears stop crying

I feel for you because you're so scared
What must I do, you've been
Hurt so bad,
I can cry with you

I know your loved ones are gone
And you feel that you're in this world all alone
Everything in your life seem so wrong
But please hold on, every will be alright
The night can be long, but happiness comes
In the morning

Stand up straight if you can stand at all
And grab hold of your faith
And keep on living
Because you only have one life
Live it to the fullest and you'll be alright
Now go on and make your loved ones proud

Copyright © 2009 Angela Wilson

April 15, 2009
Till We Meet Again

I left for a foreign land 20 years ago
Although you didn't say it, I knew you were sad to see me go
My homeland was too small, I had to see the world
To make a life for myself away from the fold

The years flew by, I had your grandchildren
I spoke of you often and longed to see you,
It was just a matter of time

Took the steps to honor you Daddy,
Just like the Lord commands so that you would be near me
But the Lord looked down and had different plans
He sent His angel to take you home to be by his side

You called me your prodigal, maybe that was true,
But I am coming back home now
And as I look into the clouds,
I see you walking hand in hand with the Savior, on the streets of Glory

I almost hear the Angels singing and the beautiful harp music playing
Today is your birthday; you lived your life well
Heaven's now rejoicing, a son is coming home

You know we will miss you
But we won't cry for long
Because we know that one day,
You will be waiting at Heavens Gate
To welcome us home and hand in hand we will walk
Down the streets of Glory

Copyright © 2008 Anita Saint Louis
I wrote this poem as a tribute to my dad who died and I had not seen in 12 years.

April 15, 2009
Give it all to him because he knows just what to do
With all this hurt and pain that you are going through.
He's been there from the beginning just you wait and see.
He will come into to your heart and set your spirit free.

Written in 2005 by WJD
Submitted by William D. --- Pennsylvania
God tell her that I love her
And will always hold her dear
I would tell her myself but you see
She isn't here.

You've called her home
And I'm not sure why,
I only know
I never got to say good bye.

Although I asked forgiveness for all I'd done.
She never spoke a word
No, not even one.
Now I feel it's too late,
I just hold my head and cry.

Why did she have to go?
Lord why did she have to die?

Written in 2001 by WJD
Submitted by William D. --- Pennsylvania

April 15, 2009
Dear Ihioma,

Your birth was the most beautiful thing that happened to me and I felt so complete and proud to be your mother and have you depend on me for all that you wanted and needed. You left me so early and it's been so difficult but I am sure you are happy and smiling always with our Heavenly father. Always pray for mummy and daddy to be happy and safe. We miss you so much and we love you so much. We look forward to seeing you in God's time.

Written in 2009 by Ogwa
Submitted by Vivian O. --- Nigeria
I lost my daughter on October 23. She was born July 28 and she died only five days short of being 3 months. Her dad and I miss her so much but we stay positive and know better days are coming. God's words are alive and are forever true so I believe I will be blessed beyond measure.

April 15, 2009



In Loving Memory of Nancy Marie Bejarano
Sleep in Peace
November 29, 1990 - February 29, 2008

They speak of a better place ...like a paradise on earth
A better place where one doesn't need to wonder their worth
A place where the spirit can run free
This is where I hope you're waiting for me

The promise of a new tomorrow
Can be the only reason we've suffered such sorrow
I hope you found what you were looking for
I can't wait to see you on the other side of that door
Where love can speak freely
With no constraints of this ugly world full of corrupt and hate
This is where I hope you're waiting for me

I've always known since the day you were born
You were capable of great things
You're the bravest person I've ever seen
When it comes to standing up for what she believes
Right, wrong or otherwise...to the fullest you always strived
This is how I know you never truly gave up the fight
There will be redemption and we will walk in the light

Once again our souls will be mended...and we will reunite
Please let me into your sunshine...so much is left to be repaired
I must still walk among earth...while heaven is prepared
Please share with me your shadow as I walk along through the night
Waiting for my chance to finally make things right
Even though I feel I've lost you ...
I know your spirit still remains
Sleep well my child...till we meet again
Love
Mom
xox

Written in 2008 by Sherry Bejarano --- Indiana
Trying to cope with the loss of my daughter and saw your site...which was helpful to me...so I thought maybe my words could be of comfort to others



In Loving Memory of Nancy Marie Bejarano
Sleep in Peace
November 29, 1990 - February 29, 2008



Please stop pulling me, I cannot take much more
My eyes are tired and my soul is tore
But I will not let them know
I will not let it show that sometimes
I cannot feel my heartbeat..
I cannot hear my pulse...

Numb to the world my thoughts are my curse
Strange thoughts in my head.. creepy shivers down my spine
I fear for what is mine
It is hard to keep going when my world has stopped
It is hard to have faith in life when she did not

I have to stay straight and I cannot be wrong
But look behind my stare and you'll see much more
You'll see that I am still waiting for her to open the door....

God please grant me the courage the serenity and the strength
To keep it together for my children's sake ...
My reality is harsh cold and frail but I will move on
The world will know I fought it, cause that's what my sister would want
So please stop pulling me, I cannot take much more
I have nothing to give so I don't know what you're looking for.

Written in 2008 by Kathleen A. Fosnight
With love from your older sister

April 15, 2009
My Everything

Have you ever had something you loved and lost

Have you ever thought you could never live without the beauty
That illuminates the room upon the arrival
The aroma of the work that stands within the character of the inner self
So radiant and free
The love that penetrates the room at her presence
The forgiving heart that never judges
The ambition that's like a never-ending rain

What happens when all that is taken away
Where is the love that's gone
How do you go on without it

Where do you find beauty when there is no arrival
The aroma no longer stands within the character's radiance
Has no existence
The room empty of her presence
The love I lost
That heart that never judged
Gone.
Where is the ambition
Swept away like the rain

Mother I miss you
Like I never knew
I found my everything in you
When my days are gloomy
And my nights are long
I look to the stars and find my strength renewed

If I had one last moment to spend with you
I would hold you in my arms and never let go
I now understand the value of life
But more now, I understand your work was done

With life comes death
Tears, pain and loss
With death comes heaven
Eternity and rest
Love always,
Your daughter, Shelly

Written in 2007 by Shelly Reid --- Arizona
This is a poem I wrote after losing my mother. I hope you can find comfort in these words I often reflect upon...

April 15, 2009
I love you baby Jayden...With all my heart...
Love,
Mommy

A letter to my Mommy

Try not to cry Mommy
Wipe that tear from your eye
Take care of my brother,
He's a special little guy.

And when you get lonely
When you're thinking of me
Just look deep in his eyes,
And there's where I'll be.

I know that you tried
And did your very best.
You left it up to God,
And He took care of the rest.

I know you don't understand
Why I had to leave,
But someday I will show you,
So please try not to grieve.

Don't give up on God
Or lose all faith in man.
Blayze needs to know the way
To get to the "Promised Land".

I know the pain is awful
I can see it in your face.
But one day when we meet again,
You'll feel my strong embrace.

My body's no longer weak,
It's finally tough as me...
God knew that I needed a stronger one,
He broke the mold when He made me!

I'm with you every day
And I see you every night.
I just wish you could hear me,
When I tell you I'm alright.

To answer all your questions
No, I'm not alone...
I'm a very busy angel,
And now I'm breathing on my own.

There are no tubes and wires
For God has set me free
I have no more painful heel sticks
No medicine, No IV.

And the question about me growing...
You'll have to wait and see
But if you look deep inside yourself
That's where I will be.

For that is my new home
And I know deep down you know
That all the love you feel for me
Will feed me and I will grow.

I no longer have that body
Although cute, I've found out
I needed to have wings
And that body came without.

Blayze is still my twin
And though he's left behind,
He's living now for both of us,
Please show him a good time.

My time for writing this letter
Has suddenly grown short,
I have one more thing to say
Before I end my small report:

Mommy, please dry your tears
And try to picture the day
When you're right here beside me,
And we can watch the angels play.

And to Daddy who held me tightly
And rocked me in his arms
I'll never forget him napping
As I listened to his heart.

And tell my sweet twin brother
I'm sorry I had to go.
But I'll always be right beside him,
Helping him to grow.

And tell the people that love me
To dry their teary eyes
And always talk about me...
Keep my memory alive.


Copyright © 2002 Shelly Caldwell (Proud Mommy to Twins)
I have always enjoyed writing poetry, having my first poem published when I was in 8th grade. After giving birth to twins in 2001, 28 weeks early, and then losing my precious Jayden after 28 days, writing poetry became my therapy. I have written many poems and created websites for my beautiful boys displaying their stories and my poetry. The poem I am submitting to you was written on February 28, 2002, five months after Jayden's death. Blayze is my surviving son, my "Earth Angel", and though he has cerebral palsy and autism and has been through more in his seven years than most people go through in a lifetime, he is the inspiration that keeps me going. I have two angels, born identically with very different paths chosen for them, but both of them full of Heaven and infinitely blessed with the ability to touch everyone who hears their stories.

Visit their sites : www.geocities.com/blayzeallen
www.geocities.com/jaydencaldwell

April 15, 2009
My father, Alwyn Smith of Middlesbrough England, died aged 79 years of age after serious illness for many years, and I gained some relief from the poem I placed in his obituary and feel it may help others.

You suffered so much, Dad, without complaint
I would not wake you to suffer again
So it is with a broken heart I whisper low
God bless you Dad, I loved you so

Written in 2008 by Norma Reilly

April 15, 2009
"Sorrow may endure for a night, but if you hold on, joy will follow in the morning. "

Author Unknown
Submitted by Mrs Bhanu Deo Pendyala --- India

April 15, 2009
I wrote this for my grandmother. She lost her husband this year and it has been extremely hard for her and this was my Christmas present to her.

In every snowflake that falls
In every leaf that floats gently to the ground
Know that I am here

For every footprint that you leave in the sand
And every tear that falls from your beautiful face
Know that I am here

When everything you do is getting harder
Than it was then, when there were two
Know that I am here

When every step seems like a mile long,
I will be there to sweep you off your feet
And carry you all the way home

When there is too much missing
I will meet you in your dreams
When the sky is crying
I will present you with a rainbow

Through the days and nights
You hear my calls
And from the creaking of the floor boards
From when you see me walk into your room
We grasp hands and fly
And you know that I am here

From the many secrets
We know more than before
From when you sat at the table alone
And I watched you
From when I remember you draped over my bed
From the moment before I took my last breath,
I opened my eyes so you were the last I would see
And you know that I am still there

From when we sat in our chairs
And read our books
From the times I just stared at you without you knowing
From when the hard times came
And we read each other's stories in our eyes
You knew I was there

As the seasons change and the days pass
From when I am not there
Remember that I am happy
And the best is what I want for you
So be happy and be proud
And know that I am here

Written in 2008 by Courtney P., Age 13 --- Illinois

April 15, 2009
One life. One chance. That is all we get to make the change we want to see in the world.

I have never personally felt the pain of death until this week, when one of my friends passed away at the young age of 17. Devastating of course, but this is life.

No one knows for certain which day will be their last, what their last meal will be or what their last conversation will be about, so it is so true when we hear the quote, "Live every day as if it is your last".

So you've gained a few pounds, you can't afford that new pair of shoes everyone has, SO WHAT! To be able to wake up everyday, to be able to see, walk and talk is a miracle in itself. Even though death is a tragic thing, we should not spend all of our time mourning for life lost, but for life lived.

Written in 2008 by Megan A., Age 17 --- Canada
It is inspirational in hard and even easy times. It's from the heart.

April 15, 2009
When I was just 17, I met the man of my dreams. Two weeks after we met, he proposed. Six months later, we married. Then found out that we had a baby on the way. Nine months later I gave birth to a beautiful baby girl. We called her Carlee. He was so happy. I will never forget the look on his face when he told me "because of this, you are the greatest woman alive."

In August of 2008, he passed away at the age of 21 and I became a widow at the age of only 19 when our daughter was almost 11 months old. And then I found out I was pregnant again with another girl. I miss him very much and he will forever be in my heart.

Written in 2009 by Sharon D. --- Oklahoma