December 20, 2007
Today I cried, but only for a little while. I lost my father on Dec. 9, 2007- he lost his battle with Cancer. I don't have all of the answers as to why my father had to die, I know that God is a loving God and he would never take a person... that would not be loving at all. My father taught me so much, how to laugh at my mistakes and how to love those that really did not love me. The most important thing he taught me was how to forgive. Once we forgive those that has hurt us, then we can heal. I miss my father every day, but I know that one day soon I will see him again, and when I do- I am going to tell him that I learned the power of forgiveness.
Written by April Young --- Georgia
I would like to thank everyone that comes to this site and reads my story. If I can touch one person, then I have touched the world. Never let anyone steal your joy, always trust in the LORD and forgive your enemies, it is part of growing and healing. I loved my father dearly and I know that he loved me. I also know that there will never be another man to measure up to him. I will see him again, but in the meantime, I will continue to grow and love.

December 20, 2007
"You never truly know what's on someone heart, so treat them with kindness, respect and compassion."
Joel Zambrano
Submitted by Jasmine H., Age 14 --- Oregon
I chose to submit this quote because my uncle had pasted away two months ago while I was at camp, these were the last words he said to me before he died. I'll never forget them.

December 20, 2007
There's a heap of satisfaction
to sit here thinking of you Dad
And to tell you once again Dad,
how very much I love you.
There is comfort just in longing
for a smile from your face
And joy in just remembering
your very special place.
There is happiness in knowing
that my heart will always be
A place where you will rest
and will always be near to me.
All my love to you Dad in Heaven
Deborah
Editor of www.littlelovetales.com, a blog to share poems and stories that touch the heart.

December 20, 2007
"To let principles trump over the demands and desires of another is a victory for our inner peace. If we are true to ourselves, we will learn we can count on ourselves, no matter what."
Written in 2006 by Edgar C. --- Massachusetts
I'm in recovery from the disease of addiction, I'm working on my 7th year and my addiction involves more than drugs - like compromising my principles for others and doing irrational things with consequences, that in the future I sometimes regret.

December 20, 2007
I know that sinking feeling
It will happen to you too...
The one that you love is gone forever
And there's nothing you can do.

So try to remember the good times together
And your heart will start to heal
They live on inside you,
They're always beside you,
They're angels waiting there,
To guide you home.
Copyright © 1994 Brian Fitzgerald
I wrote this for my girlfriend after her 16-year-old sister was murdered

December 20, 2007
I've work all my life, just trying to make it in life. In 1997-2002-2006 things went all down hill for me. I lost my parents and my brother. Then, I had three heart attacks. Now my lungs are failing me, my eyes are going bad and I have ulcers. Every morning, for the last 10 years, I don't want to wake up. I'm not able to do anything any more, I hurt too much.

But what truly hurts most is that mankind has forgotten how to care about one another. It's all about material things and money. Nobody knows what the true word "love" means any more. People judge another even if you know nothing about them.

People, slow down. Stop, look around. God put this here for us to see. Our kids and our parents go to war. Some will never return, some will. Don't wait till they're gone to say I love you.

It doesn't matter if you fuss or fight, deep down they're in your heart, deep down you love one another. God made us that way.

If you have a loved one that has passed away, don't be sad, I have something for all.

Look in the sky each night; you will see a new star. That's God's way of telling you they're home now, they're in heaven. Material things and money are only what the greedy make of it. So please, go to sleep tonight knowing your loved ones are at peace and always with you.
Copyright © 2007 David Franklin

December 20, 2007
"Although the pain seems like it will never end, it doesn't but I promise it will get easier to handle and deal with in time. Also remember... although you loved them, God loved them more."
Author Unknown
Submitted by April White --- New York

December 20, 2007
Primroses and Windblows

Who can show me the primroses' secret dwelling?
Or play an outlandish music of a windblown string?
From beyond are promises of a new beginning
In a place that rests between waking and dreaming.

Outside the windowpane, a world left in stillness
Around is an endless stretch of sea green grasses
Waving to silvered willows in moonlight glances
Beneath a thousand stars of the azure heavens.

As the night has fallen, a tired heart remembers a moment
That has seemed to remain forever
When promised with sky of stars in cobalt embers
And a corn moon which light may never falter

Underneath, the grasses cushioned the primroses
As windblows' outlandish music gently lingers
Like angels' tears on the ocean casting glimmers
Reaching far to the shores where darkness had settled.

But as night would pull to the Pacific far away
And the primroses would lament into day
How could a tired heart grasp a moment so frail
And nothing more but echoes in the wind vibrate?

How could a starry radiance gleam the same on grasses and primroses
As the windblows wave on a lifeless earth's picture, captured and framed
And angels' tears fall down on a lonely grave?

But grace like feathers from the heavens comes falling
And solitary clouds in gray smokes are sailing
Darkness recedes and the sky is dawning
A spark of hope in the horizon is breaking.

Somewhere beyond where the ocean tide is ebbing
In a place that rests between waking and dreaming
Who can show me the primroses' secret dwelling?
Or play an outlandish music of a windblown string?
Copyright © 2007 Ireene R. Capulong
It gives word to my sorrow when I'd walked through grief. It also reminds me about finding grace & wholeness after a period of time when I finally decided to pay attention to the elegant choices & healing choices in my life.

December 20, 2007
"Don't let yesterdays mistakes hold you down, for tomorrow's stakes are there to be found."
Written in 2007 by Tarryn R., Age 17 --- Australia
I wrote this quote myself, due to the circumstances I was in.

December 20, 2007
With the passing of my sister, I have realized that life is short. That today she was here then just a few minutes later she was gone from all of us who loved and still love her. I can't say she was all good but she taught me from her mistakes in life.

She was HIV positive and said to me, "Make sure you don't do things that will hurt you in the long run and enjoy your teenage life because nowadays many teens are mothers or they are prostitutes. Most of all - use a condom. And lastly, do not think of what people say about you because some people are never satisfied, even if you can change ten times in your life. Be who you feel you should be and feel good about yourself."
Written in 2007 by Matseko Motaung --- South Africa
My big sister is the one I had communication with when there was a matter that affected me and she was open to help.

December 20, 2007
"God put you here to do your best, and live your best and be your best, and when he's ready he'll call you home. Now what better deal could you ask for?"
Evel Knievel
Submitted by Lenny Schmidt
Farewell Robert Craig "Evel" Knievel (1938-2007)
To many of us you were a real life super hero, may you rest in peace.

December 20, 2007
I lost my beautiful Aunt Rosie, September 16, 2007 and that day will forever be in my mind. I remember it was a Friday and I was in gym class when the teacher said I was wanted in the office. In my gut, I had a feeling that something was wrong for I knew I would get that call someday.

When I got to the office, my guidance counselor took me into a room and there I saw my brother. We sat there, both knowing, what was coming. The phone rang and the counselor picked it up. She said that my mom would like to talk to one of us but it didn't matter who. I told my brother he could because I knew what was coming and I wouldn't be able to talk.

My mom said that Rosie was in the hospital and was not doing too good. We left school right then and went to the house to wait for my mom to say it was okay to come over. Once we got to the hospital I was so nervous I was shaking. When we got to the room, I couldn't help but cry but I tried to hold it in as best as I could for I knew she would want me to be strong.

The doctors believed she would only be with us only that day. But they were wrong. She fought until Saturday night at 9:08. The date and time I will never forget.

My Aunt Rosie had battled cancer for 3 years when there was no longer anything that the doctors could do. They gave her only three months to live and she lived for four. This shows just how strong and determined she truly was. She was and will always be the strongest person I know. She always kept her head up high and never let people see her in pain. She always found a reason to smile.

I still remember her chuckling laugh every time I said something smart to a comment someone had made. I became very close to her over the summer of 2007 which made it that much harder the day she left us. I will never forget her beautiful smile and all the memories spent with her. She has two beautiful daughters the ages of 12 and 13 and they have got to be the strongest girls you will ever meet. I still can't believe she's gone. I will never forget her and may she Rest In Peace. Forever Gone But Never Forgotten.
Written in 2007 by Chelsea S., Age 16 --- New York

December 20, 2007
"Oh troubled heart, be still and know there can be no selfishness in love. For he who loves, the Master withholds nothing when he has need of it...and he who loves his child, will sink all sense of loss in the Everlasting gain of lying Safe upon the Bosom of the Shepherd."
Benjamin Palmer
Submitted by Dolly Tillett --- North Carolina
This is a quote I found in an inspirational book I read after losing my 23-year-old son. I had it inscribed on his headstone. It has brought me much comfort in knowing where my son is spending eternity.

December 20, 2007
I can't forget that day on September 23, 2004. The worst day of my life! I was in 1st period in the 10th grade and was having horrible cramps. I decided to call my Daddy to come & pick me up because I knew my mom would probably tell me to deal with it. I know my daddy (as usual) would come to my rescue like he always did.

I called him at work & his secretary said that he had to go do a job because one of his workers didn't come in for work that day so he had to do the job himself. So, I called my mom anyways-- she has a really busy job & wasn't able to come & pick me up.

Next person to call would be my sister, Jessica. She didn't work because she had just had a baby. She was able to come & pick me up from school.

I had a lot of friends who were older than I was, and they were all coming back from lunch when I was waiting for my sister in the front of the courtyard. They told me about this horrible wreck & all the helicopters that had flown over & how the whole highway was blocked off. It kinda freaked me out but I had to make sure that when my sister got to the school to pick me up that she wouldn't go that way, because of all the traffic.

When we got to my sister's house we had been there for about 30 minutes or so & we got a phone call from my other sister; Kim. She said, "Do you know what has happened?" I told her I didn't know what she was talking about...& she said that my dad had been in a horrible accident & that he was at Wake Med in Raleigh.

Immediately we called my mom at work & they told us that she was at the hospital with my dad. So, Jessica & I got in the car and flew to the hospital. We walked through the double sliding doors in the ER & I saw my mom, my uncle ( my dad's brother) my brother; Chris & a guy from my dad's work.

My mom just grabbed me & hugged me & my uncle just sat there with his hands between his hands with a confused look on his face. My brother left right when we got there because he said that he couldn't take it in there. I wasn't allowed to go see my dad because the police were standing in front of his door about to arrest him.

I know you were probably expecting for me to say that my dad had died...but actually my dad is still alive to this day. He did have a concussion, scratches, bad bruises & a lot of heartaches. My dad was charged with second-degree murder because the dump truck he was driving crossed the median & went into on coming traffic & killed a woman.

I'm not saying that you shouldn't have to pay for the wrongs that you do in life...but some things are a little too harsh. I've probably seen my daddy about 10 or 11 times in the past 3 years. It's really sad because my daddy was my best friend & the person I looked up to the most.

It's not like I can go & change anything but...my family went through a lot that year & the year after with the court & everything.

I am very glad that my dad wasn't killed also because that would've been even harder. It saddens me even more to know that...when I get married my daddy won't be there to walk me down the aisle because of this.

All I can remember is that morning before, as usual, he would always come in to my room & tell me goodbye & that he loved me & he would always ask me "are you my special, special angel?" & I always reply. "I'm your special special, special, angel."
Written in 2007 by N.G., Age 19
Some people may think of grief as just someone in their life dying...but it's not-it's a lot more than that...it's losing someone period.

December 20, 2007
"Don't hide your inner pain to please others."
Author Unknown --- Submitted by H.S., Age 17 --- Michigan

December 20, 2007
It's almost 6 months now to the day Paul died, lots of emotions have come and gone. And although the shock has started to go, the grief hasn't, but I've learnt a lot. I suppose it's common sense really to say, just live each day a little at a time, things will never be the same, and those who suffer grief will understand it. But life does go on, it just beats to a different drum.

The ache for the person who has gone on, doesn't lessen, it just changes. I try to have more understanding with people in trouble; it doesn't always work!! I sometimes want to rant and rave and scream, "Try working through grief, you dimwits", but I don't. I just breathe deeply and think. "I would have had more understanding before he went, he wouldn't want me to change now."

In Wales there is a saying called the "Hiraeth" translated means "Longing". I believe it's what we Welsh people feel when we are out of Wales.

It's what I understand now, "Hiraeth Paul, Cariad mawr, Tan y tro nesaf".
"Longing Paul, Lots of Love, til next time we meet."
From Your Boy Keeky aka Rhys S P and your stinky woman Sarah
Written in 2007 by Sarah Jones --- Wales
I submitted another offering back in June when my son's Father (my Best Friend) was killed in a light aircraft crash. (June 15). When I sent in my first article it gave me such inspiration when I needed it most, I hoped I could share the same with other bereaved people who needed help.

December 20, 2007
"Just like any other kind of relationship, a friendship can be lost too. It may be lost through anger, mistakes, or simply through circumstances. You work through it and one day everything will be okay."
Author Unknown
Submitted by Amanda H., Age 16 --- Ohio

December 20, 2007
"His golden heart stopped beating, his loving hands were put to rest. God broke my heart to prove to me, he only takes the best."
Author Unknown
Submitted by Samantha P., Age 17 --- Washington
When you lose a loved one, you find yourself searching for quotes and stories that may help you in learning to cope with the pain. On August 19, 2007 my best friend was killed. Not only my best friend but the person in the world who meant the most to me, who I relied on. We laughed together, cried together, joked about getting married, going to prom, living together.

Joey was longboarding, having a good time, and grabbed onto the side of a friend's car, "skitching" is what it's called. He slipped and was run over by our friend. Joey was the one person who made me feel so alive, loved, and cherished, who brought me to and introduced the church I now love.

The night before he died we had gotten into a huge argument, and the last words we said to each other were mean. I miss him everyday and question everything I did in our relationship. I wish everyone could realize how precious life is, and to never take anyone for granted. Not just say it, but really do it. But the last couple months I've seen God do amazing things because of Joey's death and I'm so proud of him.

December 20, 2007
"The loss of a friend is like the loss of a limb. Time heals the anguish of the wound but the loss is never returned."
Author Unknown
Submitted by Reeti Roy --- India
This quote has been particularly inspirational for me. When my granddad passed away, this quote helped me deal with the grief.

December 20, 2007
To lose something so special as a life, it is heart wrenching and fatal. Three deaths in one year equal five suicide attempts. Or maybe just in my case. Five suicide attempts equal fourteen scars and a visit to the School psychologist.

I lost one of my friends on Halloween because of a drunk driver. I lost my best friend to Leukemia and my Great Grandmother to Natural Causes. None of them, I ever got to say goodbye to. I sometimes wish, if only I was to go back in time, everything would have worked for the better. But the things these people taught me, they made me a better person.

I thank them for everything; they taught me that losing myself wasn't the way to handle their deaths. They taught me to lose myself was like running into a brick wall constantly. They helped me face things that I never imagined I would defeat & it feels, amazing.
Written in 2007 by Mandi C., Age 15 --- Oregon
The way I was grieving wasn't right, it was hurting me emotionally and physically. Do not try it, it loses your family, it loses your friends, & it loses yourself. It is highly addictive and I do NOT recommend it.

December 20, 2007
"When you find a million reasons to commit suicide... remember there are million+1 reasons to live."
Written in 2007 by Nehad Hussain --- India
Because no matter what emotional trauma we go through we need to be strong and overcome it.

December 20, 2007
Missing You

I know you're up in Heaven now
And I know that this is true
But all I can seem to think about
Is how much I miss you

I miss the way you said, "I love you"
Each and every day
Now I'm just filled with the hurt and pain
And the things that I never got to say

I know that life isn't fair
I wish so much that I could be
If only I could give you back
All the love you gave to me

I miss you so much Mommy
This is just so hard for me
I hear your laugh, I hear your voice
And your face is all I can see

Every tear that I cry
Is now just a memory
A reminder of all the love
All the love you ever gave to me

Now you're gone and I miss you so
And I don't know what to do
But I know until we meet in Heaven
I'll always be missing you

As a tear rolls down my cheek
I look up to the sky
I can't bring myself to say it
I just can't tell you
Good-bye
Copyright © 2007 Alexis Carter
I wrote this poem the day after my mommy and step dad were buried. They were killed on November 7, 2007 in a car accident. I miss them both so much, especially my mommy. She taught at the school that I go to, and everyday is a reminder of her. There's no love like a mother's and I know that it will get harder before it gets better, but that doesn't ease the mind. I never thought I could hurt like this, but I know that although she doesn't walk with me anymore, she is what carries me through the day. I LOVE YOU AND MISS YOU MOMMA AND KENT!! RIP

December 20, 2007
My Dearest Chuck,
Today is the day you went to Heaven. I got a heart breaking phone call from your sister telling me the news. I Miss and Love you and I am sorry that you're gone.
Written in 2007 by Mandy Brown

December 20, 2007



"Stronger, confident equals me. I hold my hold & walk proudly. No longer I turn to watch my back. Straight forward, walking like a proud woman. I even put a little smile on my face & a switch in my walk. Stronger & confident that equals me."
Written in 2007 by Nicole R. --- New York
I was going through a very abusive relationship for 2yrs & finally I walked away from it.


"Now as I rejoice into a new beginning, it's wonderful! So glad you're no longer apart of my life, so excited to continue to live life, so happy to be happy. I'm fine & never better!! Can't complain no longer. Never did I understand tears of joy until I cried those same tears!"
Written in 2007 by Nicole R. --- New York
I was going through a very rough relationship mental abuse & physical. It's over now & I'm happy because I never thought I would be able to move on.

December 20, 2007
Published in the El Dorado Springs, MO Sun Newspaper:

A cloud of misfortune came rolling over my family in these last two weeks. I lost my father, Michael Lee Julian, and my stepfather, Ronald Leroy Witte, 10 days apart from each other. Both sides of the family continue to grieve, but we also continue supporting each other. Please continue to keep us all in your prayers as we move through this grieving process for both of these wonderful men. I leave you with a poem for each of my fathers as a memorial for them and their lives here on earth. May they walk in heaven together as friends.

MICHAEL LEE JULIAN
April 22, 1953 - August 24, 2007

For you my father, I cry these tears of joy
For Jesus sacrificed for you and gave his only boy
Because of his love, I know you're there with him
He washed away your pain and forgave your every sin

And in this ground we'll lay you, and cover you with earth
For God carried you to heaven, as he's longed for since your birth
This ground will not serve as your home; water is where you'll lie
Amongst the ponds, rivers, lakes and stars in the sky

And you will be with us always, in every fish we catch
In every swim we take, with the wind upon our face
We'll feel your hands guide us with every cast we make
Through all our triumphs and trials, and every turn we take

We will carry you with us; your smile will lead the way
And remind us of the life we love every single day
Your pain has all subsided; your dreams can now come true
And we will see your face one day when the Lord leads us to you

So until we meet again, enjoy the fishin' up there
Just remember you can't exaggerate size, up there you must be fair
So Daddy keep the waters ready, save a spot for us next to you
We'll meet you in fisherman's paradise; just remember to save us a few.
Copyright © 2007 Jana Lynne Julian


RONALD LEROY WITTE
October 5, 1948 - September 2, 2007

A man full of spirit, a heart made of gold
A father full of patience, a husband to hold
A life full of laughter, we celebrate for you
And we'll embrace every teaching in all that we do

I will carry you always, in my rights and in my wrongs
In every achievement, and when the road gets too long
For father you've been there my whole life through
You taught me what love is...and oh, how we loved you

You are and always will be, my dad and my friend
And I say this with tear filled eyes; this is not the end
For I know you will be here with me, in my heart and in my ear
Telling me how proud you are with every passing year

When I walk down the aisle, I'll feel your hand in mine
When I have my first child, I'll feel your pride shine
So we'll say our goodbyes and cry all our tears
We'll be strong for Mom, and calm all her fears

So rest now in heaven, in a garden you call home
We'll hold you in our hearts Dad, and know we're not alone.
Copyright © 2007 Jana Lynne Julian

December 20, 2007
"The grass cannot grow without water, a rainbow cannot shine without rain and the soul cannot heal without tears."
Copyright © 2007 Samantha Pickreign

December 20, 2007
"God is too wise to be mistaken; God is too good to be unkind. So if you do not understand, if you cannot see His plan, if you cannot trace His hand, Trust His Heart."
Author Unknown
Submitted by Suzette Tan --- Philippines
I read this quote during a particularly sad time in my life and it has given me much comfort. I want to share this with those who are hurting out there. I pray that Our Lord will give you the strength and comfort that you need. God Bless!

December 20, 2007
"Wherever you are, whatever your circumstances may be, whatever misfortune you may have suffered, the music of your life has not gone. It's inside you - if you listen to it, you can play it."
Author Unknown
Submitted by Kayla J.R., Age 13 --- California
This really helped me when my family was going through a rough time. I hope it helps you.

December 20, 2007
I have just finished reading a story of the girl who found love at 17 and lost it. I found love at 17 and lost it also. However, my love was different. I just lost touch with him and have never been able to find out what happened to him and where he is, if he is still alive.

I am 62 years old have been married twice, have three children, 8 grandchildren and still cannot get this man out of my mind. I still cry and still look at a picture that I have of him. He was the love of my life. I have never loved or will love anyone. It is like she says, "It is something that you know and something that you cannot forget."

I still hope that I can find him and still dream of being with this man but I have tried to find him by tracing information that I knew about him but I have had no luck.

I really understand this person who wrote the story because it was as though I was reading my life story. I am also afraid I may find out that he died. I will still be heartbroken.
Ada L. --- New Jersey

December 20, 2007
"A person can only run from their problems for so long before having to come to terms with what's in their heart."
Author Unknown
Submitted by Brandi H., Age 18 --- Georgia
Today will be better than yesterday but tomorrow will be better than today.

December 20, 2007
"Death is a journey to another road. We live our lives then we make a right or a left onto the road of greener and brighter pastures. There is no need to ask for directions. You know when you are there as it is beautiful and all of your friends and relatives are awaiting you."
Copyright © 2007 Marion Licchiello
Grieving is not easy when someone who you love passes but if you think of it as a destination to a better place, it makes it easier. From what people who have near death experiences tell us... it's beautiful there...so let's rejoice in the fact that our loved ones made a turn to a better road.


"Our loved ones are always with you even after they pass...pay attention and you will feel their presence. If you think they are with you...they are."
Copyright © 2005 Marion Licchiello


"Our body is a mere shell...we remain alive forever. Our loved ones are always there for us...share, talk to them and listen to your intuition when you think they are communicating with you."
Copyright © 2007 Marion Licchiello

December 20, 2007
The Mountain I Must Climb
The path of life has taken me, down many a winding road
And when at times, I lost my way, you'd help me share the load
You picked me up each time I fell, and wiped away the pain
I never had to wonder, if there'd be sunshine after rain

I believed in new tomorrows, that would follow yesterday
That I'd always have that second chance, for things to go my way
But today you took my child lord, and surely you must see
The agony deep within my soul, as you take her away from me

Don't you see how much I love her, this surely cannot be true
For you have so many angels lord, that live in heaven with you
She was my drink of water, my heaven here on earth
And I held and rocked and loved her, from the moment of her birth

This time you gave me a mountain lord, I don't know if I can climb
For I truly thought I'd have her, until the end of time
Will she be your special angel lord, that you could not live without?
Your plan must have good reason, of that I have no doubt

Take my heart sweet Jesus, and hold it in your hands
I surrender my child as a gift to you, if this is your command
For your father is my god almighty, who also lost his child
That we'd be saved he gave us, his lamb so meek and mild

I place her gently in your care, as angels cry with me
Take care of my baby lord, through all eternity
Copyright © 2007 Margie Martinez --- All Rights Reserved

December 20, 2007
"The world breaks everyone and afterward many are strong in the broken places. But those that will not break it kills. It kills the very good and the very gentle and the very brave impartially."
Ernest Hemingway
Submitted by Yen L. --- Texas
I just wanted to submit this quote in memory of Tiger. He knows who he is, and he knows that I love him and that I miss him. He was a true warrior; he fought all the way until the end. This quote helps me cope. It isn't that brain washed, cushioned, watered down crap that other people will feed you. It tells me that yeah, it's not fair, and yeah it sucks, but it also tells me that the world just picks. It doesn't matter who, what they did, where they were, it just picks and goes. Yeah the quote isn't motivational and like I said, it's not something generic, said to make people feel better, its to tell people that you gotta stay strong, and you have to move on. You have to.

December 20, 2007
Thinking Of Dad

Life has knocked me to my knees, so hard and sudden LORD,
I'm begging please.
I'm like a spinning bottle holding life's experiences so tight inside.
When will this feeling stop? When will my pain subside?
How much pain can one girl take?
So much I've lost. I'm holding such a heartache.
"I Love you" had been the last few words I heard.

What a blessing to have a father with such a humor and concern.
If ever I was upset you always sensed my mood.
No matter how tired or overwhelmed from work you were,
My feelings never went unattended to.

I felt your leaving coming but I pushed it to the side.
I guess because I thought your body, your mind,
Your heart and soul seemed very much alive,
But something wasn't right
Demons over taking and blinding from all sides.

I sit here now looking upon a stone.
Feelings of disbelief leave me sad, hurt, and so very much alone!
So much pain from your past just refused to fade.
You tried to push it all aside, but it still desperately called out your name.

My thoughts are a blur. My mind seems to be clouded.
Thick fog covers the piece that most needs to be shouted!
I miss calling when I needed to talk.
You gave me wisdom, you gave me hope.

Now I'm left with what you would have said,
And replaying the last few times we spoke.
You left this world so sudden; many warnings but no goodbye.
So many broken hearts without much a reasoning why.

It was only a matter of time, I thought,
Before you would come to your senses and JUST STOP.
It seems now something life can't explain, and help far away.
Now you're in my memories and my dreams are dark and fading away.

I dreamed you would be there the day I gave myself away.
Or to watch my future children grow, run skip, and play
I thought you'd pull together with the strength we both knew you had,
But his force was over taking and the guilt wouldn't let you live.

It's hard when you've lost a huge piece of your heart!
I know one day we'll be together above and for me that's a beautiful start!!
Copyright © 2006 Amber Ogle
I lost my father very suddenly... If you have lost someone, my heart truly goes out to you. It's definitely the hardest thing I've been through! Losing my father was not only scary but for all who know, the feeling sad because you just want to take it all back, and it's incredibly hard to grasp that feeling, emotion, and thought!

But the only thing I can say is don't let yourself get too consumed in living for that person after they're gone. That is over... it's gone, as much as it hurts, it is gone! Now it's time for you to focus on what you need as an individual and what you need in your life.

Your loved one is looking down on you and why let them see you sad for them being happy? Their life is over now, so try not to be sad or upset for the pain they may have endured on this earth! Good luck. It's a long hard road and I'm not saying it's ever going to get easy because only the end of forever will reveal that answer!! Be happy because even tough it feels like the last time you will see that person again, it's not! You are not alone my friend!

June 15, 2007
In Losing a Dearly Beloved

Losing someone is hard especially in death. It's hard to cope especially if the person you've lost is someone that has been your anchor and where your world has revolved for so many years; it could be your parent or your child. No matter where you look at it, it's not just a physical loss but an emotional one as well. Death is something you can't take back anymore.

I lost my father when I was still in college. It came as a big blow. Even though I thought that I was prepared for the inevitable, since he has been in and out of the hospital for almost 5 years, when we have received a phone call that my father passed away already, (I really don't know how to explain it, but I already knew what the nature of the call would be and what had happened even before my mom went to answer the call) I was devastated.

I always thought of my father as someone strong, even if he was sick. He didn't show weakness even when he was sleeping. He didn't want us to feel that our world would crumble without him in it. In more ways than one, he helped us be prepared in case this would happen.

He kept himself away from the family and stayed with his brothers to recuperate from a heart attack. It's like saying, "Out of sight, out of mind." But no amount of preparation is enough of a cushion for you to be ready for such a big loss.

Even though my father was usually out of the country for business, he was never out of my mind. I really looked up to my father. He was a very intelligent man. He was so down-to-earth, that even if we had enough, we didn't splurge. He taught us the value of education and money early on. My parents would always tell my younger sister and me that they would not be able to leave us an inheritance, but the only thing that they could give us, which is worth more of a thousand gold, is education.

It was a bumpy road after losing my dad. It took me years (4 years or so) to get over the fact that he wasn't around anymore. But I still talk to him in my prayers... all the time.

For the past few days, it's as if I've been going through the same ordeal I went through10 years ago when my father passed away. One of my officemates, Jerah, was really close to her dad, and lost him to a massive and quick heart attack. Every conversation about death between her and her dad, she would always dismiss it because she did not want to entertain the thought of her father being gone... forever.

Her father, just like mine, was very caring. While we were at his wake, she would tell us little anecdotes about her father so we could get to know him, even though he's not with us anymore. We were able to get a glimpse of what a good father he was to the family and most especially to her.

Jerah's the typical "papa's girl" but nothing close to being a brat. She and her dad were the best of friends. They could about talk anything under the sun and were comfortable with subjects that usually fathers and daughters don't get to talk a lot about. Her father would make sure to wake up early in the morning just to prepare breakfast for her and the family and would not let her to leave the house without eating something.

I felt her pain, the sudden loss, the fear of not being able to go through life without his presence and guidance, to not be able to share her pains and joys as she experienced new things and met other people.

The loss my friend experienced helped me realized once again that I have to stop putting off the time that I should be spending with loved ones, to make them feel and tell them, really tell them, what I feel and how much they mean to me, how they make my life more special each day knowing that I have them.

Just like my friend Jerah said,

"I don't have any regrets for the time that we have spent together. I was able to tell him and made him feel loved and that he was special. I'm just sad that I will not be able to continue to share with him my joys, triumphs, and how I overcome hurdles (my future kids). It breaks my heart knowing that he will not be here to experience and see that with us, with me."
Written in 2007 by Terrie Chua --- Rizal, Philippines

June 15, 2007
"Grief is afraid of smiles and celebrations. Put up a smiling face. Try to remember those things that make you happy and grief will leave without saying a goodbye."
Written in 2007 Judy Okonkwo --- Enugu, Nigeria
It worked for me when I lost my beloved brother to the cold hands of death.

June 15, 2007
"Though it hurts to lose a loved one, it is most painful to grieve for what you didn't get to enjoy with them. Rather, remember the blessings they left behind, with so many wonderful memories. Treasure their essence, for it is still here with you."
Written in 2007 by Flora L. --- California
I recently lost a very dear aunt. I was so hurt that god didn't let her stay longer for I thought she was missing out on so many things to come. Then I realized... stop it! Think of her like she is still with you. As long as you keep her in your heart, she won't ever become a mere memory.

June 15, 2007
My Daddy

My Daddy raised me and showed me the way
He made me the person that I am today
My Daddy taught me right from wrong
He told me not to be weak and always stay strong
My Daddy loved me this I know
He made it clear every day when he told me so

My Daddy had a warm sweet loving smile
I remember it well even though he's been gone for a while
My Daddy is my guardian angel watching over me
Keeping me safe no matter where I might be

My Daddy, I can't wait to see you again
Being without you to me is a sin
My Daddy, I keep you close to my heart
We'll meet up in heaven someday,
Then nothing in this world will keep us apart
Copyright © 2000 Tina Mentzer --- Florida
My Dad was very special to me, and is now gone to be with God. I hope I can help someone get over the tragedy of losing their Father as well.

June 15, 2007
"Time heals all wounds, you just have to be strong and wait awhile."
Aaron Ayers
Submitted by Bl Bl, Age 16 --- Oklahoma
My teacher said it to me in 6th grade the day he left; I was absolutely bawling. He said it helped him and it would help me, and it did. I haven't forgotten him since. I miss you and won't ever forget you, Mr. Ayers.

June 15, 2007
"It's amazing the things you realize when you lose someone. You get mad at yourself for not saying the things you could've a million times, you take for granted the days you spent doing nothing when you could have been with them. Anyone can be taken at any time in our lives, but we always wait until they're gone to say the things we never had the courage to before."
Author Unknown
Submitted by D.B., Age 16 --- Vermont

June 15, 2007
Dearest Mum and Dad, from your loving daughter

I hope this letter reaches you
Up in the sky so blue,
The beautiful place with golden gates
That you both have passed through.
I often wonder if what they say
About Angels & Heaven is true,
But there's one thing that I know for sure
And that's how much I'm missing you.

Dear Dad,
I remember so clearly getting the call
About you feeling ill,
I remember how quickly I left my house
And drove rapidly down the village hill.
I got to your house as quick as I could
And phoned for help for you,
I sat you back in the chair saying things were ok
And tried my best to comfort you.

The children cried in the kitchen that morning
Because it wasn't like you to be ill,
We told them that the ambulance would be here soon
And make you better with a pill.
Mum went upstairs to get out of her pyjamas
And got dressed to go with you,
We knew in our hearts that things weren't right
As your face was turning blue.

You sat in the chair and removed your mask
You knew you had something to do,
Then whispered the only words you said that morning
To Mum as if you knew.
You said "Margaret what ever happens
Remember I'll always love you"
Then you fell to the floor and I screamed aloud
Then lifted and cradled you.

The ambulance can and we stepped aside
For their magical work to be done,
Then told you everything would be ok
As they took you off with mum.
We followed on thinking in our hearts
You were safe and would be fine,
But when we arrived we were greeted by mum
And couldn't stop her crying.

God took you away that morning Dad
And since then I have been sad,
I never got to say goodbye
Or tell you just how glad,
How glad I was to have you in my life
Even though yours was short lived,
I cherished you and loved you dearly
Now and forever I always will.

A year passed by so quickly
It felt like you'd be gone so long,
The hurt, the tears, the sadness I felt
Still with me I couldn't move on.
Then early one morning the telephone rang
I remember it was just after dawn,
I stood in shock & dropped the phone
As they told me that Mum was gone.


Dear Mum,
I threw on my clothes so quickly
My body & mind was numb,
I grabbed my keys jumped in the car
And the engine started to run.
I drove so quickly to your house
My brothers and sisters were crying,
Then the Garda's called again and said
To us that it was time.

We went to the hospital and there you lay
But all we could do was kiss you,
We couldn't believe that God was so bad
And had come and taken you too.
They say your accident happened so fast
And that you didn't suffer,
Just like Dads your life was short lived
But without you ours would be tougher.

You were our Mother, a sister,
A nanny an aunt and a wife,
A pretty young woman who loved to have fun
And enjoy the vibrancy of life.
I argued with you the day before you'd gone
Over what I know now was so silly,
I never got the chance to say how sorry I was
Or to say goodbye, please forgive me.

We didn't always see eye to eye
As life and time went by,
But times we shared and memories we made
Will stay with me until I die.
I love you so deeply Mum honest I do
You were a great Mum and a great wife,
And what I realise now and will remember forever
Is that you are my friend for life.


To both of you:
I talk to you both many times a day
And every time I see your pictures I wink,
I blow you both kisses when I'm saying good night
But just lay there and simply think.
Both of you went so quickly
Neither of us had a chance for goodbye's,
I try to be brave and I try to be strong
But inside my heart still cries.

I hope you hear me when I talk to you
When I'm happy or feeling blue,
And I hope God hears me when I pray
And that Heaven and Angels are true.
I've heard that Heaven is a place of beauty
Far beyond the sky so blue
And know that by now my beautiful parents
God has made you Angels too.

I remember how I felt when you died Dad
I wanted my life to end and be with you,
I felt so sad that you were lonely
And that you'd be feeling blue,
God must have known that you and Mum
Were meant to be forever,
He gave us a little more time with her in our lives
Then brought you both back together.

I suppose I should end my letter now
With the goodbye's I never got to say,
And how sorry I am that I couldn't do anything
To prevent Him taking you away.
But to say goodbye now seems so final
I can't say goodbye forever,
I've a tear on my cheek but a smile in my heart
For I know one day we'll be together.

So I will end my letter but not with goodbye
But with a thank you for giving me life,
For giving me love, and making me laugh
And sharing with me your life,
I'll treasure the memories I have of you both
And the life I shared with you,
I promise to cherish my life with my husband and children
But I'll never forget you.

I'm sending this letter with kisses now
Up into the sky so blue,
Please catch them dearest Mum and Dad
For they are meant for you xxxx
Copyright © 2005 Sarah Byrne

June 15, 2007



"A heart that bleeds finds strength."
Written in 2007 by Roy Dela Calzada - Texas



" We are made broken so GOD can fix us along the way."
Written in 2007 by Roy Dela Calzada - Texas



June 15, 2007
When The Time Comes

If you died today, not of your own doing, what would you say if you could speak at your own funeral?

This is what I would say:

Thank you for coming, the handful of you. I know that I have been a riddle to all of you. Just when you think you know me, I shed a surprise. Some call me the White Knight, some their worst nightmare. But, in reality, I am, correction, was, just searching for the answers to the meaning of my life. Somewhere in the middle, I forgot who I was, but at the last moment found my true love.

I got caught up in the moment but I have no regrets. I'm very sorry, for not being there, for some of you. I'm very sad that I forgot, about most of you. I was searching for something, but got lost on the way, only to be found, then whisked away.

As I look back, and see those I love, I realize the mistakes I have made. I can't fix them, but all I can do is learn, from beyond the grave.

Please forgive me, for I really love all of you.

It was just too painful to say good-bye to each and every one of you. It was much easier to pretend that I did not love you anymore and push you away. I could see that I was only dragging you down, and you all deserved much better than that.

I thought it better for you to hate me, and remove my love from your heart, rather than have your lost love, tear you apart. I did this for you all, in my strange way, but when did any of you consider me normal?

So as you lay my body to rest, just remember that I was a real pain in the ass. Remember the bad and horrible times. Remember the day I told you I did not love you. Remember the day that we said good-bye. Remember that day you saw me drive away and the relief you felt.

For if you remember anything else, you will never be free, of thinking of me. I love you all. Please, do me a favor, Live... for me.
Copyright © 2001 Jonathan Cretsinger
---


Building myself into a seaworthy ship, I was doing so well with my life. My world was small and just bearably enough to be considered round. Now that you have come and gone, it's become stale and unbearably profound.

I was once strong and could tackle my world, but I must really be weak because I can't stop the tears from flowing inside as I think of you between every breath. Just a moment, while I climb the highest mountain to see as far as the eye can see.

I can see my new world just over the horizon and that is where I want to be. If that is you standing there, please be patient while I search for the resources needed to build my ship as strong as it can be.

Damn, I'm on an island and the world is not flat. I now see that my ship building resources are scarce for an island this small. I will have to wait a few cycles for the new trees to grow taller.

I must nurture them with tender loving care. I must dig the well deeper to reach that fresh water we so desperately require. They need to be big and strong in order to build my ship upon. I know the sea can be ever so fierce and to set sail on a ship built of twigs will shurly crumble from the first wave that comes ashore.

So pardon me now as I climb off my mountain, I must toil and sweat to clear my garden of all those jagged rocks, to make room to plant a new me.
Copyright © 2001 Jonathan Cretsinger

June 15, 2007
"At times we feel forsaken but He was forsaken for your sake that you might never be forsaken for His sake."
Matthew 27v 46
Submitted by Vincent Nyathi --- Gauteng, South Africa
This quote is always in my mind this is the reason why I want to share it.

June 15, 2007
"Love is something beautiful in each and every one of us. But it is easily blocked by grief. Remember that love is energy that swerves all around us. Eventually we all lose a love one, but we must remember that their love for you has not left this world for it turns into new love. For Example: A grown man losing his sick mother. He has experienced a great loss but his mother's love has not left this world; her love is replaced by someone who loves him, a wife who gives the same love as his mother did."
Author Unknown
Submitted by JP.P., Age 17 --- California
It helped me grow and understand life.

June 15, 2007
"Losing a loved one is hard, but it's knowing that god gained an angel that makes the grief easier."
Copyright © 2007 Shay Mahle --- Texas

June 15, 2007
"It is okay to grieve, it is a natural process...it is when we allow the grief to take us over that we are defeated. Grieve, but continue moving forward!"
Copyright © 2007 Marion Licchiello --- New York
I have learned many lessons in my life and by being a Life Coach. The one thing I know for sure is "Whatever you focus on is what you get". If you are only focusing on your grief, you will go deeper into grief. You are in control of your thoughts!

June 15, 2007
"Anyone who has gone through the agony of losing someone they love so much will still wish against all odds to have that love back again. But sometimes, a love lost is a love gone forever. No amount of hope can bring to life a relationship that just died a natural death. Remember, it may rain 40 days and 40 nights, but still it won't rain forever. One day the pouring will stop and there will be plenty of branches where you can find rest. It's never too late, you may find love and lose it, but when love dies, you never have to die with it."
Pepot
Submitted by Ian Carlo Campomanes --- Cebu, Philippines

June 15, 2007
Another day passes by
Another moment passes by
You thought no one could hear you or your cry

Then you are awakened by one person's kindness
So soft, loving, tender, careful and nothing less
Who could ask for more? Who would want any more?

Many, but were they face down flat on the floor?
So many want so much that they always forget
The little things, they now have lives full of regret

Everything I have, it never cost me one red cent
I did pay, although money that was never spent
We have it all right here in our powerful heart
Everything we have learnt has made us extra smart

Everyone has strength; everyone knows how to care
Who are the people who have more than their share?
It's the damaged and the broken
Our lives will be set
Our hopes and dreams travel
Not by plane but by jet.
Copyright © 2007 Tammy Clancy --- NSW, Australia
I chose this poem because I wrote it after being touched by a special person recently. I was down on my hope for a little while. You know how they say we have our ups then we have our downs? I feel sorry for the ones who stay down there, then I wonder if anyone can ever stay up there high in the sky? One person ignited a little spark within me that had faded away; it only takes one, now I have been reignited. I will share my love with you all.

Whenever you're about to give up and cry, you just go ahead and do it. Cry a river, it will release you're pain and it will only make you stronger and happier. When you become a person who has been hurt so much, sometimes you are desensitized but it only takes one person to give you hope and make you feel again, feel like you are someone, you are worth every bit of being god placed within you. You are only human and being it is.

June 15, 2007
3rd May 2007

Hi Samby,

This day last year you were expected,
This year you are lost
Making so many impossibles possible
At such a high cost

All my expectations are dead
Not interested in "what is life?" anymore
But would like to know what is death
For sure

I am sure when the time comes,
You, for sure, WILL be there to welcome
Whether it's your father or may be your mom
What until that day comes?

Tell me my son,
What is the fun
When all are to die?
Then why do we cry?

When you are there
Then why are we here?
And when we can be here
Then why can't you be here?

What difference had it made if you never came?
Who can give the answer, what is this game?
Is this just like that, or do we have an aim?
Nothing's making sense anymore
Lagtaa hai aise jaise sab-kuchh bus ek shore

Everything's just making a nonsense noise
But in all that noise I can here your voice
I see you jumping here and there in the universe
Sometimes you go far from my sight, and I can only hear
And sometimes, I feel you close and so very near

I do not expect it to be same again
Tomorrow someone will rejoice and someone will be in pain
I will NEVER know what to tell your mom
How to console and how to reform
YOUR LOSS
WHICH is unbearable
Give us strength and make us able
Able to forget past and live in today
Perhaps that's the only way
TO LIVE LIFE
Love for you my baby.

Papa
Samby's Papa
Submitted by Naresh Milani --- Delhi, India
This comes from where even I do not know. The thoughts are auto-written. They come and get pen down on their own. How and from where they come, I know not... they just come.

June 15, 2007
"There is a difference between letting them go, and forgetting them. Letting them go, means accepting they are gone, but knowing they will always have a place in your heart. Forgetting them means to forget all the memories, the good times, and the bad times. So, don't forget them, just let them go."
Eli
Submitted by Elizabeth R., Age 13 --- Alberta, Canada
My best friend told me this when a good friend of mine passed away, and I was having troubles moving on after the death. I couldn't let go, because I thought that letting go meant forgetting them. He explained to me that I had it all wrong, and him saying this really did help me to move on.

June 15, 2007
My Dearest Jason

I love you more than ever
And miss you so very much
I can't believe a year has come
That I haven't felt your touch

I think of you all the time
You're in my thoughts every day
I miss your smile, your face, your laugh
And how you used to play

The kids miss you just as much
But they keep it to themselves
Whenever I try to talk to them
They act like they don't need my help

Your nephew, Jadyn Anthony,
Is growing like you wouldn't believe
But I know you see him all the time,
In your beautiful world, for us it's unforeseen

Cianna moved down to Tennessee
I pray for you, My Angel Jason,
Please look over her, Carlee, Carah
And Matthew could also use your help

I see the pain in their eyes,
and that I mostly fear
No one knows, unless they've lost
The beautiful child God gave
And how our hearts are shattered
Because you couldn't be saved that day.

I know that you are in Heaven
But my pain is still so real
And even after a year is past
It'll be pain that I STILL feel

Look over my little Angel, God
For he's now living in Your embracing arms
I know You'll take care of Jason
And he won't feel any harm

We Love You Jason Anthony Teynor III
And we're back in our home
Yes, where you grew up
I feel your presence here everyday,
And know I'm not alone.

Love Always, Mom


Written in 2007 by Jini M. --- Wisconsin
I wrote this for my son Jason who was taken from us March 25, 2006 in a tractor rollover. He was 13 years old and his little brother/best friend was the ONLY one to witness the accident. I miss my Angel so very much!!

June 15, 2007
"I want to go back to the days where I didn't have to worry about memories because I knew I would see you again. But now, since you've passed away, I try to go back to the days where your smiles were my heaven and my tears were the beginning of a new life."

February 13th at 7:20 PM I got back from a chorus concert with my dad. He dropped me off at my mom's house (they are divorced) and he said goodnight. He called me 30 seconds later asking where my sister, Lauren, was. I told him she was at April's house (her best friend).

He said, "Okay, I'm just making sure because two cop cars came by speeding down April's road." I said, "Don't worry dad, she's fine".

At 7:45ish, my mom got a phone call from Wake Med hospital saying Lauren had been in a terrible accident and is located in the trauma section because her head and brain was very damaged. I called my dad as soon as I could saying Lauren got in a wreck.

When I said those words to my dad, I heard tears dropping on the phone. He and his wife (my step mom) raced to my mom's house and we followed them all the way to Durham to go see my sister.

They put us in a waiting room when we got there. My mom and dad were on the phone with family members and friends telling them what happened. I just sat there trembling and hoping she would be okay.

I just wanted to say sorry to her because the last thing I said to her was, "God you're so annoying". I said that because she was wearing my shoes. All I wanted to do was to see her and hug her and I wanted to see her gorgeous green eyes.

They let mom and dad go see her first because they didn't want me to freak out. When they came back they said she wasn't good. They told me she was in a coma but she could hear me.

I remember my first time walking in there. It smelt like those gloves doctors use and medicine filled my senses. Tubes ran through her nose and throat. Her breathing looked almost fake. I realized she was on life support. Tears fell so fast I could hardly see her.

I tried to speak but all I could do was touch her face and hands. I couldn't believe I was looking at my sister laying in a bed with blood in her hair, and scratches on her face. There's so much more I could say in this short story.

I was at the hospital for 2 days straight. Friends and family came by giving their sympathy but I knew that wouldn't bring her back and it wasn't helping me. All I wanted to do was lay next to my sister and die because I knew deep down she died.

Doctors finally gathered the courage to pull my family and me in a room. They said Lauren was in a better place and that she didn't make it.

After I heard those words I wanted to do so many things like scream, cry, kill myself, go shake her, try to wake her up and I wanted to leave and never come back. But I knew that my sister would only want me to keep living and stay happy.

There's so much more to say about my days in the hospital and even the days after. We had a wake and a funeral. Lauren became an organ donor and saved 6-8 lives. She is my hero, my idol, my best friend, my sister, and she is in my heart forever.
Written in 2007 by Heather
I lost my sister on Valentines Day in a car accident just a mile down the road from where we live. She wasn't drinking or doing drugs just overcorrected and flipped. I try to remember all the smiles and memories but now all I mostly remember is sitting in the hospital waiting for them to say she will be okay...but they never did.
RIP Lauren Ashley Raym 8/23/89--2/14/07

June 15, 2007
"A broken heart is a blessing in disguise; it reminds us of how perfect God's love is and how imperfect we are. In the midst of the pain and despair we are somehow renewed in the promise that we have been loved the whole time, and will continue to be loved for eternity. And your heart again, begins to heal, until the next time we forget. It's the cracks in our heart that make room for God's promises to sink in."
Copyright © 2007 Anna Winfrey --- Massachusetts

June 15, 2007
On June 1, 2007, my son lost his beloved dad. His dad was flying a small aircraft and we believe it exploded in the sky. Now at the time when we heard the news my son (Rhys) and I were traveling back from a happy fun filled day at the beach. News came through on the radio about the crash.

Instantly I knew it was (Paul) I knew he'd been going flying and what's worse, our beloved son knew too. His father and I hadn't lived together for years but were still very close. With the hope and faith that we had instilled in him he put his hands together and prayed that his dada would be ok.

It wasn't to be. Early Saturday morning I, with the help of my parents, had to explain to our darling boy that Dad had gone to heaven to be with God and Jesus, because Jesus had work for Dad to do.

The reason for this article is first a tribute to a great guy (who I loved laughed and fought with!) but also the inspiration I can take from our Son, who with the stoicism and bravery that only a 7 year old can offer his Mammy (don't cry Mammy Dad is safe with Jesus).

I hope my story brings a small ray of light to people who have suffered tragic loss.
Written in 2007 by Sarah C. Jones --- South Wales, U.K.
Written in Memory of Paul Robert Sweeting (age 33)
Remembered always by His Beloved Son,
Rhys Simon Paul Sweeting - Jones.

June 15, 2007
God saw you getting tired and a cure was not meant to be,
So he put his arms around you and whispered, "Come to Me".
With tearful eyes we watched you, and we saw you pass away.
Although we loved you deeply, we could not make you stay.
Your Golden Heart stopped beating, hard working hands at rest.
God broke our hearts to prove to us, He only takes the best.
Author Unknown
Submitted by Diane Chavez --- New Mexico
I lost my daddy on May 31, 2007 to cancer. I am the youngest of 3 girls and as we all sat around talking he took his last breath. Nothing can ever prepare you for losing someone you love more than anything in this world. Just remember, when they leave us, they go where there is no pain and only happiness.

June 15, 2007
Help Me Hold On !!

Lord, Help me hold on, to my sanity,
It's all that I have, since my Mother left me.
The angels came and took her away,
She was called back home to you today.

My tears fall like rain, they won't stop,
I'm forming a ocean from each tear drop.
I reach out for her, she is not there,
My heart feels empty, my soul feels bare.

How do I ever get past this pain,
My sanity seems so close to insane.
Reality just doesn't seem real anymore,
I'm more lost now, than ever before.

Help me Lord, send me comfort I plea,
Please lift this heavy burden, off of me.
This is greater than anything I've ever had to do,
So I am praying Lord, you will see me through.

I've walked through valleys down here below,
But I am afraid this is as far, as I can go.
The loss is to great , the pain is to much,
Please soften the blow with your gentle touch.

Please hold me in your loving grace,
And wipe these tears of pain from my face.
She was my Mother, my Best Friend,
And I'm so afraid my heart will never mend.

Time seems to be passing much to slow,
I keep holding onto the pain, that I should let go.
It's just so hard to loose someone you love,
Although I know Mother is with you in heaven above.

Since the day my Mother gave birth to me,
She's been more than any Mother truly had to be.
She nurtured and loved me to her dying day,
It was just so hard that you called her away.

So help me hold on, give me peace I pray,
To make it through each and every new day.
It's the grieving I pray now you will release,
So the tears that are flowing like rain, will cease !!
Copyright © 2007 Brenda D. King
I wrote this for a friend of mine and anyone else who has lost a loved one to death.. I hope that this can somehow, someway,, give someone the peace and comfort they need through the dark hours and days that follow, until the heart can begin it's healing process.. May God Bless, give us all comfort and strength to face each new day that He might Bless us with :-)

June 15, 2007
Yesterday we were laughing together
Today she's left me forever
Tomorrow will be the worst day ever
Written in 2007 by Raquel R., Age 14 --- Wisconsin

March 15, 2007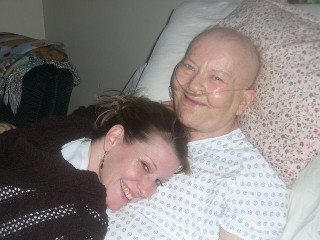 I lost my Mother and Best Friend, Gloria Hughes on November 17, 2006 to cancer. A very dear friend of mine gave me this poem as it was given to her when her Mom died and I displayed it at my Mom's wake and it brought me comfort the first time I read it. I hope that it will bring comfort to others who are hurting. I lost my best friend but I gained a lifetime angel.

When I Must Leave You

When I must leave you for a little while
Please do not grieve and shed wild tears
And hug your sorrow to you through the years
But start out bravely with a gallant smile
And for my sake and in my name
Live on and do all the things the same

Feed not your loneliness on empty days
But fill each waking hour in useful ways
Reach out your hand in comfort and cheer
And in turn I will comfort you
And hold you near
And never, never be afraid to die
For I am waiting for you in the sky.
Helen Steiner Rice --- Submitted by Cheryl Hughes

March 15, 2007
"It is never too late to say: I love you... I should have loved you - more."
Written in 2007 by Julie Feliciano --- Philippines
It's for those who realize late, how very much they were loved; Today, I count my 10th yr. of widowhood. Each day I realized more intensely how much I took for granted those who loved me dearly. I regret, but there is SOLACE in that they are acutely aware of my realization...and in the other life, they can still feel what I am saying.

March 15, 2007
Rain A Rhythm Of Ross, Shine A Ray Of Ross

Baba, the weather has changed and
I'm sitting here listening
To the rain clattering against my window sill
And I think to my lonely self,
How I wish you could be here
To enjoy the coolness of the raindrops
And now that you have left
Along with you my heart went

Rain please fall a rhythm of Ross
And bring him back to me again
You, I was blessed to have in my life
And now that you have gone
Along with you my heart went

Looking at all this I have makes no sense
For my heart and my love is meaningless
I could never understand why there is no Ross
I could never understand who I am today
For you were me, and I were you
Together we made full circle
And now that you have left
Along with you my heart went

Sun please shine a ray of Ross
And bring him back to me again
You were the one that said we'd stay forever
And now that you have gone
Along with you my heart went

I could never love again
I could never smile again
Cos chances are, I would never see light again
Because my heart is lost
Somewhere in Rossland
Shattered soul...
Copyright © 2006 Donina Renata


Eternity At Cafe 223

With pleasure
I await
When we meet
Again at Café 223
Only this time
Our journey will be
For eternity
We both know
That our love
Will always get
The better of us
So with pleasure
I await for
That exciting moment
When we meet
Again at Café 223
For eternity
Till I am With You
Copyright © 2006 Donina Renata


Essence Of My Life

When you touch me
All darkness is light
All troubles are lifted
All sadness fade
Because your touch
Tenderly erases all turmoil
Because your tender love
It's magic to my being
The essence of my life

When you hold me
All storms are calm
All coldness become warm
All rain turns sunny
Because you in my arms
Removes all chaos from here
Because your gentle words
It's magic to my being
The essence of my life

There is no one
Who can love me the way you do
Who can touch me the way you do
Who can hold me the way you do
The very essence of my life
Is without end missing
And until it is found
I will never be free from this misery
Lost, torn & shattered
Copyright © 2006 Donina Renata
On March 19, 2006 my husband was ripped away from me during a rugby game. Head injury they said, and that was it...one minute he is looking for a drink, the next he is on the ground gone...just gone...

March 15, 2007
Freedom Is Not Free

I watched the flag pass by one day,
It fluttered in the breeze.
A young Marine saluted it,
And then he stood at ease.

I looked at him in uniform
So young, so tall, so proud;
With hair cut square and eyes alert
He'd stand out in any crowd.

I thought how many men like him
Had fallen through the years?
How many died on foreign soil?
How many mothers' tears?

How many pilots' planes shot down?
How many died at sea?
How many foxholes were soldiers' graves?
No, Freedom is Not Free.

I heard the sound of Taps one night,
When everything was still,
I listened to the bugler play
And felt a sudden chill.

I wondered just how many times
That Taps had meant "Amen,"
When a flag had draped a coffin
Of a brother or a friend;

I thought of all the children,
Of the mothers and the wives,
Of fathers, sons and husbands
With interrupted lives.

I thought about a graveyard,
At the bottom of the sea.
Of unmarked graves in Arlington,
No, Freedom is Not Free.
Copyright © 1981 Kelly Strong
Submitted by Sarah W., Age 17 --- Wisconsin

March 15, 2007
My quote is dedicated to one of our staff members who expired on the 27th sept'06.

"I have lost you, someone so special, someone more than a friend, someone whom I feel helpless without, someone whom I cared for, someone whom I loved and respected. I will always miss you Annie."
Written in 2006 by Nikita Jaggi --- India

March 15, 2007
A New Beginning

We fell because we made a sacrifice,
And not many people really do.
But love is about giving your all,
To a feeling you hold so dear to you.

Sometimes we regret opening our hearts,
To someone who has broken it so discretely.
But can we ever take back the good times,
That made us fall for them completely?

Life is often about test and trial,
And realizing what we have,
So when we finally meet that perfect someone,
We will 100% know they're there.

They may not always appear as soon as we'd like,
But rest assured they will come.
Just keep in mind to open your heart,
And not close it because of someone.
Copyright © 2005 Kendrick Mason

March 15, 2007
Death is one thing we are never prepared to deal with...

I lost someone very close to me; she was the sweetest girl. Her name was Elizabeth and she was only fourteen when she passed away on July 9th 2004. She complained that she was having chest pains so we decided to go to the hospital. As we waited for a doctor, she looked at me and smiled. I told her she'd be okay, that it was nothing serious.

She asked whether she looked beautiful, I told her she did; she always did. She smiled and said okay. Then she looked at me again. Little did I know she was saying goodbye. She slept on my lap, told me the pain was too much...she then closed her eyes and that was it... just like that. I couldn't do anything to bring her back...she was gone, the funniest girl in our family was no more.

Elizabeth had lived her life so well...she loved laughing, and no matter how mad she made you, you'd smile. I have never really gotten over her death. It's hard to believe she isn't coming back, that she is really gone, but she is in a better place.

The night before she died, she kept praying, asking God to guide and help us all. Guess she knew she was going. Rest in peace dear, and you will always be in my heart. We loved and love you but God loved you more and she had a better plan. Fly Angel!
Written in 2006 by Liz Mwaura --- Kenya

March 15, 2007
"The sky tonight reveals a stark emptiness as the moonlight pierces the purple clouds. Memories of you linger on my mind, memories that mold a smile on my superficial mask!"
Written in 2006 by Neil Francis Estrella --- Philippines
I wrote this down on my cell phone while pacing the streets on my way home.

March 15, 2007
Darkness

Everywhere I look I see the pain in people's eyes,
If I listen real hard I can hear their hearts cry,
It seems as if they're spirits were stolen and broken,
I think they often forget life's what, where and when,
Not a clue or no direction only a wish to be accepted,
Making mistakes and maybe more than expected,
Their strength unknown and their wisdom endless,
Being criticised and judged they don't care any less,
These people who never had a chance to be or become,
Always earning respect by proving something to someone,
Someone who never understood or cared for peoples hardships,
Maybe they could if they were all beaten with leather whips.
Why, I don't know, as it's become survival to thee,
It only takes one to open their blindfolded eyes just to see.
Copyright © 2005 Tammy Clancy


The Stars Will Shine

The stars shine bright in the late pale moonlight
Bats screeching and fluttering within the fruit trees
An echo of a thundering sky or maybe a plane in flight
The river is still and the atmosphere is peaceful and free
A fish jumps high from the dark murky brown water
The splash trickles with a flicker of light from the sky
I sit by that old wise river often as it reminds me of her
It's absorbed my anger and given me the hope to fly again

The greatest things never came to those who waited
The worst things always came to those without patience
The biggest mountains were made to be climbed and appreciated
The paths of our lives well they lead to the final pretence
There was a road you walked down before you were even born
And each step you take now is a page in a chapter of a book
We try so hard to keep that book in great condition, no page torn
You see my friends, life was never meant to be an easy fish to hook
Copyright © 2005 Tammy Clancy

March 15, 2007
My dying mother, who suffered so much before she passed away said, "Accept and never expect."
Cecilia --- Canada

March 15, 2007
My boyfriend (24 yrs old) passed away in a tragic car accident 5 weeks ago. He was the only person in my life that seemed to accept me for who I am completely...and saw things in me that I was not even able to see.

I think the purpose his soul met mine, on earth, was to lead me on a journey to fulfill God's intentions to understand myself and my purpose and to help me become spiritually what God has planned for me. I feel his spirit will triumph, that through his death, he will be proud of whom I have become. This is a poem I wrote recently.

One week ago you were taken from me.
Your vanishing spirit, a pain, I could not forsee.
Memories, like a windstorm, whirl through my head.
I still can't even admit that you are dead.
The word haunts me like a curse,
Why couldn't it have been me to go first?

Tragedy struck upon you,
I am not accustomed to it.
Everyday you told me,
"You are my favorite."

You were the sunshine in my eyes.
Now in heaven your spirit flies.
Your energy helped me through the day.

I remember the times in bed
We would lay an entire day.
The smile that would light up your face.
Now I force myself to believe
You are in a better place.

I know in time we will meet again.
Where we could join hand in hand.
For now my loving memories will not surpass
For how you touched my heart will forever last. Copyright © 2006 Noelle Davis

March 15, 2007
Hi. My name is Heavenleigh and I am home schooled. I am only 14 years old and I have anxiety and panic attacks almost everyday. In April of 2006, I lost my boyfriend of 6 months. He committed suicide. I watched my whole life fall apart. I cried every night, I lost friends, and I been rejected. I had so much high school drama that I started breaking down with what I have now. I need counseling. I need a smile on my face.

Through all this experience, I am now a stronger person than I was. A young girl my age can only take in so much pain and fear. To help myself move on, I wrote him letters. I told him he was stingy for doing this to himself. How all he thought about was himself. I am a very nice person; I try to be nice to everyone. I believe in Karma, what goes around comes around & this time I need to stay ahead of my game.
Written in 2006 by Heavenleigh, Age 14 --- Missouri

March 15, 2007
"Death is not the greatest loss in life. The greatest loss is what dies in you when you are alive."
Author Unknown --- Submitted by Balagopal Thachangot --- India

March 15, 2007
Stop the cutting and the torture; you think you're making your life better when really it's worse. No one can tell you what to do in life, but please just drop that sharp knife. Stop taking the pill, it will drive you to kill. Stop drinking and driving because sometimes I wonder how you're still surviving.
Written in 2007 by Katie, Age 14 --- Kansas
My friends are going through a really rough stage and I want them just to be back to the way they used to. I don't know why they're changing. I'm not going to change with them. I'm just afraid they might die from the overdoses. I'm sending this in as a way to help them, to make them see that there's worse lives then their own and to stop what they're doing.

March 15, 2007
Life

I spend it sitting
I spend it crying
I spend it in so much pain
I spend it waiting,
Waiting for you to believe me,
Understand me,
Show me things I'd never know.
I spend it learning
I spend it watching
And I spend it without you.
Written in 2002 by Jessica K., Age 15 --- Georgia This is my poem that I wrote a year after my brother was killed December 15, 2001, 10 days before Christmas. He was only 14 and I was only 10. It was the most heartbreaking and devastating news that I could have gotten at such a joyful time of year. But with poetry, you are able to express yourself and help yourself and others along.

March 15, 2007
Daddy Loves You

I have been just sitting here watching you play
Enjoying myself and having a peaceful day
I never forget how precious you are
You will always be Daddy's special little star
I have been there for everything you experience each day
I walk by your side and I never stray
The joy that you bring me is way beyond compare
Though you don't see me I am really there
I'm there in your sister
In grandma and granddad
I'm there when you're happy
I'm there when you're sad
I'm there when mom hugs you with all of her might
It's my arms around both of you that make it so tight
I love your smile and the way that you talk
I reach for your hand let's go for a walk
The love of a father is what I will share
The love of our father allows me to care
The love of the Lord from heaven above
Watch's over and protects you with his undying love
So as I sit here in heaven
Happy each day
Seeing you grow up in a new special way
You have a lot of growing up still yet to do
But know "Daddy Loves You" and that will always be true
Copyright © 2007 Mark Koski
I wrote this for a good friend who has two daughters who lost her husband, their father, four years ago. I was not a friend then and she asked me to write something for them so I wrote this today. Thank you for your site.

March 15, 2007
"A part of us remains wherever we have been."
Author Unknown --- Submitted by Kelly G. --- Connecticut
Within the past year, my ex boyfriend was killed in a motorcycle accident. It was not until he was gone that I realized how much I truly cared for him. Even though I have have moved on with my life and have a new boyfriend, there is rarely a day that goes by that I do not think about my ex. The summer I spent with him was the best summer of my life and now that he is gone, a part of me was left back in those days, memories that I keep to myself and that I cherish. I miss you.

March 15, 2007
When Coal Dust Turns To Gold

With buckets packed and hard hats on,
They go to earn their pay.
Miners have a special bond,
They live it every day.

All miners share the burden,
When one has lost his life.
The coal mines never could replace,
The kiss he gave his wife.

It's a special kind of job,
Only miners do.
No matter how far down they go,
Angels go there too!

We miss the ones that God called home,
And the jokes that they have told.
The coal dust floors they use to walk,
Now have turned to gold.

Deep in the earth, across the land,

The miners did their best.
Their bodies go back in the ground,
Their place of final rest.
Copyright © 2006 Irving E. Rice
My heart goes out to all the coal miners and their families. This tribute traveled throughout the United States for one reason, "in hopes that I have touched someone who has lost someone," or families and friends of miners who have been hurt while working the coal industry.

March 15, 2007
"Maybe part of loving is learning to let go."
Author Unknown --- Submitted by KarLa M., Age 16 --- California
Yesterday was the saddest day for me, the wife of my pastor died on January 4, 2007 of breast cancer. I know it may sound ridiculous but she was like my second mom. Everyone loved her and she was such a great example and blessing. I am a Christian and I am still suffering with her lost. I am mad and yet happy for her because I know that she is in a better place with the Lord. He decided to take her away from us, and it's His will not ours. I know I have to be strong and happy but please pray for me I need your prayers, my whole church needs your prayers. We Love You Mrs. Lorraine Torres - Rest In Peace

March 15, 2007
What the Wind Brings Back

Shhh. The wind seems to imitate your voice. Frantic, my palm presses into each door. Just as fast, you are gone. The photographs lay scattered beside the furnace. One by one they shrivel up into an eternal non-existence. The link of events behind each portrait is obliterated. The pain does not cease. The higher the flames attempt to lick the air, an invisible dagger engraves scars into my vulnerable heart. I find no contentment in my unconscious state of mind.

The speckled ceiling arranges the features of your face, yet it is just a perfect picture without a single breath of oxygen. Moments tick away, but you still haven't crossed the threshold. My hope wanes but this grief has me in a stronghold. The driveway is unoccuppied. I am still alone.

My mind is eradicated from my body and sent to search the clouds. But the pearly gates of Heaven are closed; it is not my time to join you yet. A familiar friend, the wind, frees itself upon me, yet I still stand. I become a pillar of salt, crevice by crevice, ravine by ravine, my heart is solidifying, its beating resembles a boulder rolling down a hill.

Unknown to me, an underlying sorrow is stealing my precious memories. My mind is going blank; a foggy veil is enveloping my head. Stone cold becomes my fist, gripping the last of the past.

That day, when you left a handprint on my heart, the wind whisked you away, hidden from me. My heart was torn from the depths of my soul and it followed you. When you died, I died along with you. Shhh. Come back.
Written in 2007 by Katerina B., Age 14 --- Florida
I have never really lost a loved one. However, after reading all the "Helping with Grief" pages, I felt so sympathetic and empathetic, that I decided to write about my feelings on losing someone. I hope it helps someone that is having a tough time, and I believe you need to have God-given courage to survive the pain and endless grief of losing someone. I might've not ever felt like that, and I will not try to say I understand what people who have lost someone felt, but I wish for this to assist anyone and everyone. Thank you.

March 15, 2007
"When the path of life leads you through a valley, stop and look for the Lily; only then will you be able to see the beauty of life's trials and suffering."
Copyright © 2007 Joanne Almsteadt
Jesus is the Lily of the Valley. We can only see the beauty of the Lily if we pass through the valleys of life.

March 15, 2007
In Rememberance Of My Loving Mother

Not only was she my mother, she was my best friend, father, grandmother, sister and all in one angel. She was my world for 40 years, now I have to be my own world for my children.

Let me walk you through the last days of my mother's life.

It was a Sunday morning and she loved for her grandchildren and me to attend church with her. This one particular Sunday I wasn't going to go but I had this tug in my spirit to just go and be with her. That's all she wants is to be with you and you know you want to be with her too. I went and we held hands the entire service. She held my hand and gently rubbed my fingernails admiring them. I had a sudden urge to ask her if she wanted to go somewhere after church (that she had asked me a week before to go and I said no to) and she lit up like a firecracker and said, "YES, YES, let's go!"

So after church we came to my house, had a sweet lunch together and yes, headed to Louisiana to play the slots. It was something she loved to do and at age 75 she would go on a regular basis alone, even though I hated it. I would go with her just to feel that I could protect her from harm.

We were traveling down the highway and about halfway there, there was an awful accident that blocked the entire side of our freeway. We spotted it in time and exited off the freeway to see 3 life flight helicopters, 4 ambulances and car after car pounded into each other. All we could say was, "Thank You Lord for protecting us from being in that accident and protect them Father."

We went around and got back on the freeway and headed on down to the casino. We got there and we started playing slots having fun, not really winning but winning enough to stay and play. I was standing by mom while she was playing this certain machine and we were talking not even paying attention when DING, DING, DING, it hit the jackpot. Oh my God, we jumped up and down and laughed. It was an $8,000.00 jackpot winner.

I can't tell you the joy in her eyes. She told me, "See together we are winners." We left and were driving back home holding hands yet again. I didn't think much of it because we were so physical with each other. During the ride home I asked her a weird question, "What do you think about the date coming up June 6, 2006(666)?"

She shrugged her shoulders and said, "It's just another day", but she did tell me that her mother (my grandmother ) passed away on June 5, 1967 (when I was just over a year old) on my mom's couch suddenly. My mom walked in and found her.

Looking back now I see all the things that she did and we talked about and should have known she was ready to go but I didn't.

We arrived home about midnight and we were so tired. She went home and we talked the next morning (just like any other morning). She came by my home about 1pm when I was out taking our daughter to driving school. Well we finally met up, she gave me a portion of the winnings, and we sat, had a snack and I noticed she didn't look too good but I didn't want to hurt her feelings. It came time for her to go and without turning around four times to hug me tightly and tell me HOW MUCH SHE LOVES ME, she finally walked down the sidewalk and left.

For the first time I didn't watch her drive away. Something stopped me at the door and said, "Just watch her walk away". I made sure (peeping through the blinds) that she was okay taking off.

About 2:20pm I ran my daughter to a friend's house and out of nowhere she got chills (it was not cold chills). I dropped her off, made a run to the bank and got back home. I was talking to Lisa (my best friend) on the phone when there was another call coming through. MY HEART SANK! A vision came inside my head of my mother laying on a bed passed away with the white sheet pulled up to her chin.

After playing phone tag with everyone, I finally got a hold of the hospital and my step dad told me in a cripple voice that she had passed away. I was in hysterics, yelling screaming, "NO, NO, NO! This can't be true, I was just with her, she just left my house. OH MY GOD, what am I going to do without my mother? OH MY GOD, NO, it can't be true."

I was unable to grieve for her for 5 months because I covered it up; I had to help with everything that had to be done to give her a proper burial.

This was my mother; I couldn't bare the thought of having to do all these things. Pick out her clothes to bury her in? Oh no, I can't do that. But somehow I found the comfort and the peace (through God of course) and I did it. It has been 6 almost 7 months now and I am finally grieving. I am grieving differently than just the sadness. My mother was a kind, loving, giving, caring person. All that she was is in me; now and always has been, I just never knew it or saw it before she passed.

I have become my own little mother in a sense. I find myself giving, blessing others, loving, caring and doing what I can to help out anyone that needs it. See at the funeral everyone was telling me how much I looked like my mother, how that touched me. The spoke of a baton being passed down to the daughter and I have that baton now.

So if I could say anything to help anyone after losing someone I would say, when you find yourself doing something positive that they did, just smile because it is them in you. They are not as far away as we think. Still go on with your lives, find your grieving moments, make the most of who you are in them. In other words, what do or did they have that is now yours? These are all good ways of healing. :) I sure hope I blessed someone with this.
Written in 2006 by Tammy Griffin --- Texas

March 15, 2007
My best friend, Jenny, died on Valentine's Day. It was a freak accident. A tree branch fell and it killed her instantly. She was only fifteen. She had just gotten her learners permit. Jenny she was so eager to go out in the world and show everyone what she was made of. It is a shame that she died at such a young age. She won't have the chance to experience life like me, Tori and Merideth will. She'll never go to prom, never be kissed, never fall in love, never go to college, never buy a house or have a child. It is sooo hard to imagine living without her but I know that she will always be in mine and many others hearts and I will always miss her.

I have seen many deaths in my life even though I'm only 15. My dad died in a plane crash when I was 2. My granddad died of lung cancer when I was seven. My great, great grandmother died when I was 11 and now, my best friend has died. Losing a friend is hard. I'm not sure how I'm going to live without her.
Written in 2007 by Haley G., Age 15 --- Virginia

March 15, 2007
"Remember that when a loved one passes away, it's because God can no longer bear to be apart from then."
Author Unknown --- Submitted by Gizelle P., Age 15 --- California

March 15, 2007
My dad died in November, 8 years ago when I was 5 years old. Even though I don't remember him-just pieces here and there-there's not a day that goes by that I don't miss him.

A couple weeks before he got sick I was playing the piano really loudly. My dad came over and told me to stop. Being an annoying 5 year old I said no. He went to close the top part of it and I slammed it on his hands. That afternoon he had to go to the hospital, which started his multiple operations that led him to a coma. Most memories I have of my dad, are of that dad being mad at me.

If you have lost someone, I give you all the hope and faith in the world. It's been 8 years and I still am not over it. I don't think I ever will be, but having hope that tomorrow will get better and faith that I'll see him again keeps me going in life.

If you haven't lost someone or maybe just someone not very close to you please take my advice-and I'm sure the advice of anyone that's lost a parent or sibling-the power to forgive. I know being mad at my dad was stupid and if I could just tell him how sorry I was, I'd give anything in the world. But, I can't.

I hear stories of people who won't talk to siblings or parents for years because of a fight or disagreement and I think it's ridiculous. From someone who would give anything to have her dad back, please don't waste time being mad at each other. You really don't know what will happen tomorrow- don't waste time over something so stupid.
Written in 2006 by Brooke E., Age 13 --- Florida

March 15, 2007
I wrote these poems in memory of my best friend Claire Marie Buse who was killed on May 21, 2006 along with another close friend of mine in an automobile accident. I love you both Claire and Kelly!

Death is one of THE hardest things to deal with but in the end you will be reunited again.

Time stood still
Minute after minute, until
The day I met you
I knew it was going to be great
I knew how memorable it would be
I thought we would be side by side
Each and every day
By then there was no turning back
No walking away

I guess I thought too soon
Cause there on that Sunday
There was no longer me and you.
Copyright © 2006 Kim Haglund


Friendship is everlasting trust
Some people have friends of few
To other's having friends are a must
Friends are like siblings
You love them with every breath
You will be apart never
True friends will stick by your side
And will help you through hard times
No matter the reason
They will listen and care
You should show respect
Because without friends you're lonely and bare
Copyright © 2006 Kim Haglund


When you put your arms around me,
I didn't ever want you to let go.
I always want your arms around me,
No matter how far apart we are
Knowing that you were always there for me
Sensing your sadness in the most needed times
Feeling the pain when your heart was broken
Giving you strength to move on,
Telling you how I really felt
Thinking of you as my best friend,
Saying to you EVERYTHING will be all right
Copyright © 2006 Kim Haglund


Heaven
Time in Heaven
Beautifully amazing
Perfect in everyway life is
Life is perfect in everyway
Amazingly beautiful
Time with you
You
Copyright © 2006 Kim Haglund

March 15, 2007
"My Artwork, manifested from insanity, will soon be forgotten; a silhouette of chalk."
Copyright © 2002 Erica Bailey
When I was sitting in art class one day, doing a painting of a cemetery, I wrote this at the bottom of it.

March 15, 2007
Puppy Prayer

I laid him down in his bed of sod
And said, "Here he is. He's Yours now, God."
I don't know what You do with pets,
And maybe a cold grave is all he gets.
But knowing You, You've got to care
About warm brown eyes and silken hair!
A heart that beats with Love so true
Could not be overlooked by You!

So I'll look for him when I get there,
Draggin' angel's slippers down Your stair.
Sometimes too timid, sometimes too brave,
Scold him all You want, he won't behave!
I know You'll laugh at his antics too,
And hold him close, like I used to do.
He'll be there to greet me like before,
When I come walkin' thru Heaven's door.
C. L. Vandeman

March 15, 2007
"Don't judge what your parents do for you, how they do it, or you will regret it later."
Author Unknown --- Submitted by Miguel Guerrero --- Illinois
I separated from my parents four years ago. They used to punish me for things that I knew were wrong, but I was a 16 year old teenager like any other wanting to just have a fun life, make their own rules or do whatever. I thought that they didn't like me but I didn't know that they were doing it for my own good. They didn't want me but now that I have them far away from me, I regret the things that I was doing and they told me that one day I will pay with my own kids - to feel what they felt and everything in life you pay it later.

March 15, 2007
Goobye Sofia... Goodbye.

Dear Sofia,

Sometimes, it's so hard to say no if you really mean yes. It's damn difficult to close your eyes when you really want to see, it's hard to forget if we really can't and the hardest is to go if we really want to stay.

I was horrible... my behavior was atrocious, hideous and repugnant. It's unjustifiable. I was selfish, detestable, abominable and offensive.

You have all the right in the world to associate my name to all the terrible adjectives in the lexicon. You have every right to detest me. Anything above the atmosphere and below the core of the earth is entirely my fault but one thing I can say, I have been true to you, true as the word truth can be; real as the heavens above and genuine as dewdrops in the morning.

Like you, I know my emotions more than anyone else but unlike you, I don't put my own sentiment on the pedestal. I cannot articulate and justify why I subjected you in this circumstances and if I pained you, it was not my intention. I am not free anymore. My wings are now tied and I wanted it to be.

Spreading my wings once again and soaring high will destroy my world and inflict pain to my kin. You are such a beautiful obsession I was afraid to give up but I know I had to. I set you free not because I want to but because I ought to. You deserve someone better, someone who has more things to offer and provide you things that you deserve; things I know I can never give. I don't deserve you; will never be worthy of your love.

One night, you unlocked your heart to me. It was so pure but so full of pain and suffering. You never noticed it but I cried with you, I cried for us. I shed tears for the fact that everything feels so right but the time is so wrong. I resolved not to add any more pain to such a beautiful heart. I was too late. I know I already did.

Hurting you is hurting myself twice over. The pain, twofold sentient, that I am letting go of such a wonderful person and guilt that I put you in this situation. I don't want your forgiveness, all I ask is for you to know that what I was when I was with you was the me, the real me. What I felt was true and it will always be. I don't know for how long but I know its here to stay.

Someday, somewhere we will meet again as two tear drops in the clouds. One drop will say to the other " I am the tear drop who loved a girl and lost her. Who are you?" "Well, I am the teardrop of the girl who regret letting the great man go." Picolla
Written in 2007 by Katherine Whellams

March 15, 2007
On today's day, you chose to go on a different way. The question is WHERE? Leaving all of us here, you left to where, my baby? It is as though too much pain, yet life goes on. Where to go? No answer. Where are you? No answer. Such questions, never answered. The sight though is perfect, yet the vision is blurred. Hey baby, what have you done?

My mom says you lied beside her as a tiger, such was your presence. You would sleep in her lap, when she would tap your back. My mom cries, your mom cries and so does your father sometimes. Son, where have you gone? There is too much of pain.

Though seems unbearable, yet I am able, I am able to live, though I do not wish to. Yet I would say to you., what you have done is not acceptable, yet we live.

Why is another question? So many questions and no answer. But would need to continue, need to continue, to learn to live without you.

A grieving father, all my love baby, take care wherever you are and bless us with the strength to make it without you. Because now you are GOD, as now you live without any PROD. Regards WHO? I don't know... a grieving father.
Written in 2006 by Naresh Milani --- India
Because it comes from where it should, I understood the pain of leaving and grieving, and I never knew I would go through this again in my life. I thought misery and pain befalls on you only once in a lifetime but now I know that if you are sensitive and care for life, you die many times in your life... every now and then.

March 15, 2007
"It gets me through the tough times. It relieves me. I don't know why. When I CRY, I feel better. Let's cry TOGETHER!"
Written in 2007 by Megan M., Age 15 --- Texas
I wrote this today... It just came to me while posting a bulletin on myspace... I had a bad day...and when I cried...I felt better.

March 15, 2007
On January 24, 2006 my close friend and a twin died. We were in the 8th grade and he was on the bus going to his basketball game. The boys on the bus said they were having a rapping battle and it was Jordan's turn to go and he was nervous. He had a seizure and was rushed to the hospital but died shortly after.

Jordan was a twin, a basketball player, a football player and an older brother. He love basketball and was a great player. He was well liked and never said anything bad about anyone. It's so hard to walk into school and know he isn't there. The wake was hard having to see and comfort 200pound football guys and 6foot basketball players, seeing them cry.

One of my best friends, a football player, was on that bus. As we walked by Jordan's open casket, he just dropped down and bawled. It was hard hearing Jordan's mom cry. I'll never get her cry out of my head, it was a mothers cry, crying for her baby to come back, crying from the pain she was in over losing her son. Austin was Jordan's twin and the whole time he just had a stone face on, everyone was just in shock. Jordan was an amazing person and no one will forget him.
Jordan Jermacans R.I.P. JJ 45

Here are a few quotes I like. I don't know who wrote the first one, the second one I wrote.

"A million words would not bring you back, I know because I've tried. Neither would a million tears, I know because I've tried."
Author Unknown

"My eyes cry for you, my mind aches thinking of you, my heart breaks wishing for you, my soul shakes with wanting you, my life is ruined knowing you're gone and everything is true."
Written in 2007 by Alysha K., Age 15 --- Pennsylvania

March 15, 2007
My dad died in a car accident the day my mom found out she was pregnant with me. He never knew I would exist. I wish I could have met him. My mommy says I have his hair, smile, and personality. I try everyday to make her and my daddy proud. But I still have my step dad who has always been there for me. I love you Daddy Clarence Clay Longmire, I will meet you.
Written in 2007 by Candice --- Texas