Cal, You Turned Out All Right
My friend and mentor Jack Krasula and I had the unique opportunity to meet Cal Ripken Jr. at his foundation in Baltimore, Maryland several summers ago. A special place named in memory of his father, The Cal Ripken Senior Foundation helps kids who otherwise may never have the opportunity to play baseball, to experience America's greatest pastime. We were there to talk about the
Ripken Dynasty Series
, a set of four lithographic prints seen below, which I was preparing to paint for his Foundation. Cal ended up reminiscing about how, as a boy growing up in Aberdeen, Maryland, he loved playing baseball. When he spoke about those years he lit up. The enthusiastic, dream-filled boy within still remained.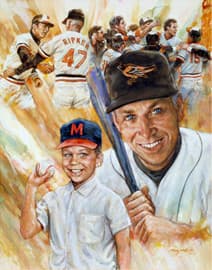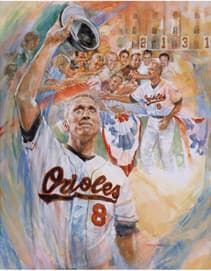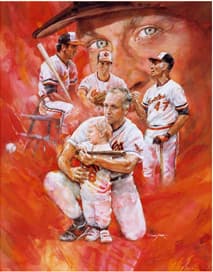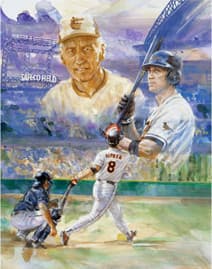 This is not unique. We all have that child inside. The one that longs to speak to us and tell us he or she is still there, waiting to dream again. Cal put it beautifully when he said,
"Every child that loves baseball dreams of being in the World Series."
He proceeded to share with us a treasured photograph, taken years earlier, depicting him as a little leaguer and asked me to paint that picture. He wanted to call that piece World Series Dreams, which we were pleased to do.
Early in his career Cal was concerned that he might be sent back to the minors. His first two seasons in the major league had been unspectacular but he didn't give up. Instead, he set his sights on better outcomes, and when Manager Earl Weaver moved Cal from third-base to shortstop his potential triumphed.
A friend of mine recently said to me, "I don't have a dream. How do I find one?" It was an honest question to which I offered him the following suggestion. I asked him if his mother had a box of keepsakes from his childhood and encouraged him to rummage through it.
I believe that interests reawakened from childhood are a true reflection of who we can aspire to be, before the pressures of adult life stifle those ambitions. If he would take the time to reflect on those discarded dreams, the awareness would allow him to turn a page from his present way of living to begin something new.
I heard a story about a child who was disciplined in school for talking too much. Twenty years later, she was boundlessly happy working as a public speaker. The behavior she had been corrected for in school had become her occupation. What had at one time seemed to be a negative had become a great positive force for her happiness today. Research has proven that when a child's natural interests become a life occupation, they become happy, productive members of society.
Your uniqueness can be seen in many areas of your life, whether in the choice of furniture for your home or the food you have selected to create your daily meal. These seemingly mundane, everyday decisions are uniquely yours. Why not let that uniqueness manifest itself in your life today? Become a transformed person and encourage others to do the same. It is a decision that only you can make. Give yourself time to meditate on this idea. You prayed for it, now is the time to live it. I believe the child inside you is hoping you will take that chance.
Cal Ripken Jr. never gave up on his dream. He continues to live his dream through the Cal Ripken Sr. Foundation, making sure the lives of children around the country are transformed by their love of baseball, a game that requires teamwork and demands excellence. Through his Foundation, Ripken is using baseball to inspire the next generation to be the best they can be.
Cal Ripken Jr. went on to have a storybook ending to a successful life, playing in a record, 2632 consecutive games, breaking Lou Gehrig's record of 2130. With his brother Billy and Cal Sr. by his side, they created a dynasty that is unique in the history of baseball. Let their exemplary lives inspire us to model a dreamer's role in society, which is to inspire others to find the purest desires of their hearts. When asked what he hoped to achieve playing America's greatest pastime, Cal Ripken's answer was simple, "I want to play every day." He did that and much more, going on to set a new benchmark in baseball proving to each one of us that it's never too late to live our dream. You turned out all right Cal.
Always the Glory, Only the Glory,
Copyright © 2007 Artist Doug WestAbout Artist Doug West:
Artist Doug West has quickly become America's premier sports artist. He has the privilege of painting the cover of the annual Baseball Hall of Fame's Induction Yearbook. The original painting is displayed year-round at The Baseball Hall of Fame in Cooperstown, New York. West's other special projects include the 2004 and 2005 Baseball Hall of Fame Induction Ceremony Lithographs, the 1984 Detroit Tigers Lithograph, the Cal Ripken Legacy series, where Doug created four specialized paintings for the Cal Ripken Sr. Foundation, and the Basketball Hall of Fame Induction Ceremony Lithograph. Doug's masterful impressionistic, realistic artworks are being recognized.
Doug recently branched out into the literary field by authoring a time-travel novel. This year he began writing a biweekly, inspirational message entitled Maestro Message to inspire others to chase their dreams! Maestro Message's are based on his personal experiences as a professional Sports Artist or any insights he may have into celebrity's he has met.
His future plans include promoting his time-travel novel, encouraging others with his Maestro Messages and hosting a radio call-in show; a forum in which he will discuss with listeners 'the dream' I believe lies within each of us. Dreamers and artists alike may view the world differently, yet somehow we are all the same inside. Doug's ultimate hope and dream is that regardless of what medium he uses, his inspirational messages of hope will find a place to reside within you. The dreamer holds the greatest treasure within; through which a new life-journey can be begin.
---