June 24, 2013
" When the winds slow down during the storm within my own mind, I know my work is good. That is the life of an artist. Always happy and never happy."
Written in 2013 by Miles Patrick Yohnke --- Canada



June 24, 2013
" When I was a kid, I thought I had my life figured out. I knew where I was going. I was sure of whom I was and what I was. I was wrong. See, life is a journey of twist and turns that mold who we are; however, it is not the twist and turns which mold us, but rather, how we take and handle the twist and turns thrown at us. It was not until life threw me flat on my face that I truly discovered who I am and what I am. I am a perpetual work-in-progress. And you know what? I am quite all right with that."
Cristina Marrer --- Submitted by Lauren Covington --- New Jersey



June 24, 2013
" Taking a leap of faith and calculated risk is often required to achieve genuine success."
Written in 2013 by Emeasoba George --- Nigeria



June 19, 2013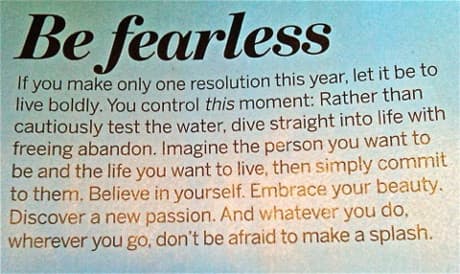 Submitted by Lauren Covington --- New Jersey
June 17, 2013
" You have to have something to live for. Try to surround yourself with people that have as deep or deeper understanding of life. In doing this they will inspire you to grow."
Written in 2013 by Miles Patrick Yohnke --- Canada



June 17, 2013
" Am high, not on dope but on an overdose of motivation. I bowed to failure and it granted me success. Don't fight the shadow of your past but concentrate and put your focus on the prize."
Written in 2013 by Felix Hollopo Opaleye --- Nigeria
Like a diamond in the dirt, your breakthrough is within you. Don't regret the past............... let it fade away.



June 17, 2013
" For those who love what they do, even working 18 hours a day, 7 days a week, is not work at all. It is just Fun."
Written in 2013 by RVM --- India



June 10, 2013
" Life is so beautiful; it always gives you second chance."
Written in 2012 by Sonam M. --- India
This quote can be understood by the ones who have gotten up, even after being knocked down several times.



June 10, 2013
" Sometimes things do not go as you want them to be but that does not necessarily mean it's the end of the road for you. Stand firm, keep on pushing and fight off your fear of failure. Never give up, no matter how difficult life comes ahead of you. FORWARD EVER, BACKWARD NEVER."
Author Unknown --- Submitted by Mlungelwa Duma --- South Africa



June 10, 2013
" Don't just be who you are and what you are. Move, Evolve, Change, Grow and become Better each Day."
Written in 2013 by RVM --- India



June 3, 2013
" Anyone can run a sprint. Some can endure the pain of a long haul. But only a champion will go the distance when the length of the race is unknown. Decide to do whatever it takes, however long it takes, to get what you want and your success is virtually guaranteed."
Written in 2013 by John Onen Sampson --- Nigeria



June 3, 2013
" The only way to overcome discouragement is through determination."
Voice of the Spirit 1984 --- Submitted by Vinny DiGirolamo --- Utah
It's words of encouragement I received by words of inspiration one morning during scripture study while pursuing my postgraduate degree in EE. I wasn't doing too well, but these words changed my perspectives and I conquered the curriculum one course at a time.



June 3, 2013
" Simply ... winners meet the challenge rather than avoid it."
Written in 2005 by Mohammed Sekouty --- Egypt



Note: This Month's Motivational Quotes