October 28, 2013
" Be humble wherever you are at until you get to your right place. The other places are learning and molding places. You are like a caterpillar in the cocoon, waiting for the time to blossom into a beautiful butterfly. Your true destiny awaits."
Written in 2013 by Janice Harris --- Florida



October 28, 2013
" When preparation meets with opportunities, destiny is born."
Author Unknown --- Submitted by Samuel Douglas --- Nigeria



October 28, 2013
" I'm a Star. I'll let haters hate. But never will I let my shine dissipate."
Written in 2013 by K. Canadic --- Canada



October 23, 2013
" Shrouded In darkness, surrounded by negativity, racked with insecurity, sick with worry, filled with doubt, and full of uncertainty. Keep your head up through it all. The strongest warriors are made from the toughest battles. The wisest of people experience the most pain. The most successful people keep stepping, even when they can't see past the here and now. Though all the troubles of life will never permanently leave you, happiness will if you let those troubles overcome you. Keep your head up, lower your shoulder, and run over anything that gets in your way. Never get discouraged. When a volcano erupts and destroys everything in sight, it leaves in its wake the most fertile land on earth."
Copyright © 2013 Aeryk Resch



October 21, 2013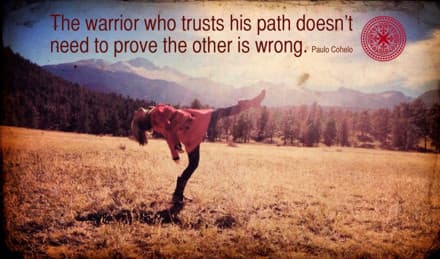 Submitted by Cynthia Farina



October 14, 2013
" Every experience in life has a purpose. Do not give up on your dream just because you have a poor start."
Written in 2013 by Simon Odera --- Kenya
This is something I thought of myself and I felt encouraged. I want to encourage other people out there.



October 14, 2013
" Take each day and push forward with no limits! Success is waiting."
Written in 2004 by Nathaniel Peat --- United Kingdom



October 14, 2013
" Have you ever had a door of opportunity slam in your face? A job application...that you did not get; a loan...that was turned down; a friendship or relationship...that ended; a proposal...where the answer was no. When this happens in pursuit of your dream, don't focus on the closed door. Crawl through a window or tear a hole in the roof! Step back and do an assessment. What happened? What did you discover about yourself? What do you need to do? Who must you become to move forward in your life?
Whatever you do...don't give up simply because it becomes challenging. Don't expect life to make it easier for you to reach your goals. Make the decision to become a better person in order to accomplish your goals. Believe this - there will be other doors and more opportunities. Know that you will be stronger, wiser, more capable and better prepared to take advantage of them, because of what you have discovered about yourself, and how you have changed in the process. You have GREATNESS within you!!"
Les Brown --- Submitted by Lauren Covington --- New Jersey



October 7, 2013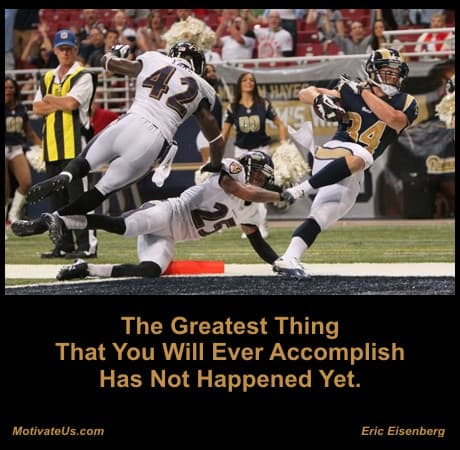 " The Greatest Thing That You Will Ever Accomplish Has Not Happened Yet."
Written in 2013 by Eric Eisenberg --- Missouri



September 30, 2013
" Try something new. This is the time that you have to be flexible, versatile and open to the possibilities of exploring new horizons. Be willing to experiment and step into the unknown. Try something new with your life! Don't allow yourself to be a sitting duck or a volunteer victim...totally at the mercy of another person's decisions.

Times have changed. You must have your own back and create your own recovery plan. Each year determine to master a new skill. What did you learn today that you did not know yesterday? You have talents, abilities and gifts in you that you haven't even reached for yet. Don't let them waste away!! It's time to be about the business of developing them. You deserve!!"
Les Brown --- Submitted by Lauren Covington --- New Jersey



September 30, 2013
" Don't waste your time hating my success. We have the same 24 hours."
Written in 2013 by Bridget Benya --- South Africa



September 30, 2013
" You can remember the past, think about the future but you must live in the present; so don't back down, just giver."
Written in 2013 by Don Ash --- Canada



September 25, 2013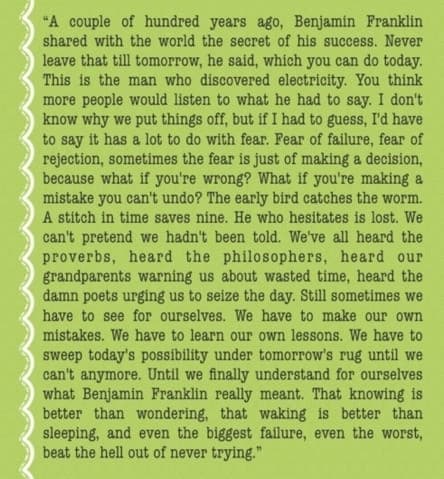 Submitted by Lauren Covington --- New Jersey



September 23, 2013
" When you feel like taking a day off because you've worked hard, remember: there's always someone working harder. The inches that you need in life are all around you. It just depends on if you want to go the extra mile."
Written in 2013 and Submitted by Chase Reynolds --- Missouri
Running Back, St. Louis Rams



September 23, 2013
" Nothing serves as an obstacle to anybody on this earth; it only gives you a new reason to think of new ways on how to solve old and new challenges we face in our journey through life."
Author Unknown --- Submitted by Hope N. Idemudia --- Nigeria
Don't see obstacles, see challenges that will take you higher.



September 16, 2013
" You don't have to win the game or the race to be a champion. Actually, your true competition in life is yourself. If you strive to constantly improve, to make each day better, to make someone else's load a little lighter, and to make someone's day a little brighter, then you will be living the life of a true champion."
Jace Carlton --- Submitted by George Wachirah --- Kenya



September 16, 2013
" Taking one step at a time towards emerging, genuine success doesn't mean you are doing it wrong. It just signifies you are gradual - slow but steady."
Written in 2013 by Emeasoba George --- Nigeria



September 16, 2013
" Just like waves in the ocean come and go, no challenge is permanent. Problems will come and go too. We must enjoy the challenges just like we enjoy the waves."
Written in 2013 by RVM --- India



September 11, 2013
" Be brave and make mistakes. You learn more from your mistakes than from your successes. Love your mistakes for making you better and acknowledge your success for it came from correcting those mistakes."
Written in 2013 by Evan Finegan --- Ireland



September 11, 2013
" Each day may seem like the next, but it's possible that in single hour a chance of a lifetime could present itself. Everyday has its own destination, with an opportunity to taste from the sweet wine of life. Very often, opportunities are so small that may be overlooked, and yet within them lie the seeds of greatness. Opportunities are everywhere, though they may not appear with their potential for wealth or success or honor blazoned upon them. You just have to open your eyes to see them - not your ordinary eyes, your inner eyes, your intuition, sharpened and heightened by your conviction that opportunities are everywhere awaiting your discovery of them. Once you adopt this belief you will be amazed to find that opportunities so indeed exist, and very often in the most unusual places."
Author Unknown --- Submitted by Obakeng Molefe --- South Africa
A man can succeed at almost anything for which he has unlimited enthusiasm.



September 11, 2013
" This morning is a new morning. Unlike any morning before or any morning after. This morning marks the beginning of a new day, another day we will only see once. Each moment is a moment lost forever. So live it well, live it bright, and live it honestly."
Written in 2013 by Aeryk Resch --- Washington



September 9, 2013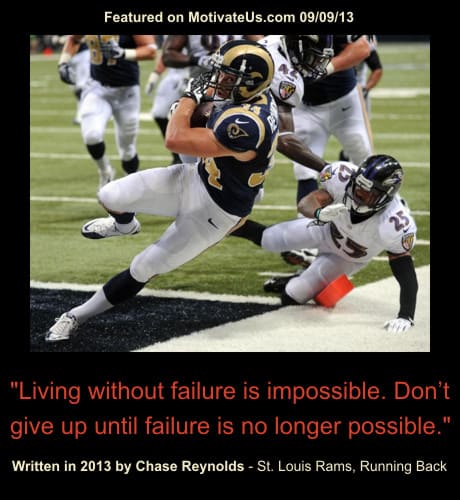 September 4, 2013
" The greatest difficulty in life always comes right before the birth of a dream on the inside. Before you see a new level of God's amazing favor, why be surprised if things come against you trying to discourage you? People may even try to talk you out of your dreams, to convince you to settle where you are. Don't give in for you are one step closer to your destiny."
Author Unknown --- Submitted by Shalleann A. --- New York
Never settle at the bottom, keep reaching up, no matter what.



September 4, 2013
" If everyone approves your dream, my dear, you need to check that dream up because there's something wrong with it. If it is what you can achieve when you put one and two together, then that's no dream neither. A dream is way bigger than your resources. It is something that kills your sleep. So when you have such a dream that people can't comprehend, smile in the midst of impossibility because the ONE who gave you that gigantic dream, sure knows ways to bring it to pass. Dream on."
Written in 2013 by Smek Uwakina --- Nigeria



September 4, 2013
" Clean your slate - No more leftovers! Refuse to let the disappointments, mistakes, setbacks or failures of yesterday rob you of the opportunities, breakthroughs and open doors that are waiting for you today.

Make failure an open door to a new future. Learn from the experience. Reassess your strategy. Change your approach. Plunge ahead with fresh energy, bold enthusiasm and a new game plan. Hold a spirit of optimism and positive expectation that things will work out for you. Continue to move forward - coming back again and again. Your destiny is waiting just ahead for you. Discover the brilliance of you! You have GREATNESS within you!"
Les Brown --- Submitted by Lauren Covington



Note: This Month's Motivational Quotes