April 29, 2013
" For every problem there's a challenge, for every challenge there's a solution."
Written in 2013 by Joshua Chupp --- Indiana



April 29, 2013
" We may walk rather than run through our journey but the destination remains the same and always within reach."
Written in 2013 by Claire Metters --- United Kingdom



April 29, 2013
" Throughout your life there will be peaks and valleys. Make today a PEAK."
Written in 2013 by Eric Eisenberg --- Missouri



April 24, 2013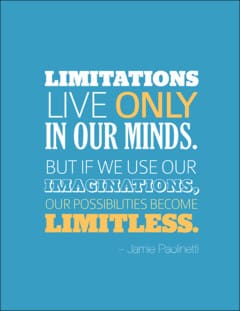 "Limitations live only in our minds. But if we use our imaginations, our possibilities become limitless."
Jamie Paolinetti --- Submitted by Lauren Covington



April 22, 2013
" New day, new week and new beginnings. Lets all be positive, focused and strive towards our goals and do whatever (legit) it takes to archive them or get closer to them. Ensure that you make something count for this day to get to your destiny, even if its only efforts today but ultimately the results will prevail."
Written in 2013 by Thabang Sydney Motaung --- South Africa
This is my own motivation for today and it was my feeling and observation.



April 22, 2013
" We are human. We are not perfect. We are alive. We try things. We make mistakes. We stumble. We fall. We get hurt. BUT...We rise again. We try again. We keep learning. We keep growing. And... We are thankful for this priceless opportunity called life."
Author Unknown --- Submitted by George Wachirah --- Kenya



April 22, 2013
" Stand up, be bold, be strong. Take the whole responsibility on your own shoulders, and know that you are the creator of your own destiny. All the strength and succor you want is within yourself. Therefore, make your own future. There is no help for you outside of yourself; you are the creator of the universe. Like the silkworm you have built a cocoon around yourself... Burst your own cocoon and come out as the beautiful butterfly, as the free soul. Then alone you will see Truth."
Swami Vivekanda --- Submitted by Raghunath Joshi --- India
No one can teach you (Human ) till you teach yourself.



April 17, 2013
" Do what you say so others will say what you do."
Written in 2013 by Robert H. Connelly --- Washington



April 17, 2013
" I won't sink. I won't die. I will fight till the end and make it to the other side."
Written in 2013 by Kunal Ahuja --- India



April 17, 2013
" Destiny is out of ordinary. But guess what? It is meant to be fulfilled by the ordinary in an extraordinary way."
Written in 2013 by Emeasoba George --- Nigeria



April 15, 2013
" Don't be limited or be intimidated by people who despise your growth or progress. They want you to remain the same so that they will feel comfortable to remain the same too, and also gratify themselves for whatever innate hideous reasons. Therefore, keep your vision and mission alive, and vibrant steadfastly, staying focused on the horizons of success and victory, come what may."
Kelvin Kellie's adaptation of preaching from T.D. Jakes Ministries
Submitted by Kelvin Kellie --- United Kingdom
I selected this to motivate people who are in difficult situations of coping with negative factors and people around them which may have been deterring their progress, growth, or achievements. I hope this will help them to reposition themselves with positive thoughts to move on in reaching their dreams and vision.



April 15, 2013
" The fact that you are "here" is a proof that you will get "there". The difference between "here" & "there" is "T" which is time. So don't give up!"
Written in 2013 by Olanrewaju Kazeem



April 15, 2013
" Destiny is not a matter of chance; it is a matter of choice. It is not a thing to be waited for; it is a thing to be achieved."
William Jennings Bryan - Submitted by Shahzan Shah



April 10, 2013
" If there were no such thing as failure, then there would be no such thing as success."
Written in 2013 by Tom Langley - United Kingdom
This can be interpreted in so many ways because there are different meanings to it. Success is the opposite of failure but isn't success built on the basis of failure? Success and failure are both polar opposites of one another yet one is needed for the other to happen. If everyone succeeded, then it wouldn't be called success because it's an attribute of everyone. If everyone failed, then it wouldn't be called failure as that too is an attribute of everyone. Failure is not failure if everyone fails because it becomes a normality of day-to-day life to the point that no one even knows what it means. Likewise, success is not success if everyone succeeds because it then becomes a normality to the point again that no one knows the definition of success. This quote elaborates mainly on this: Failure being the foundation of success - Failure being the opposite of success - Both success and failure being required to have any meaning to them.



April 10, 2013
" Even when you fail, make a successful failure out of it so that in future if you happen to look at your past, you know what to do."
Written in 2013 by Daideepya Bhosale



April 10, 2013
" The super man is in us, only if we learn to discover it."
Akinyande Ayomide --- Submitted by E.C.



April 8, 2013
" I am a risk taker. And being a risk taker, I tend to run the risk of failing. But, that is what makes me a winner."
Written in 2013 by Dr. Maloney Hunter-Lowe



April 8, 2013
" You don't need to reinvent the wheel; you need to make it spin."
Written in 2013 by Ikhwan Sopa



April 8, 2013
" You can't put a limit on anything. The more you dream, the farther you get."
Michael Phelps --- Submitted by Ashish Bhardwaj



What positive message could you contribute today?
Send it in here
April 3, 2013
" Find something good within your life and give every once of positivity you have towards it, then watch how your life changes."
Author Unknown --- Submitted by George Wachirah



April 1, 2013
" Not to give up under any circumstances should be the motto of our life: we shall try again and again, and we are bound to succeed. There will be obstacles, but we have to defy them. So do not give up, do not give up! Continue, continue! The goal is ahead of you. If you do not give up, you are bound to reach your destined goal."
Sri Chinmoy --- Submitted by Lauren Covington



April 1, 2013
" I believe that behind every closed door there is an open space."
Ping Fu



April 1, 2013
" Life is positively forward. Although we do not always get what we want, it's when the going gets tough that we should never give up! Stay positive and stay with your dreams."
Author Unknown --- Submitted by Ritish Kumar Nandy --- Turkey



April 1, 2013
" Tears of my Hard Work... are enough to fill the Ocean of my Dreams."
Shashank Rayal --- Submitted by Ramesh Rawat



Note: This Month's Motivational Quotes