May 28, 2013
" Life comes with a pinch of salt, not to tear us down or make us bitter but to make us strong and also fitter. Life comes with a pinch of salt, it's no one's fault, it's just the way it is."
Written in 2013 by Allen Steble --- Australia



May 28, 2013
" Dare to add value to the life of others because each time you improve the life of others, you are unknowingly sending forth a ripple of hope in what appears to be a hopeless life. You are as well giving a meaning to what seems to be a meaningless life. I urge you to have the guts and do it will surely pay you off some day."
Written in 2013 by Emeasoba George --- Nigeria



May 28, 2013
" Sometimes God has to break us to make us. It's just a bend; it's not the end. We're all like glow sticks; no matter how much we're bent and broken, our light still shines."
DeAndre Carswell --- Submitted by John O. Sampson --- Nigeria
I selected it because it changes our perception about how God does His things.



May 23, 2013 - Inspirational Quote about Faith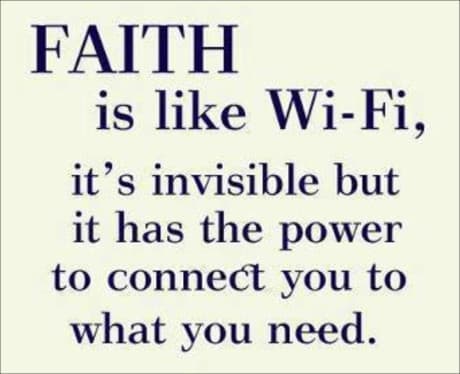 May 20, 2013
" You wake up in the morning, and your purse is magically filled with twenty-four hours of unmanufactured tissue of the universe of your life! It is yours. It is the most precious of possessions. No one can take it from you. And no one receives either more or less than you receive."
Thomas Bennett --- Submitted by Lauren Covington --- New Jersey



May 20, 2013
" They are never alone who are accompanied by noble thoughts."
Sir Philip Syndney --- Submitted by Jagdish Kaviraj --- India



May 20, 2013
" If you want light to come into your life you need to stand where it is shining."
Guy Finley --- Submitted by Cynthia Farina



May 15, 2013 - Inspirational Quote about Courage
" Until you dare to go after whatever you've been longing for and as well dare to go extra mile for it, you may never realize how far you can go. Therefore, you've got to courageously and unyieldingly go after whatever you aspire to do for you have what it takes to achieve whatever you long to achieve."
Written in 2013 by Emeasoba George --- Nigeria



May 15, 2013
" When you truly find yourself you will find your destiny. Stop trying to copy anyone else. You have a purpose in this world. You are just what you were meant to be. The original, branded with the mark of the Father."
Written in 2013 by Janice Harris --- Florida
People are always trying to be like someone else. Someone they hold in high regard. Think highly of yourself. That will allow you to live your destiny in this world. We all have our own unique place and purpose.



May 15, 2013
" The person who has your best interest is the one who truly cares about you. If someone sticks by you through thick & thin and still loves you, they will always love you."
Written in 2013 by Renee Scalfani --- Massachusetts



May 8, 2013
" Solitude, in the sense of being often alone, is essential to any depth of meditation or of character; and solitude in the presence of natural beauty and grandeur is the cradle of thought and aspirations which are not only good for the individual, but which society could ill do without."
John S. Mill



May 8, 2013
" Whatever you vividly imagine, ardently desire, sincerely believe, and enthusiastically act upon must inevitably come to pass!"
Paul J. Meyer



May 6, 2013
" I think when God made friends He built "walk the extra mile" into their genes. Friends can take miles of pain and turn them into smiles of joy and love."
Written in 2013 by Caroline Naoroji --- Virginia



May 6, 2013
" Never allow anyone to dictate who you are. God made everyone in their on self-image."
Written in 2013 by Shae Martin --- Texas



May 6, 2013
" I'm not here on earth coincidentally/by chance. Rather, I'm here on earth for a divine, predetermined purpose/mission i.e. to fulfill my God-given uncommon destiny. And guess what? I won't/can't fulfill my destiny miserably, NO, not at all. Instead, I can and I will surely fulfill my God-given destiny in a grand style. Oh yes! Again, I can and I will - even against all odds."
Written in 2013 by Emeasoba George --- Nigeria
This is my strong belief, my article of faith.



May 2, 2013
" I feel that we are often taken out of our comfort zones, pushed and shoved out of our nests, because if not, we would never know that there's something far better beyond where we are at the moment. It can hurt, but then later you say "thank you." I have been pushed and shoved and have fallen out and away, so very, very, many, many times! And others around me have not! But then, the others haven't seen what I have seen or felt what I have felt or been who I have been, they can't become what I have become. I am me."
C. JoyBell C. --- Submitted by Lauren Covington --- New Jersey



May 2, 2013
" I will never allow my failures to define me! I will however use them as motivation to take me to the next level as well as help others along the way to learn from my mistakes!"
Written in 2012 by Jon Hawks --- Arizona



May 2, 2013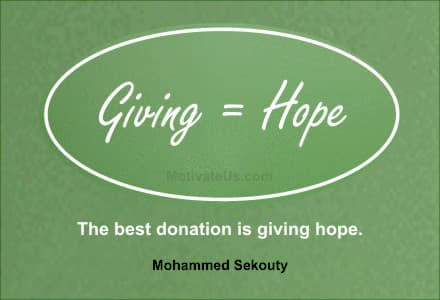 "The best donation is giving hope."
Written in 2013 by Mohammed Sekouty



What inspirational message could you contribute today?
Send it in here